Bikes We'd Love To See Come Out Of The Bajaj-Triumph Partnership
---
The new alliance promises a focus on mid-size bikes. We dream up some exciting ones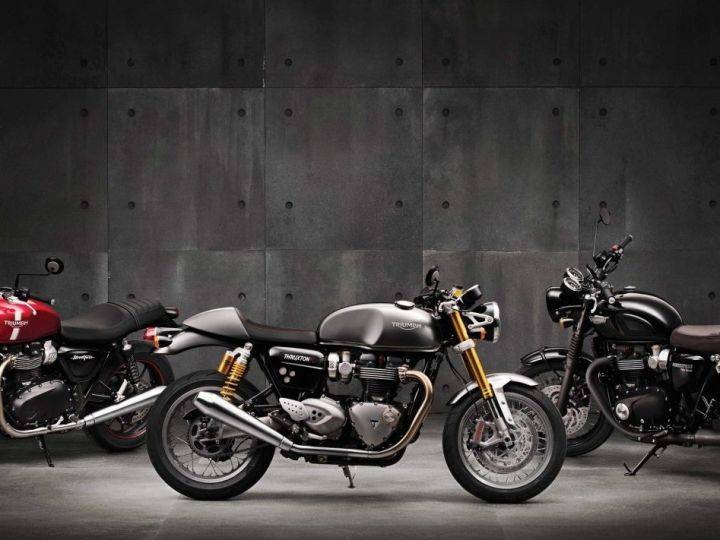 The Bajaj-Triumph tie-up was a bolt from the blue. The new venture will allow Triumph to leverage Bajaj's extensive network and reach in both domestic and international markets (and Bajaj's low cost manufacturing base). Bajaj meanwhile will have access to Triumph's technology and bikes. What this means to us enthusiasts is a new era of premium motorcycling, a new avenue opening up the same way the Bajaj-KTM alliance did. While KTM has the entry level performance market covered with its highly versatile single-cylinder motors, Bajaj uses learnings from KTM for low cost performance bikes like the Pulsar NS200 and the Dominar 400. So, isn't it high time it stepped into the multi-cylinder side of motorcycles? That's what we hope the new alliance with Triumph will bring forth.

How about a Rs 3.5-lakh Bonneville? Or Thruxton?
A scaled-down Bonneville would make so much sense! Bonnevilles have been a favorite pick for those looking to step up into the world of big bikes thanks to their easy-to-ride nature and torquey engines. How about we scale down that philosophy with a smaller, say 500cc Bonneville? That would bring newer riders into the fold. And while we are at it, let's keep prices hovering around Rs 3.5 lakh. In-house development and local vendors mean Bajaj can keep prices in check. And while Bajaj is at it, why not a 500cc Thruxton as well?

Why a parallel-twin?
The Bonneville's twin-cylinder powerplants are known for their lazy torque (T120) and frantic midrange (Thruxton R). The same engine can be tuned for different requirements, plus a parallel-twin will be easier to live with. First off, they are more affordable to manufacture when compared to other multi-cylinder configurations. A parallel-twin has smoother and linear power delivery, which makes its performance more accessible to newer riders. So let's get a scaled-down parallel-twin. And why not have two engine capacities? An entry level 500cc and a more frantic 700cc parallel-twin. The 500cc can cater towards those looking for a lazy riding experience while the 700cc can cater to those with bigger wallets and on the lookout for more performance.

What kind of motorcycles?
Have you taken a look at the Triumph Bonneville and Street Twin range sold abroad? They have everything you desire: a retro classic, Cafe-Racer, Scrambler, Bobber, and a street-naked. The best part is that all these bikes use the same frame with modifications to suit their intended purpose. Now imagine Bajaj manufacturing the frame at their Chakan plant. You could have your own Bonneville 500 for Rs 3.5 lakh! Or maybe a 700cc Scrambler for 4 lakhs? Or how about a 500cc Avenger? Now that'd be something.

What about Bajaj?
The biggest takeaway Bajaj had from the Bajaj-KTM alliance was access to KTM's engine technology, which ultimately resulted in some really good engines. Examples: the Bajaj Pulsar NS/RS200 and Dominar 400. Now the new partnership would create motorcycles of a new nature and Bajaj could probably come with its own version of high capacity, multi-cylinder motorcycles. Dominar 500 or Avenger 500, maybe?

Why not a single?
Well, a 300-500cc single-cylinder motor developed with the help of Triumph would allow Bajaj to go up against Royal Enfield, which has dominated the sub-500cc market with their singles. Would there be a 350cc single-cylinder Triumph? We think not. Royal Enfield caters to a loyal niche, and with a more sophisticated range, Bajaj and Triumph would be well placed to provide the step up for these riders. Since there is wishful thinking involved, a 350cc-single Triumph Bonneville priced below Rs 2 lakh sounds like a sharp idea.

The Bajaj-Triumph alliance is fantastic news for us entry level enthusiasts and probably the best thing to happen since the Bajaj-KTM alliance. The new partnership will be focussing on mid-size motorcycles where Triumph has the technology while Bajaj has the ability to deliver high-end bikes at gobsmacking prices. How many of our dreams see the light of the day is not sure, but one thing is for sure -- the future is exciting!