Bajaj RE60 four-wheeler unveiled
Jan 4, 2012
Views : 272879
---
The Bajaj RE60 is modern India's answer to safe, convenient and economical commercial transport on the road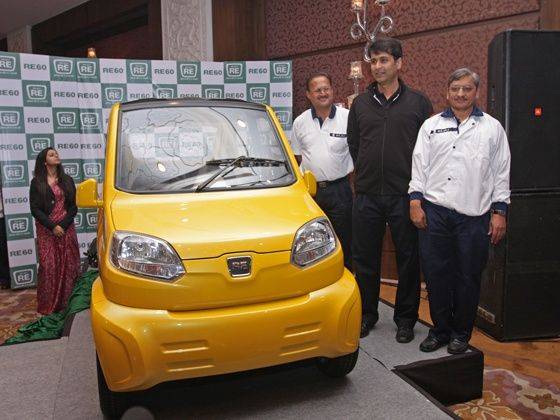 Four years after Bajaj Auto showcased its 'small car' at the 2008 Auto Expo, the two- and three-wheeler giant has unveiled what it calls the RE60. "It is not a car. It's a four wheeler," said Rajiv Bajaj while addressing the media at hotel Taj Palace in New Delhi.
The RE60 will be built at Bajaj Auto's Aurangabad plant and the launch will take place in a few months from now. The company refused to divulge the price. However, it said that the RE60 will deliver close to 40 kmpl and emit only 60g/km of CO2, making it one of the most fuel-efficient and green vehicles in the market.
The RE60 caters to the commercial passenger segment and is designed to gradually replace the autorickshaw as a mode of transport. And the Bajaj MD has a point, as the RE60, complete with four wheels and doors, is a much safer and convenient mode of transport compared to the three-wheeler autorickshaw.
The four-wheeler will have a 200cc, water-cooled, fuel-injected DTSi engine that will put out roughly 20 PS of power but the light kerb weight of just 400 kgs gives the vehicle a power to weight ratio similar to A-segment cars in India. The engine is mounted at the rear of the four-wheeler and as a result boot space is limited to 44 litres.
On the inside, the RE60 makes no fuss about what it is. The base model comes with an integrated digital fare meter in the dashboard. The instrument cluster is on the center of the dashboard with the gear lever just underneath it. The indicator and headlamp stalks are in the correct place on both sides of the steering wheel, which like that of a traditional four wheeler is circular in shape. The RE60 is designed to seat four passengers including the driver. That's two upfront and two at the back.
While the RE60 is designed to be a commercial passenger vehicle Rajiv Bajaj does not rule out the possibility of the vehicle entering various peripheral segments as is the case with its three wheelers. Bajaj recalled Delhi Chief Minister Shiela Dikshit's reaction to the RE60's design as saying, "The autorickshaws are an eyesore for tourists and visitors." It is true that the RE60 does look better than the autorickshaw, however, the biggest advantage of the four-wheeler over three wheelers is the enhanced safety thanks to a better balance.