Audi Q8 Official Teaser Reveals Rear Design
---
A sketch of the flagship coupe-SUV's rear has been revealed in the run-up to its eventual unveil in June 2018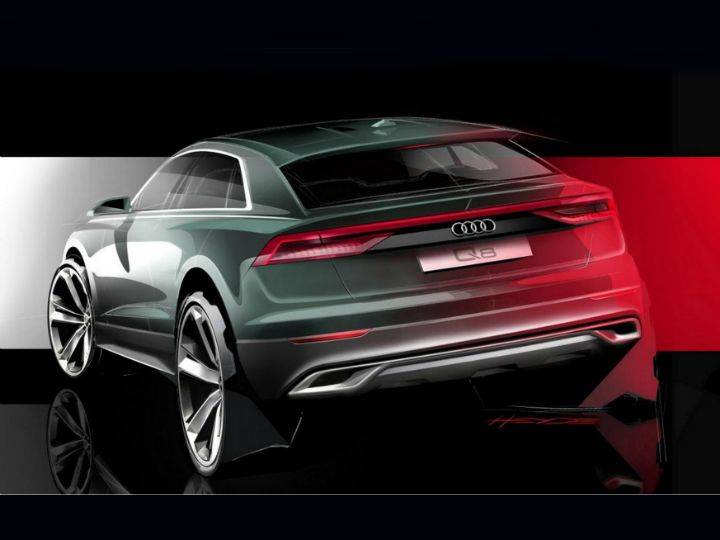 Get ready for Audi's contender in the fast growing ultra-luxurious SUV segment. Joining the ranks of upcoming BMW X7 and the Mercedes-Benz GLS, but following the sportier SUV-coupe design philosophy, the Audi Q8 will be unveiled to the world in June 2018. Ahead of its unveil, Audi has now teased the Q8 for the second time with a proper render of the rear quarter, a welcome change from the line drawing it showed us at the end of last month.
The render confirms that the Q8 will take a lot of inspiration from the Q8 Concept and the Q8 Sport Concept in terms of design. Elements like the wide taillamps which extend from end-to-end on the tailgate, the steeply raked rear windshield, thick cladding on the bumper with twin exhausts, flared haunches and angular lines everywhere have been carried over from the concept cars. From the spy shots seen earlier, we also know that the Audi Q8 will have a high wheel-to-body ratio, which is unusual for a road-going car.
The Q8 will debut Audi's new SUV design philosophy which was previewed on the two aforementioned Q8 concepts. It should introduce first-in-segment features like all-laser headlamps and taillamps, an interior similar to the new A8 with almost all the buttons on the dashboard replaced by touchscreens and a larger Audi cockpit display (instrument cluster). Though similar in size to the current Q7, with rumoured length of 5050mm, width of 1970mm and a wheelbase of 2990mm, the Q8 will be a pure 5-seater - which should free up a lot of space on the inside.
Based on the same MLB platform which also underpins other luxury SUVs like the Bentley Bentayga, Lamborghini Urus and the Porsche Cayenne, Audi has the option of offering the Q8 with a plethora of petrol, diesel and hybrid powertrains. When launched in India sometime in 2019, the Audi Q8 is expected to sell much more than its sedan flagship counterpart - the Audi A8.
More on Audi Q8
Rs. 90.00 lakh
Estimated Price