2017 Dutch MotoGP - The Doctor Is Back
Jun 26, 2017
Views : 1858
---
Valentino Rossi registered his first win of the 2017 season while championship leader Maverick Vinales crashed out in a drama packed race at Assen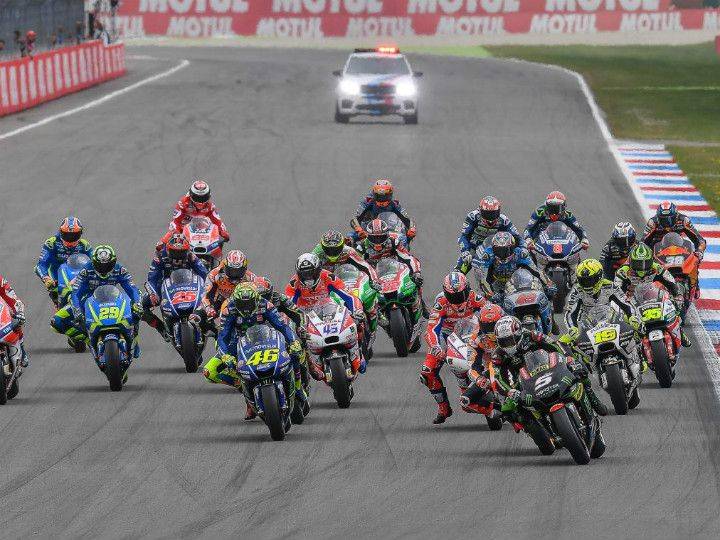 The eighth race of the 2017 MotoGP season was held at TT Circuit Assen which is more fondly known as "The Cathedral" owing to its rich history and the fact that most MotoGP riders consider it among the most technical and difficult circuits in the world. Assen has always been a venue that springs a surprise and 2017 wasn't much different as rookie rider Johann Zarco clinched his first premiere class pole position in the dying stages of qualifying ahead of Danilo Petrucci and Marc Marquez.

Zarco made a great start to the lead the race and was followed by Marquez, Valentino Rossi and Petrucci. The Frenchman was utilising his pole advantage brilliantly and by the end of first lap he was able to etch out a healthy lead on Marquez who was trying his best to catch up with the Tech 3 Yamaha rider. The leading pack of riders consisting of Zarco, Marquez, Rossi and Petrucci broke away from the trailing riders to make it a 4-way battle for the race lead.

The pecking order remain unchanged for the opening 10 laps with Zarco controlling the race pace with authority. Rossi was upping the ante as he posted the fastest lap of the race and was looking very confident on the Yamaha M1. With 16 laps to go, The MotoGP legend out braked Marquez coming into Turn 1 to take second place from him. Such was his pace that one lap he overtook Zarco to grab the race lead in an exact same fashion. But two corners later Rossi ran wide and tried to correct his line, while Zarco tried to overtake him and his front wheel brushed against Rossi's leathers. The coming together of both the riders meant that Zarco lost a position to Marquez and he was now in third place with Petrucci a close 4th.

Maverick Vinales was trying his best to make amends for his disastrous qualifying performance and he was in fifth place. In his urgency to catch up with the leading pack of riders, he went on the gas a bit early while coming out of the chicane which resulted in him losing the front of his Yamaha and crashing out. The Spanish rider was really lucky not to be run over by Andrea Dovizioso as he walked back to the pits frustrated. Rossi was flying on the Yamaha M1 as Marquez struggled to keep pace with him and he had a comfortable lead of over a second on the reigning world champion. Petrucci was also on the charge as he passed Marquez to promote himself to 2nd place. It seemed that Rossi would cruise his way to victory but Assen had one last trick up its sleeve. With 8 laps remaining, it started to rain and riders had the option of switching bikes.

Zarco was the first to bite the bullet as his soft compound tyres had deteriorated and he was struggling on them. Andrea Dovizioso was on fire under these tricky track conditions as he posted a lap that was a second faster than the race leader which saw him pass Marquez to take 3rd. Rossi was struggling as Petrucci was closing down on him but before he could make his move on Rossi, Dovizioso muscled his way past him to take second. With 5 laps remaining in the race both the Ducati riders were fighting hard for second place which gave Rossi some respite.

Petrucci was relishing the tricky conditions and in a matter of few corners he passed both his Italian countrymen to lead the Dutch GP. Rossi wasn't giving up easily as it turned into a 2-way battle between them for the race lead while Dovizioso and Marquez fought for 3rd position. Rossi regains the lead with 3 laps remaining and Cal Crutchlow joins the battle for second position. Rossi rode brilliantly in the last few laps to cross the finish line just ahead of Petrucci to register a famous win. Crutchlow and Marquez fought valiantly for 3rd place but it was the Spanish rider who triumphed.

It was the 10th occasion that Rossi has won at Assen and this win will be rated highly by the legend as it came after more than a year. Rossi now has the longest winning career through all classes - 20 years, 313 days! With Rossi winning and Vinales crashing out means that Andrea Dovizioso (115points) leads the championship followed by Vinales (111points), Rossi (108points) and Marquez (104points) thereby making the championship battle closer than ever. Next up is the German GP and given how the 2017 has turned out to be it should be an exciting affair at Sachsenring.
Race Result:
1. Valentino Rossi
2. Danilo Petrucci
3. Marc Marquez
4. Cal Crutchlow
5. Andrea Dovizioso
6. Jack Miller
7. Karel Abraham
8. Loris Baz
9. Andrea Iannone
10. Aleix Espargaro