2021 VW Tiguan Review: 9 Things You Should Know
Dec 24, 2021
Views : 7808
7 min read
---
The 2021 VW Tiguan is an impressive SUV and there are a lot of reasons why you should consider one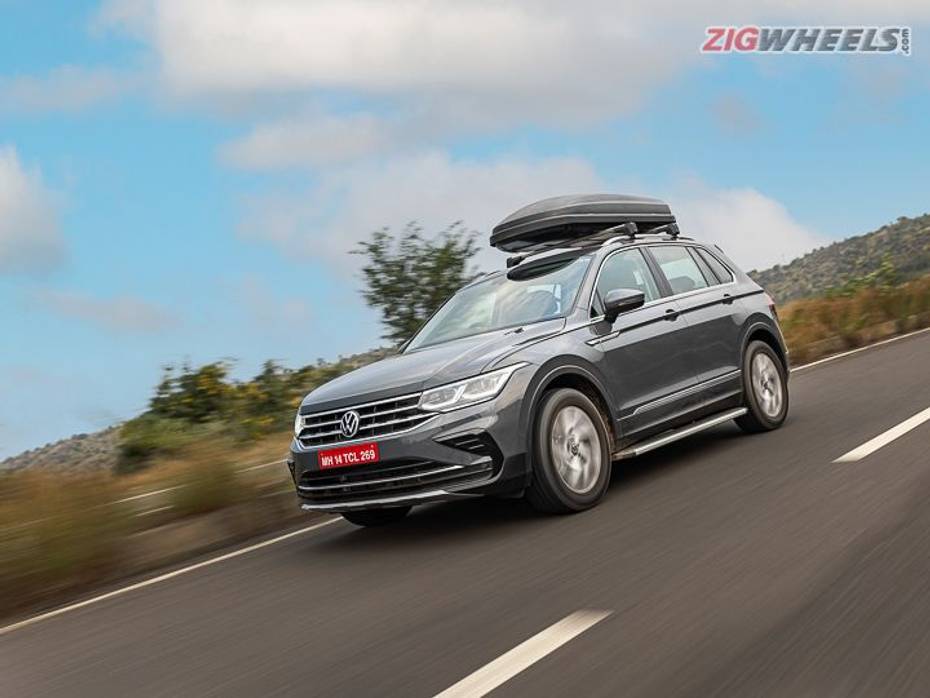 The more you think about it rationally the fewer reasons you will find to buy the facelifted Volkswagen Tiguan. For one it feels expensive compared to its larger full-sized SUV rivals like the Toyota Fortuner and MG Gloster. It also doesn't come with a lot of headline features at this price point. So the question is, why should you buy the VW Tiguan?
As it turns out, there are quite a few reasons to do so.
Pros
Pleasing Exterior Design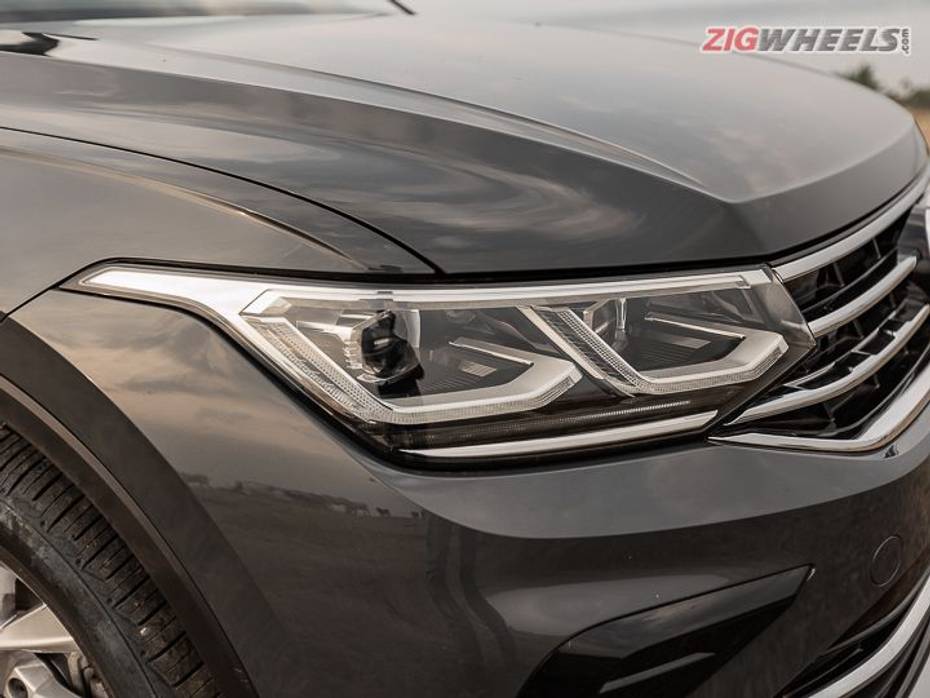 Although the Tiguan doesn't have the size advantage, what it has in spades is elegance. This car looks well balanced from all angles and it has got enough muscle too. The subtle changes that VW has made with the facelift makes the Tiguan feel more desirable than before. Up front you get new LED headlamps that not only look smarter but work well even on unmarked, unlit roads. The new front bumper is more sporty and aggressive, which helps the car grab more attention. What also will grab a lot of attention is the additional chrome on the new grille. It might not be to everyone's liking but at least its quality feels premium and well finished. At the rear changes are more subtle, with you getting new internal elements in the LED tail lamps and a more aggressive-looking bumper.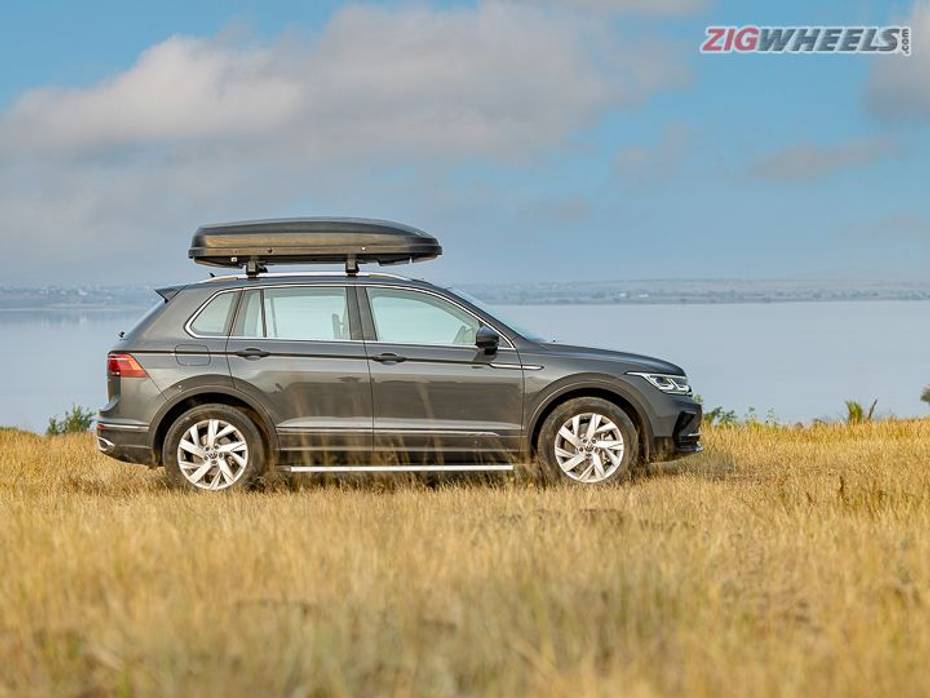 In profile, the Tiguan facelift remains mostly unchanged except you get a new design of 18-inch alloy wheels. VW has added another element that does add a bit of wow factor here–OK, I am not talking about the optional roof rack or the side step, which feels a bit unnecessary considering it isn't particularly a high vehicle. I am talking about the self-centering hub caps which remind you of a Rolls Royce.
Built Like A Tank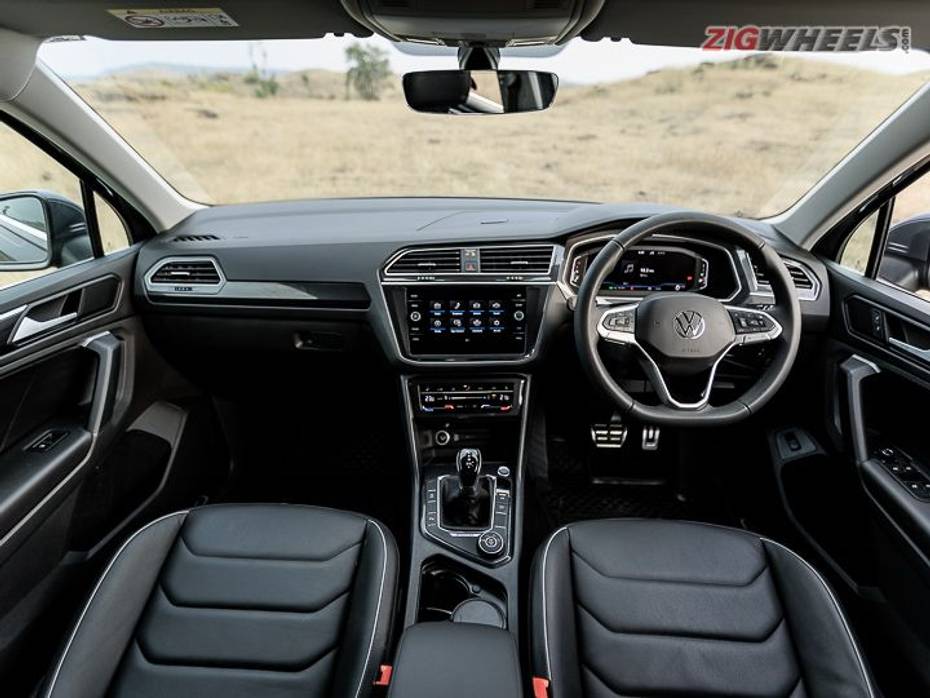 Get latest updates on
the automobile community
If there is one thing you will appreciate in the Tiguan, it is its build quality. The doors shut with a reassuring German thunk and the Tiguan just gives you a feeling of solidity that is usually found in luxury brands. It's not only the solid build that impresses you but also the perceived quality which is extremely difficult to flaw. The dash top and the top portion of the door pads is made with squidgy soft-touch materials. And everywhere you touch it feels properly premium and in fact if you replace the VW logo on the steering with other German premium brands, the Tiguan's cabin will still feel at home. Now the Tiguan feels like good value, doesn't it?
Features Execution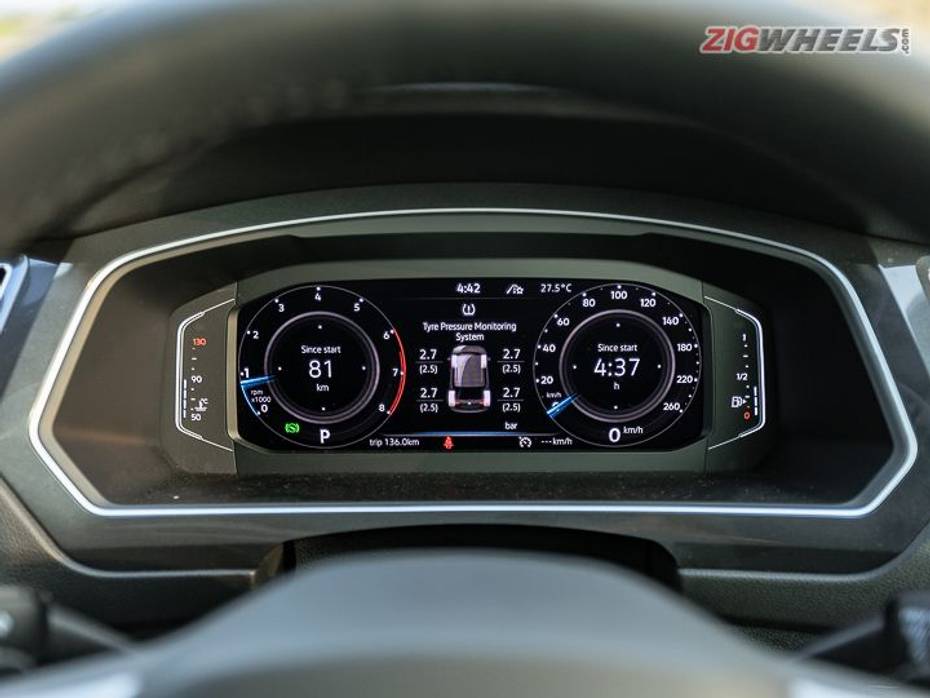 The Tiguan might not have many headline features but whatever equipment it gets, is well executed. For example with the facelift you get an all digital instrumentation which gives you loads of information right under your nose. You can also change the layout of the screen to your liking and the screen itself is of high resolution.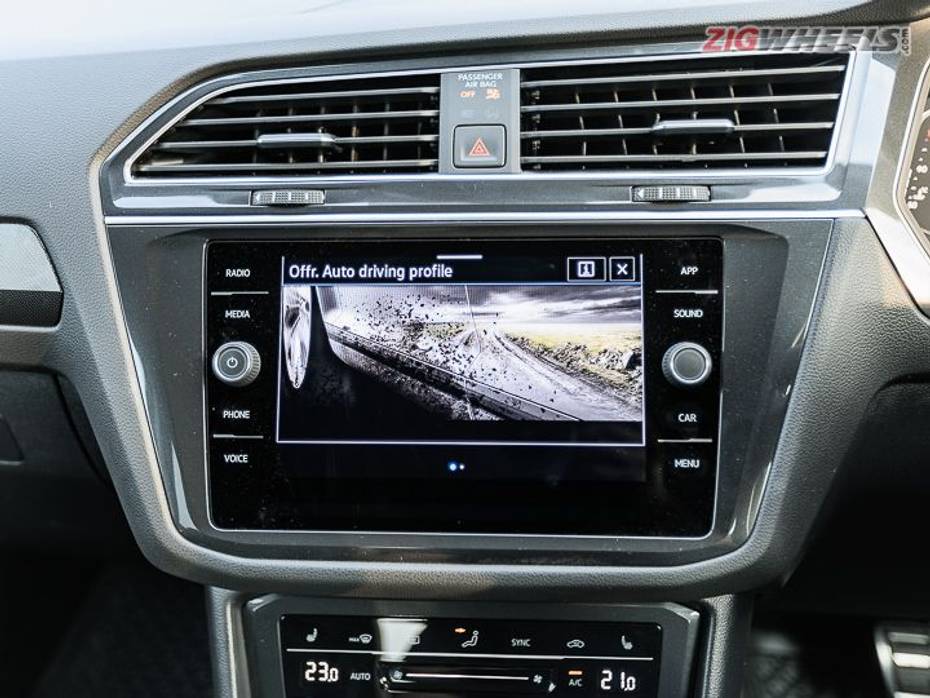 The infotainment screen on the other hand is the biggest, at 8-inches, but the way this system functions is almost flawless. The touch response is snappy and you also get big icons for the menu screen, which make scrolling through it easy even while driving. You also get some wow elements with this display. You get gesture control which works quite well and there is a proximity sensor which enlarges the important icons whenever you take your hand close to the screen.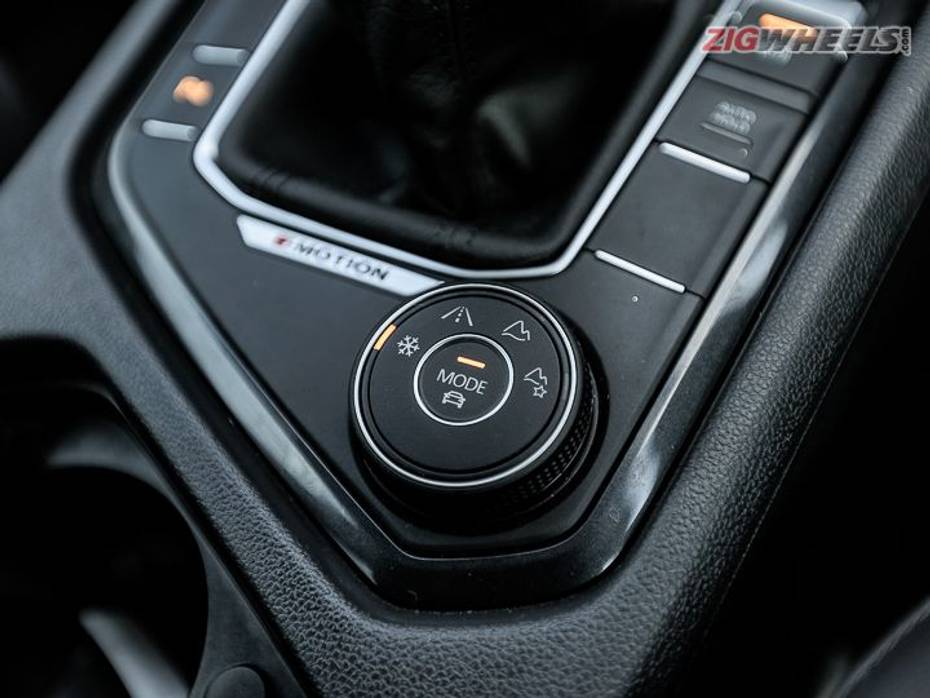 Other standard features in the Tiguan include three-zone climate control, panoramic sunroof, powered driver seat with memory function, powered tailgate, adaptive LED headlamps and heated front seats and steering wheel.
Effortless Performance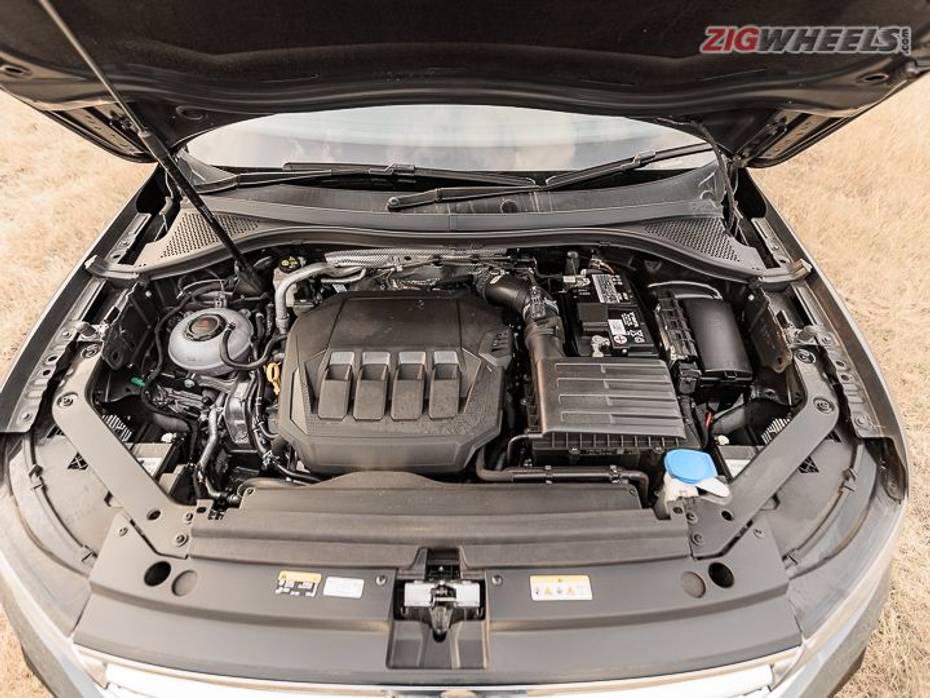 So the biggest change in the Tiguan is the engine. The old diesel TDI engine on the Tiguan has been swapped for a 2.0-litre turbo petrol. The new turbo petrol motor makes 190 PS of power, 50 PS more than the TDI, and as a result it feels more exciting. It now has the performance to put a smile on your face as the engine feels free revving and it sounds quite sporty too. It's not only the outright power that impresses you, but it's also the effortlessness of this engine and the 7-speed DCT transmission which makes driving this car such a joy. Even at low speeds this engine responds well and the 7-speed dual-clutch transmission feels jerk-free and smooth.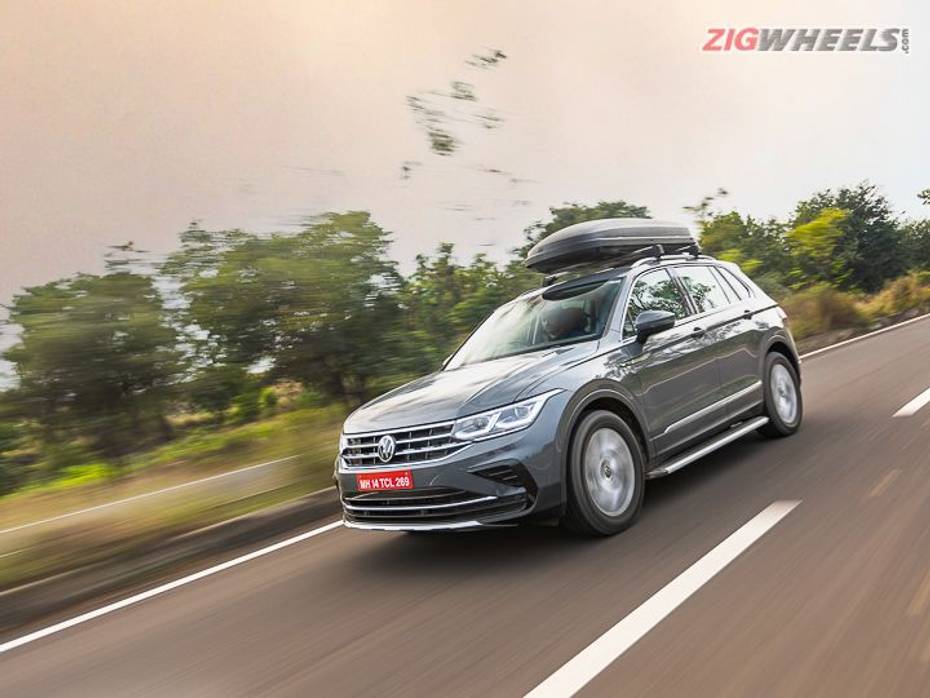 Out on the highway, the Tiguan feels right at home, as you can do three-digit speeds comfortably for hours. This engine also feels refined and there's hardly any wind or tyre noise that seeps into the cabin. Even on a narrow two-lane road if you want to execute a quick overtake all you have to do is flex your right foot ever so slightly and you'll get it done very easily.
It Pampers You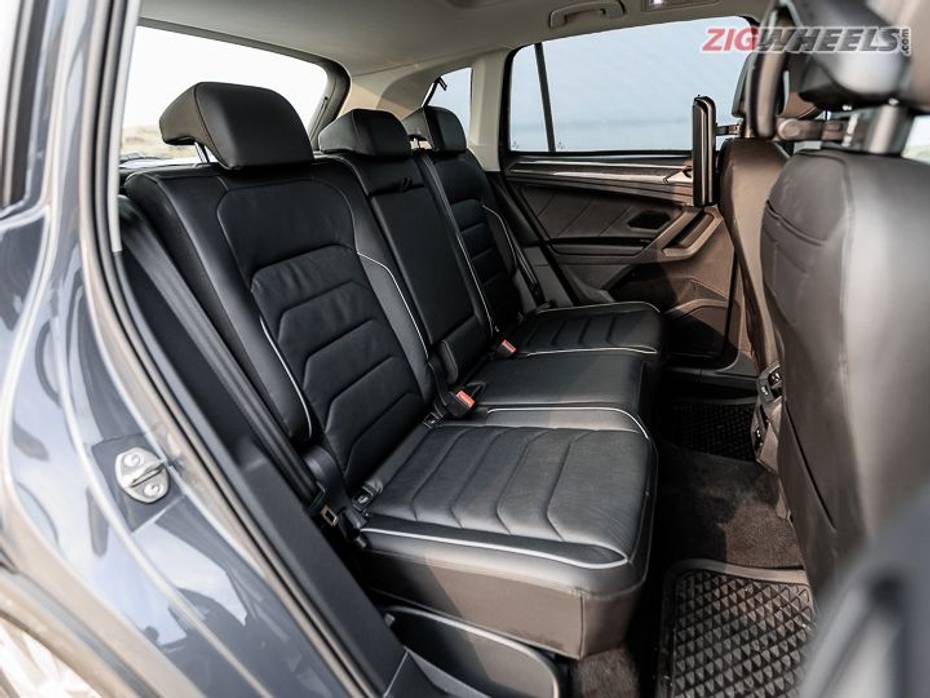 You can enjoy the Tiguan not only from the comfortable front seat but also if you're chauffeur-driven. At the back you get more than enough knee room, just about enough headroom, and you can also recline the backrest for added comfort. To give you a feeling of a boss, you can fold the front passenger seat flat, so you can put your feet up and relax.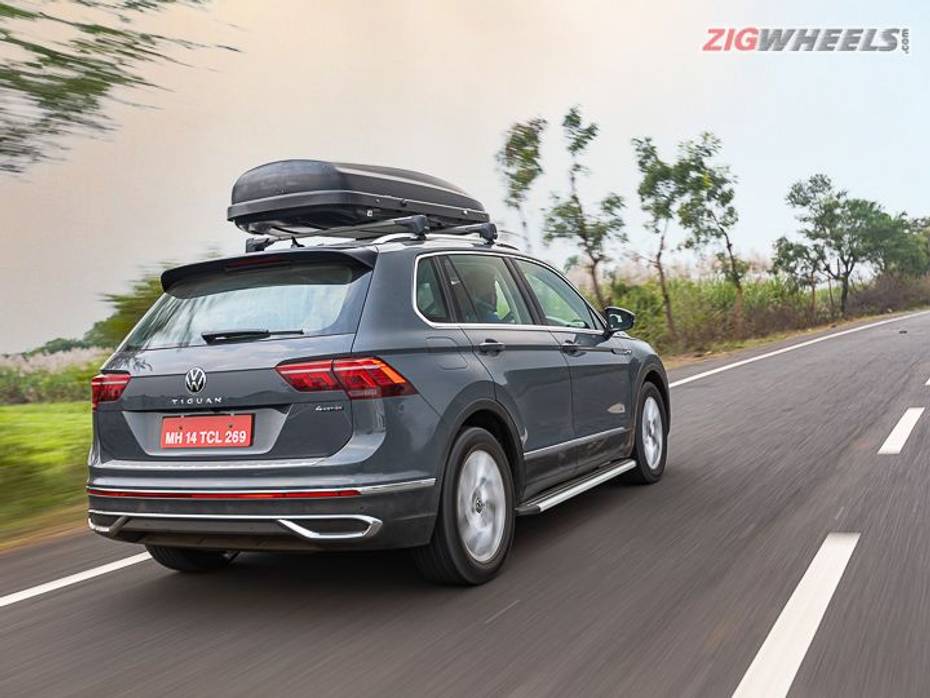 It's not only the space and seating comfort that impresses you in the Tiguan but it's also the ride quality which is superb out on the highway. Over rough or even undulating surfaces the Tiguan remains unfazed, which makes it a great long distance cruiser. Yes at low speeds you do feel some firmness where you can hear the suspension working. It isn't a deal breaker though as it's more about you hearing it than feeling it inside the cabin.
Brilliant Around Corners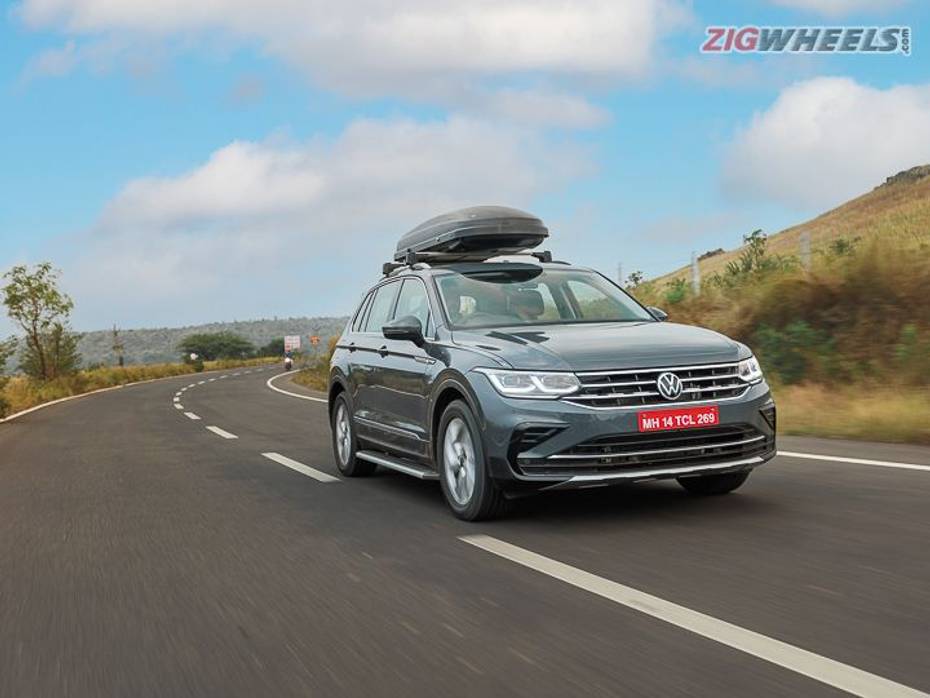 The Tiguan not only has effortless performance and rides comfortably over our roads but also handles beautifully around corners. This is where this car has a distinct advantage as compared to its full-size SUV rivals thanks to the lighter and stiffer monocoque chassis. We drove the Tiguan over the same corner where we had previously tested the MG Gloster, Toyota Fortuner and the Ford Endeavour, and the results were startling. At this corner the SUVs felt comfortable going at 50kmph, at 60kmph they struggled and anything beyond that they fell apart. Compared to the Tiguan, at 60 kmph it felt comfortable as it took the corner with ease and at 70kmph, where even sporty cars would struggle, the Tiguan remained almost unfazed. Sure the tyres were running out of grip but even at the limit the way this SUV behaved is commendable. It not only goes fast around corners but also feels comfortable while doing so!
Cons
Size To Price Ratio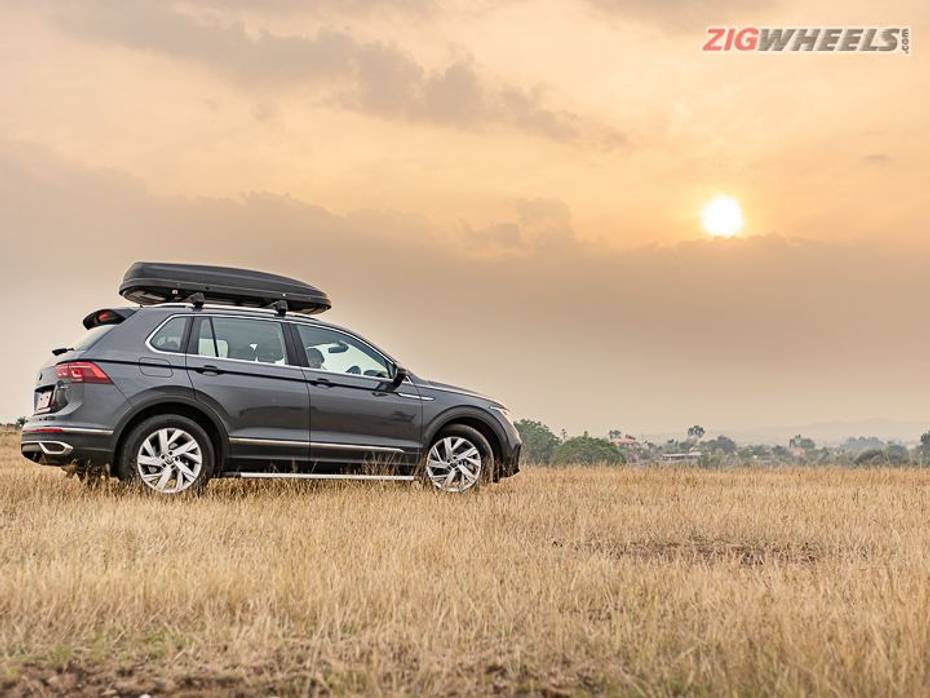 At almost 40 lakh on-road, you can get other SUVs which are much larger in size. Sure the Tiguan's design is pleasing to the eye but it doesn't stand up and shout, "Hey look at me, I'm a big expensive SUV!"
| | | | |
| --- | --- | --- | --- |
| | VW Tiguan | Toyota Fortuner | MG Gloster |
| Length | 4509mm | 4795mm | 4985mm |
| Width | 1839mm | 1855mm | 1926mm |
| Height | 1665mm | 1835mm | 1867mm |
| Wheelbase | 2679mm | 2745mm | 2950mm |
Lack Of Diesel Engine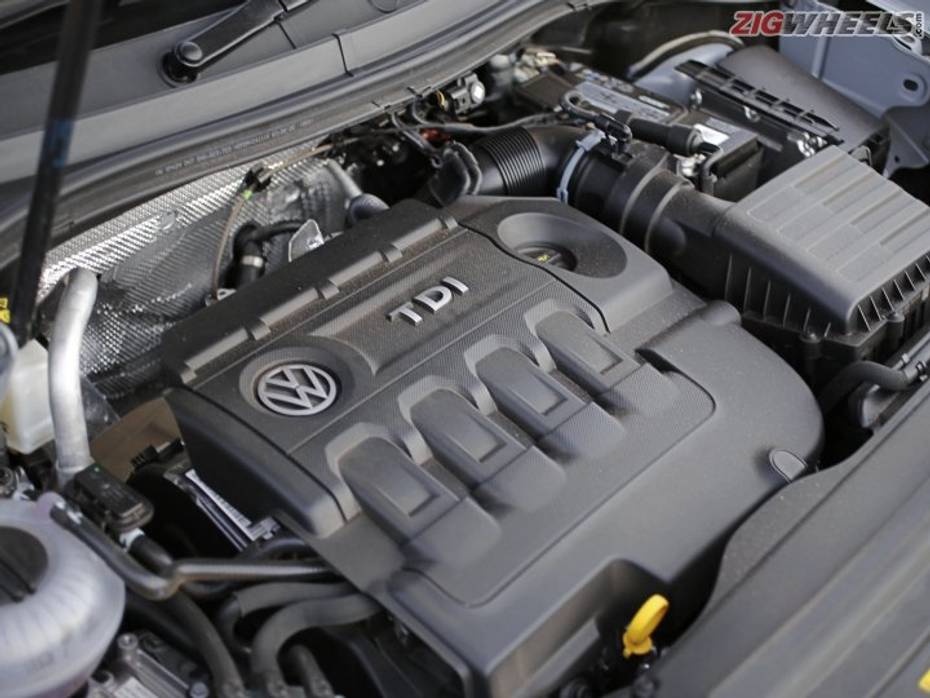 As mentioned earlier in the review, the new turbo petrol engine gives you effortless performance, especially compared to the old TDI engine, but in terms of fuel efficiency it does take a big hit. While driving calmly on the highway the Tiguan just about managed to return around 12kmpl but even if you go a little bit faster, it easily drops into single digits. As a result with the ever-rising fuel prices this might be a deal-breaker for some people.
Lack Of Wow Features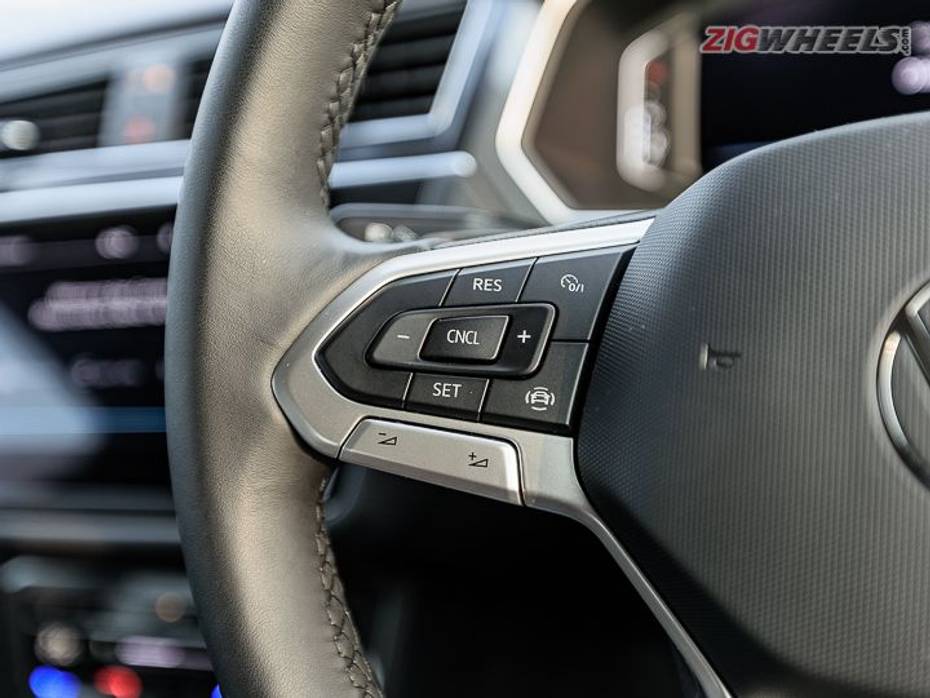 At this price point, you do miss out on some feel-good features on the Tiguan. For example you do get heated front seats and steering wheels, which is good for the winters if you stay in the hills. But for the rest of India, they should have given cool seats. Other feature misses include a wireless charging pad, wireless Android Auto Apple CarPlay and rear sun blinds. But more importantly, the Tiguan doesn't offer any ADAS features which have started to become a norm even on cars almost half this one's price.
Verdict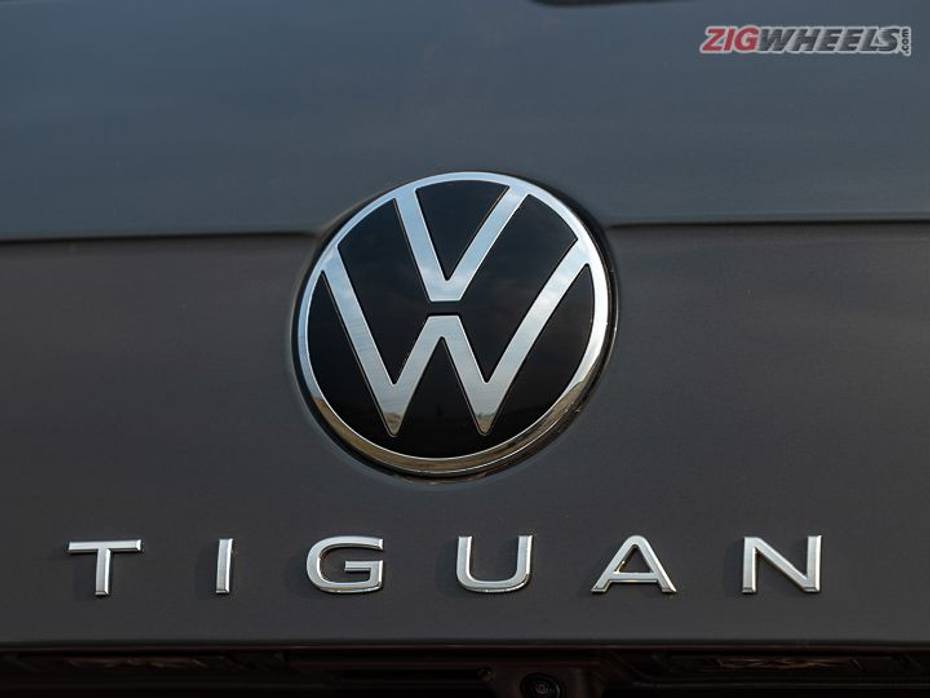 Overall, the Volkswagen Tiguan is an extremely likable car. It drives beautifully, it feels like it is made with utmost care and precision, and it looks quite classy too.
Sure, for some people it might come across as too expensive considering the size and features list, but the Tiguan offers a different type of quality. If you make your car buying decision from the heart it might just be perfect. If you enjoy driving, love the feel of quality and if you also like your cars to look and feel simple the Tiguan is made just for you.
Volkswagen Tiguan Video Review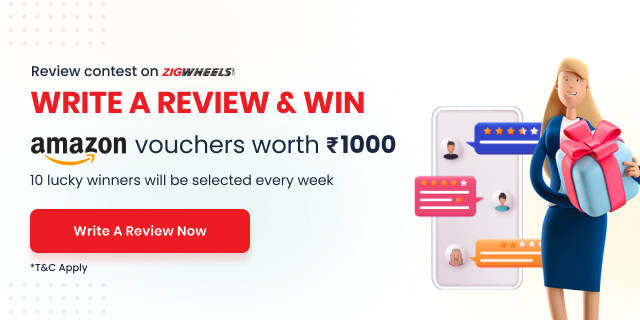 See what our community has to say!
NEW
India's largest automotive community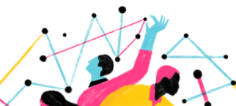 1 Other Things You Might Want To Do