Tata Nano: A Journey Spanning A Decade
Oct 13, 2019
Views : 28893
---
With the Nano all but set to disappear come the end of the year, here's a look at the long journey that brought India's most affordable car dream to its present predicament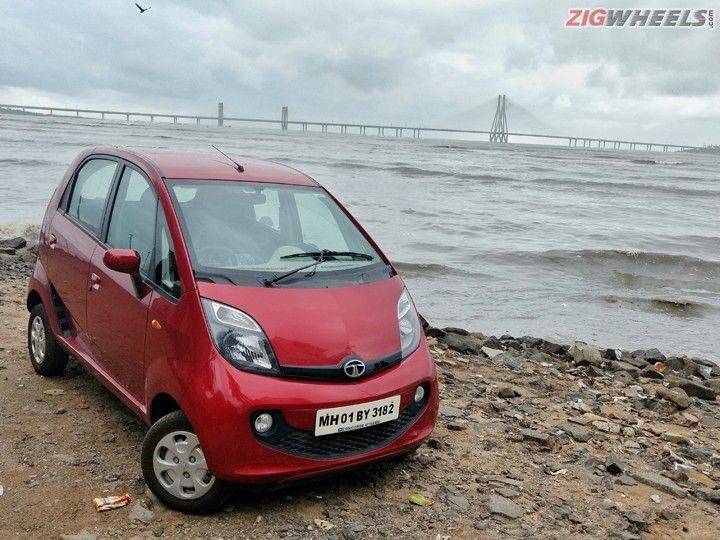 Back in 2008, Tata Motors was in high spirits, raring to unleash the Indian equivalent of affordable cars such as the Volkswagen Beetle and the Renault 2CV. Fast forward a decade and it certainly didn't pan out that way as Tata announced the discontinuation of the tiny hatchback in 2018. In 2019, things didn't improve for the Nano at all as not a single unit was produced this year. And only one unit was sold in February this year according to Tata. How did this situation come to pass for the hatchback pegged as the 'cheapest car ever?' Take a walk with us down the memory lane of a not so distant past.
Infancy

The inspiration behind the Nano came when Ratan Tata saw entire Indian families, sometimes even as many as four or five, travelling on scooters and motorcycles. Back then, owning a car was more of a luxury given the common folk's low purchasing power. Seeing this, Tata Motors set to work on a variety of solutions, with initial ideas going towards better two-wheelers. But then he realised that two-wheelers will always be a liability on safety for a family. With that, Tata Motors started fresh and set to work on an affordable four-wheeler for the masses. His idea initially wasn't even taken seriously but he somehow made it possible.
Unveil

Development of the Nano hatchback started way back in 2005, with the hatchback finally being unveiled in 2008 at the Auto Expo in Delhi. Tata Motors kept their word, with the Nano being marketed as the world's cheapest car at an introductory price of Rs 1 lakh! The mini hatchback was pegged as a car for the lower to middle class masses, fitting right into their budget. This was initially a game-changing move as it was revealed in what Tata believed to be the age when having a car was more of a necessity rather than just a luxury to brag about.

The mini-hatchback was shaped resembling an egg and stood just 3 metres in length, making it practical for Indian cities where roads are tight and parking spaces are dwindling. Powering the hatchback was a tiny 626cc motor that made 38PS and had a top speed over 100kmph. It came with a variety of cost-cutting features that included a trunk only accessible from inside the car, and the absence of AC, power steering and power windows on the base spec model. It also was devoid of any airbags. Such was the cost cutting that it didn't feature an external fuel filler cap. In order to access the fuel inlet, you had to open the front hood. Despite all this, it certainly gained a lot of popularity as Tata Motors reported that before its official launch in 2009, the Nano had received a whopping 2.03 lakh pre-bookings!
The Turbulence

Unfortunately, the unveiling was the only smooth sailing process of the Nano as it ran into a variety of hiccups soon. A major one was that the Nano was originally meant to roll out from Tata's proposed Singur plant in West Bengal. However, due to political and farmers protests against land acquisition, Tata had to shift production to a new plant in Sanand,Gujarat, where it continued to be made until now. This severely delayed supply deadlines and that resulted in unprecedented waiting periods of one month for the hatchback after its launch in 2009. Ironically, this move helped Gujarat become the automotive hub of the country.

At the time of launch, Tata Motors expected to sell around 2.5 lakh units per year, but it was nowhere close to that number with a peak of 74,527 in FY 2011-12. After that the numbers went on a downward spiral with a total of 297 produced and 299 sold during the period of January-September 2018. In June that year, the company sold 3 and produced just one. Attempts were made to keep the hatchback afloat with new models like the Nano Twist, targeted at college kids by branding it as fun and peppy. In mid-2015, the Tata Nano GenX was launched with a complete aesthetic overall. It was also equipped with a AMT transmission, better seat fabrics, a functioning hatch door and revised bodywork to make the car look more attractive. However, it couldn't stop the eventual discontinuation in 2018.
Why It Went Wrong?

There was a plethora of factors that resulted in the hatchback's demise. These included a severe lack of safety features that included a lack of airbags and didn't even meet basic UN safety requirements. Its reputation was also heavily damaged by various incidents of Nanos reportedly catching fire just hours after leaving the showroom. That combined with compromised wait times had an adverse effect on sales.

Aside from that, the country's stricter crash test norms and the upcoming BS6 emission norms also played a part. This meant that the cost of powertrain upgrades combined with safety upgrades would simply render the car too expensive for customers, causing Tata to lose even more money on a failing product. The current automotive slowdown also made a dent with rising costs, making Indian customers hesitant to purchase a vehicle in the current era.

An important thing to note is that a car is still an aspirational product in India. And that Tata ironically backed themselves into a corner by pinning the Nano in a niche segment which never really had a competitor. The timing of this was unfortunate as customers swayed towards bigger and more premium models. This meant that few wanted to be seen in something marketed as 'the cheapest car ever,' even if that meant paying a bit more. And for something that was touted as the 1-lakh car, the Nano never did quite sell at that price save for a handful of introductory models.

The final straw came when Tata shifted its focus to the Impact Design architecture with upcoming models like the Buzzard, Altroz, and the H2X. This pretty much sealed the fate of the mini hatchback into eventual oblivion.

In the end, Tata Motors had a great concept for its time with the Nano, but it didn't adapt to consumers' changing demands and went for too many compromises in the chase for affordability without adequate quality. Tata Motors is yet to announce an official date to put the Nano to rest for good, but we expect it disappearance by the end of the current fiscal year and phased out before the 2020 BS6 emission norms kick in. While we would have liked the Nano to continue, possibly in EV form considering Tata's recent plans, that's unlikely to happen given the extra costs to adapt the car to stricter safety norms and a new motor.
Add Your Comments
View all comments