Tata Buzzard Geneva Edition In Pictures
Mar 8, 2019
Views : 16679
---
What is the Tata Buzzard all about? Here's a closer look at it in pictures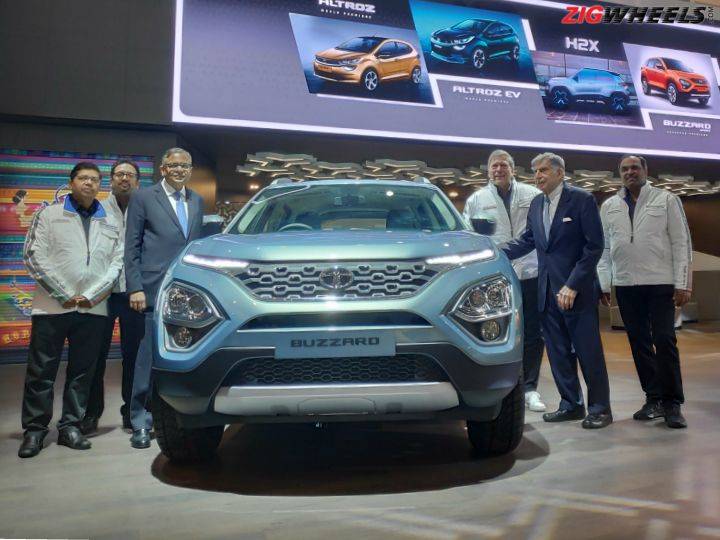 One of the three major reveals at Tata's 2019 Geneva Motor Show stand was the almost production-ready version of the H7X Prototype. Essentially an extended version of the popular Harrier (by 63mm), the Tata Buzzard has two additional seats - giving it the arsenal to take on the Mahindra XUV500. The Buzzard will be renamed when it is launched in India, as Tata officials do not think the name will be popular here, it is set to replace the Hexa as the flagship SUV in the company's lineup. Here's what we noticed about Buzzard Geneva Edition:
The Tata Buzzard looks like the Harrier but has subtle cosmetic updates to help it stand out.
The most obvious difference is that has given up some of the sportier touches for a more classier look.
The lighter coloured grille and the chrome surround around the headlamps make the Tata Buzzard feel more stately than sporty. It might make it more appealing for those looking for a large family SUV.
You still have to look for the details to differentiate between the two if you look at them head-on.
From the side, it is clear that the Buzzard is longer. The 63mm increase in length is noticeable, and so are some design elements which their presence felt.
Changes include the large rear quarter panel, the flatter bootlid, the extra overhang after the rear wheel, the chrome inserts on the window line and the roof rails.
The roof rails actually hide the fact that there is a bulge in roofline to free up headroom for the second and third-row passengers.
You may notice the new alloy wheels design, the Buzzard actually gets larger 18-inch wheels instead of the Tata Harrier's 17-inch wheels. Somehow they don't look as chunky as the ones on the Harrier.
Some may like flatter boot lid and the rear windshield as compared to the Harrier.
The rear design is mellowed-down as compared to the Harrier, with sharper taillamps and a conventional bumper.
What do you get for all the additional length and height? These two seats.
The rest of the cabin is actually more or less the same as the Harrier.
Which is not a bad thing, really.
Do you like what you see? Let us know in the comments section below.
Add Your Comments
View all comments