Meet The Skoda Kodiaq RS: Paris Motor Show 2018
---
Skoda's most powerful SUV runs on diesel, and holds a record at the Nurburgring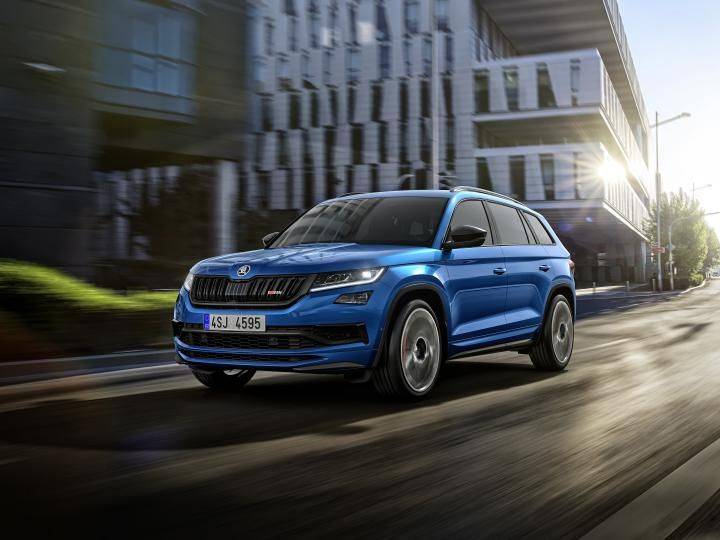 With the steady stream of teasers, Skoda ensured we always knew enough about the Kodiaq RS. The flurry of teasers can finally stop now, as the Czech manufacturer has officially unveiled the Kodiaq RS.
You know these technical bits by now, but we'll reiterate them for good measure. Powering the Kodiaq RS is a 2.0-litre diesel engine with two turbos slapped on them. This puny four-cylinder engine makes a whopping 240PS of power and 500Nm of torque. Pair this with a 7-speed dual-clutch transmission and all-wheel drive, and you've got a rocketship that does 0-100kmph in just 7 seconds. Top speed has been capped at 220kmph, because, physics.
The all-wheel drive can transfer up to 85 per cent of the torque to a single wheel. Under light load, the Kodiaq RS is happy to be a front-wheel drive machine, making sure it doesn't guzzle fuel. There's Dynamic Chassis Control (DCC) on offer as well, which gets six modes - Eco, Comfort, Normal, Sport, Individual and Snow. Each mode has a different setting for the electronically adjustable shock absorbers. Also on offer is what Skoda calls 'progressive steering' that alters steering ratio based on speed, and promises to deliver better control when you're chucking it hard into a corner. The brute power, combined with clever tech is what helped the Kodiaq RS to lap the Nurburgring in an impressive 9 minutes, 29.84 seconds.
Another unique aspect of the big RS is the 'Dynamic Sound Boost' feature. Yes, this does mean that the car's audio system plays fake engine/exhaust sounds. This too has three different levels, based on the mode you select. It has a 'gentle note' in Comfort, 'dynamic' sound in Normal and 'sporty and potent' note in Sport. Skoda's words, not ours. This feature works by pulling in data from the car's on-board electronics. There's a special device, which Skoda says 'complements the natural sound of the exhaust system and refines the engine's sound profile'.
Did we mention it looks absolutely smashing? The Kodiaq already is a handsome SUV, trading outright muscle for sombre sophistication. With the RS, all that sophistication is layered with racy elements. The sharper bumpers, the massive 20-inch alloy wheels, the vRS badge (now finished in red), and the blacked out grille and bumper are all hints that this isn't an ordinary Kodiaq.
The interiors get the RS treatment too. Wood trims have been shown the door, and are now replaced by mock carbon-fibre. There's a 12.3-inch screen instead of the dials, and that too gets a carbon-fibre background.
Other changes include all-black upholstery (with black roof liner as well), sport seats draped in Alcantara and a flat-bottom steering. It's as practical as ever with seven seats, and 230 litres of boot space.
Would you want to see the Skoda Kodiaq RS in India? Let us know in the comments below! The Octavia RS sold like hot cakes, and the Superb Sportline is in the pipeline. That tells you Skoda doesn't mind serving up some performance-oriented cars every now and then. Will Skoda India bring this rabid bear to our shores? Well, we certainly hope so!
Add Your Comments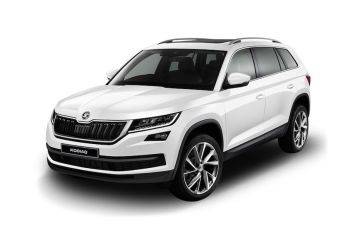 View November Offers
View On Road Price
Skoda Kodiaq Alternatives