Aston Martin Has Finally Produced Its First DB5 Model After 55 Years!
---
Only 25 such units will be produced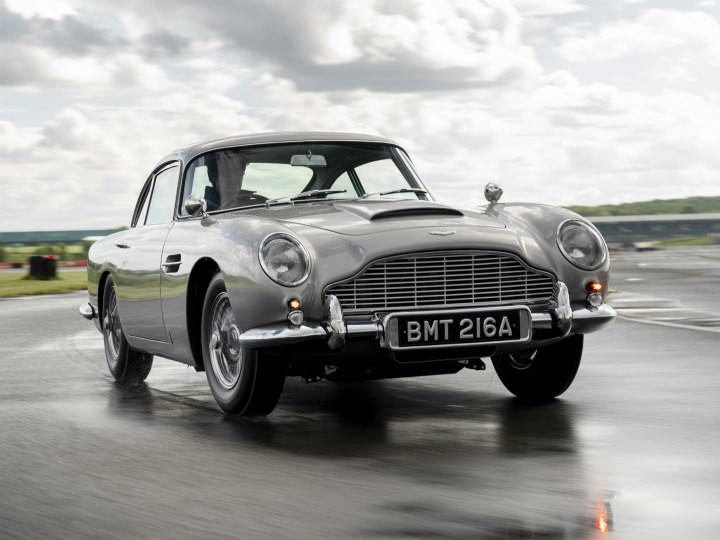 All units will be built at the carmaker's original manufacturing base in Newport Pagnell, Buckinghamshire, UK.

It gets a variety of gadgets from the Bond movie car such as rear smoke screen, bulletproof rear shield, front and rear battering ram, and simulated tyre slashers.

It is powered by a 4.0-litre inline-six engine putting out 294PS paired to a 5-speed ZF manual transmission and rear-wheel drive.

These 25 units aren't road legal.
Aston Martin has rolled out the first production unit of the DB5 Goldfinger Continuation Edition. This is the first DB5 unit produced by Aston Martin in 55 years. Less than 900 units were made between 1963 and 1965 with the most famous one being used in the James Bond film Goldfinger in 1964.

As the name suggests, the DB5 Goldfinger Continuation is essentially a reproduction of James Bond's 1964 DB5. Limited to 25 units, the car is built by Aston Martin Works in association with Bond filmmaker EON Productions. The 25 units are painted in the same Silver Birch paint as the movie car with Aston Martin claiming a build time of six months per unit from start to finish. Another interesting tidbit is that the car is being produced at the carmaker's original manufacturing base in Newport Pagnell, Buckinghamshire.
Also Read:

The main talking point about the DB5 Goldfinger Continuation is that all 25 units will be loaded with a variety of gadgets that were used in the movie car. Some of them include rear smoke screen, oil slick delivery, twin front simulated machine guns, simulated tyre slashers, front and rear battering ram as well as a bulletproof rear shield.

The gadgets on offer continue on the inside with bits such as a simulated radar screen tracker map, a telephone in driver's door, gear knob actuator button, armrest and centre console-mounted switchgear, under-seat hidden weapons/storage tray, and a remote control for gadget activation.

All 25 units will feature original DB5-styled aluminium exterior body panels cloaking a DB5 mild steel chassis structure. Powering the DB5 will be a 4.0-litre in-line six-cylinder engine with a six-plug head, three SU carburettors and oil cooler. All this gives the saloon up to 294PS of power and is paired to a 5-speed ZF manual transmission. Power is distributed via a mechanical limited slip differential.

While the price tag of the Aston Martin DB5 Goldfinger Continuation hasn't been revealed yet, deliveries have commenced and are set to carry through till the end of 2020. There is a catch to owning this car as it is not road legal, but the carmaker has had to make sure these cars don't harm anyone.
Also Read:
Add Your Comments