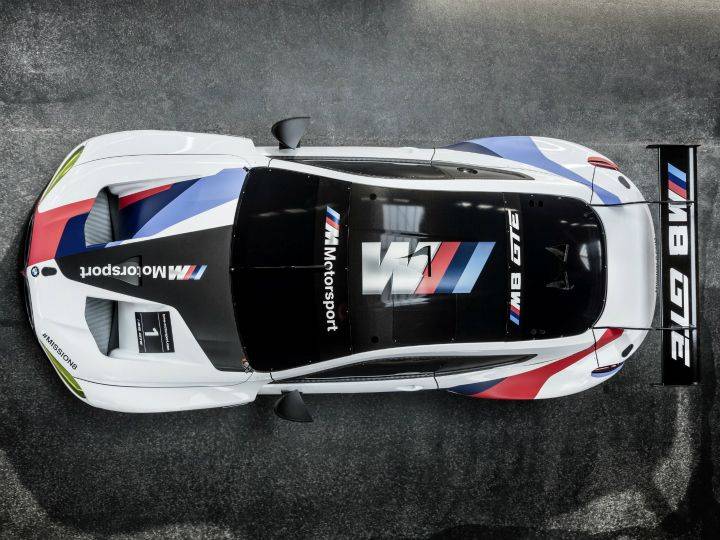 We've got to admit that we were quite awestruck when the BMW 8 Series was revealed. The design was striking, to say the least. But it wasn't necessarily everyone's cup of tea either. Now that we have set our eyes on the BMW M8 GTE race car, we can safely say that it is a remarkable piece of machinery. The M8 GTE is BMW's top-of-the-range racing machine set to make its race debut in January at the Daytona 24 Hours before taking part in the FIA World Endurance Championship (FIA WEC). It will even mark BMW's return to the iconic 24 Hours of Le Mans. But, what's important here is that it is based on the production version of the 8 Series, which will go on sale next year as well.
The M8 GTE is dripping with race tech. It is powered by a 4.0-litre twin-turbo V8, which is possibly a resized version of the new M5's 4.4-litre unit. Stringent competition regulations have forced BMW to cap the engine size and the base power output, which is rated at 500PS. The same cylinder block and cylinder head will be used in the production-spec 8 Series as well. Mated to this engine is a sequential, 6-speed racing gearbox.
The race car is a massive 4,980mm long and 2,046mm wide. Despite its size, the race machine weighs a mere 1220 kilograms. This is possible because of the extensive use of ultra-light carbon-fibre reinforced polymers. The production 8 Series won't be so light, but it will get the same roofline and the design of the front and rear lights.
The blue/red livery of the M8 GTE was designed especially for the Frankfurt International Motor Show and gives us a taste of what is to come in 2018.
The M8 GTE has used "virtual development" to get the most out of components like the traction control, which has been developed with the assistance of an artificial intelligence system. Giving designers the freedom to experiment has resulted in 3D printed race panels too. This was further helped by rapid prototyping which allowed them to develop a usable prototype in just 24 hours after the virtual development.
The BMW M8 GTE enjoyed a successful rollout on July 1 this year at BMW Group Plant Dingolfing (GER) – the very place where the production model of the new BMW 8 Series will be manufactured.
The knowledge gained from race outings with the race car in the FIA WEC and the IMSA WeatherTech SportsCar Championship (IWSC) in North America will be directly incorporated into the development of the production model, which is running parallel to the motorsport project.
The BMW M8 GTE looks promising and if these are the same lines which the M8 will follow, we can't wait to see it in the flesh.
Recommended Read
- Lamborghini Aventador S Roadster: Unveiled In Frankfurt, Launched In India
- Audi Goes Drifting With First Ever Rear-Wheel Drive R8 V10