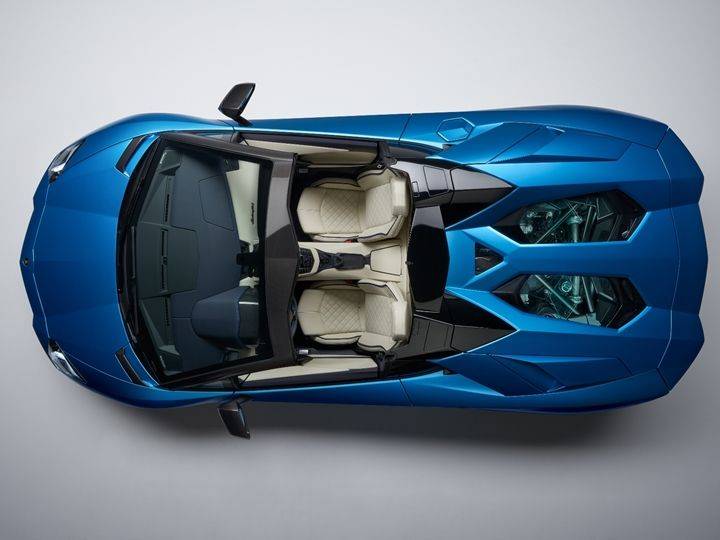 The Lamborghini Aventador S is fast, desirable and attracts everything from gold-diggers to investment bankers. But the one thing it can't do is offer the intimacy of a drop-top that lets the V12 howl deafen you in the most pleasurable of fashions. So here's the Aventador S Roadster. It's been unveiled at the 2017 Frankfurt Motor Show and simultaneously launched in India too, at just Rs 5.79 crore (ex-showroom).
It's not a brand new car, of course, but much like the coupe that was introduced here in March, it's a facelift. Under the bonnet is, some storage space. The mid-rear-mounted 6.5-litre V12 makes 740PS and 690Nm of torque, same as the coupe, as is the 350kmph top speed. It's put on 50kg but the 0-100kmph sprint takes a massive hit – 3 seconds instead of the coupe's 2.9. How could you, Lamborghini!
Over to the whole point of this car: its roof. It's a two-panel hardtop setup with each panel weighing less than 6kg, finished in matte carbon fibre. High gloss black and shiny visible carbon fibre are optionally available, while Lambo's Ad Personam programme opens the door to a wider range of custom selections. An easy fastening system allows the roof panels to be quickly removed and stored in the front trunk. Putting the top back on, well.
A cool touch is the electrically operated rear window that can be lowered when you want to listen to the V12 in all its glory and kept up when the roof's down to control cabin noise and airflow.
That aside, most of the traits are shared with the Aventador S. So you get revised bumpers for improved cooling and aerodynamics, the new four-wheel steering system, new active suspension and the newly added Ego (individual) driving mode, apart from the standard Strada, Sport and Corsa.
The car you see here features the gorgeous Blu Aegir paint shade, a custom creation under Ad Personam. The program offers an endless range of trim options, paint jobs and stitches to choose from, and if you make up your mind soon enough, you can have your Aventador S Roadster by as early as February 2018.
Recommended Read:
- Audi Goes Drifting With First Ever Rear-Wheel Drive R8 V10
- Mercedes-AMG's Project One Hypercar Is Human Ambition On Wheels