Fancy A 'Yeh Dosti' Moment On An Electric Bicycle?
---
Chinese e-commerce site Alibaba has a vintage-looking electric cycle complete with a sidecar on sale
Comes in two variants and features either a 250W or a 500W motor.

Combined carrying capacity (cycle + sidecar) is a claimed 200kg.

Costs around $1,250 (approximately Rs 92,500, before taxes) without shipping fees included.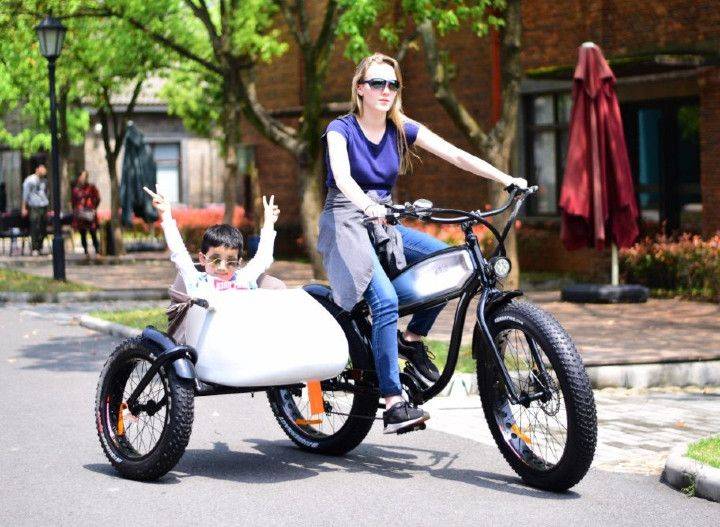 We're already quite aware that China rules the roost when it comes to electric vehicles. First off, it boasts the third highest reserves of lithium worldwide, making the production of Li-ion batteries (used in electric cells) quite a cheap endeavour. However, the overarching reason for their dominance in the field is their inherent ability to mix and match, which brings us to the matter at hand: an electric bicycle with a sidecar, spotted on Chinese e-commerce site Alibaba.
A closer look
As with most products on Alibaba (and in China at large), the electric cycle in question is built by both Wuyi Sinimo Industry and Trade Co and Hangzhou Youkai Technology Co. It's priced between $1,250 and 1,800. However, for the sake of this article, we will be focussing on the more affordable one built by Hangzhou Youkai.

Essentially a pedal-assist bicycle, it comes in two broad variants: named (unimaginatively) Harley Old and Harley Fat. Both variants sport a lightweight 6061-grade Aluminium alloy frame which mimics vintage bikes. The Harley Old gets a hardtail construction (with only a link-type front suspension) and regular-sized 27.5-inch tyres, while the Harley Fat gets a rigid frame (no suspension whatsoever) with fat 26-inch tyres (hence the name). Braking for both variants is taken care of by Tectro brakes biting into 160mm rotors front and rear.
Moving to the electrical components. The battery mechanism in both variants is enclosed within a faux front tank, instead of the downtube. In terms of propulsion, there are two options: the combo of a 36V/10Ah battery powering a 250W rear wheel hub mounted motor or a larger 48V/15Ah battery powering a 500W motor. Both offer a claimed 4-6 hour charging time, and a range of roughly 60km on a full charge.

The distinction, however, is that while the former configuration allows for a 28kmph speed (which is the limit in China as well as the EU for electric bicycles), the latter is capable of a 48kmph top end, aimed mostly for the US and Canada, where the laws governing electric bicycles are a lot more lax.
Finally, we get to the USP: the sidecar. Constructed of a fibre shell over an aluminium frame, options include everything from a barebones model that simply keeps the occupant's hands and feet inside the vehicle, to a fully enclosed capsule with a pullover sunshade. That said, it isn't too large, and can fit at most a preschooler or a moderately large dog, despite which the website mentions a claimed carrying capacity of 200kg.

Nevertheless, considering the novelty factor, we can imagine quite a few parents ferrying their kid to preschool (or pooch to the dog park) in one of these. However, don't expect to get your hands on one of these anytime soon because…
There's a price to pay
First of all, though Alibaba isn't banned in India, we imagine the Indian Customs authorities wouldn't take too kindly to large packages from China. Next, retailing at approximately $1,250 (Rs 92,500, before taxes) the Harley Old (or Fat) is a legitimately costly choice, considering the average pedal-assisted bicycle in India costs around half of that.
Moreover, not only are sidecars a rare sight in India, the prospect of a bicycle-mounted sidecar is downright dangerous considering the chaotic urban traffic scenario in India. Moreover, an ICE-engined or even normal electric scooter can do it all, with a much larger modicum of safety.
See what our community has to say!
NEW
India's largest automotive community