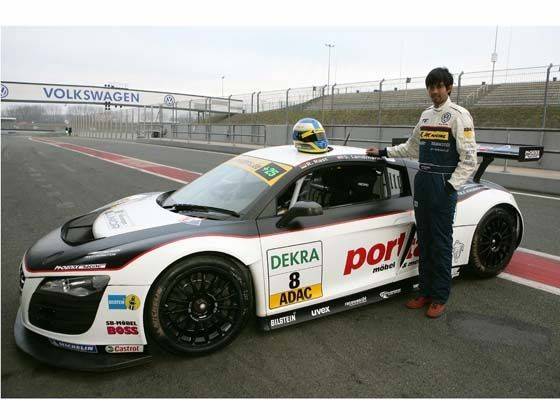 Audi recently took its wraps off their new version of the Audi R8 LMS, which will debut on race tracks across the world in 2012 as the Audi R8 LMS Ultra. While, we eagerly await the arrival of this aerodynamically upgraded, even more powerful competition ready version, one of India's most accomplished international tour car racing drivers, Aditya Patel recently got an opportunity to test the Audi R8 LMS sports car for the upcoming season of ADAC GT Masters in Oschersleben, Germany.
Having just completed a very successful season in the 2011 Scirocco R-Cup, Aditya ran 15 laps of the track focused R8 sports car in a morning session, which was followed by a Race simulation of 5 laps and a 35-minute race distance run.
Elated at having received such a rare opportunity to test the GT3 at such an early age, Aditya said, "The test was a big surprise for me. It´s almost like an early Christmas gift. I thought the car would be much harder to drive but it was just super fun! During the morning session I did 15 laps and felt quite confident in the car. I think I almost tested the limit of the car a little bit. Rene Rast and the engineers helped me understand the car before the first session and it was really useful. After the first session we looked at the data and in most parts of the circuit it was really good. There are areas where I can improve, especially the braking. I have to learn to brake harder".
He further added," Throughout the test I was able to control the car very well. Compared to the Scirocco, the Audi has a lot more downforce and a lot more grip. The car is lower and tyres are bigger. The car has fantastic balance and feels very neutral on fast corners. On the long straight Audi did about 250 kmph compared to the Scirocco which does about 210 kmph. I'm grateful to the Volkswagen group for giving me this opportunity. If I could drive the ADAC GT Masters or a GT3 Car in a championship next year, it would be a dream come true."
The current season of the ADAC GT Masters had 146 drivers taking part from in 16 races from 17 nations. Besides Audi, car manufacturing brands like BMW, Porsche, Corvette, Ferrari, Lamborghini, Mercedes, Ford and Alpina participated in the last season.