2017 EICMA: Getting To Know Yamaha's Niken
by Hiral
Nov 7, 2017
Views : 4627
---
After its official unveiling at the Tokyo Motor Show, Yamaha has revealed more details on the three-wheeler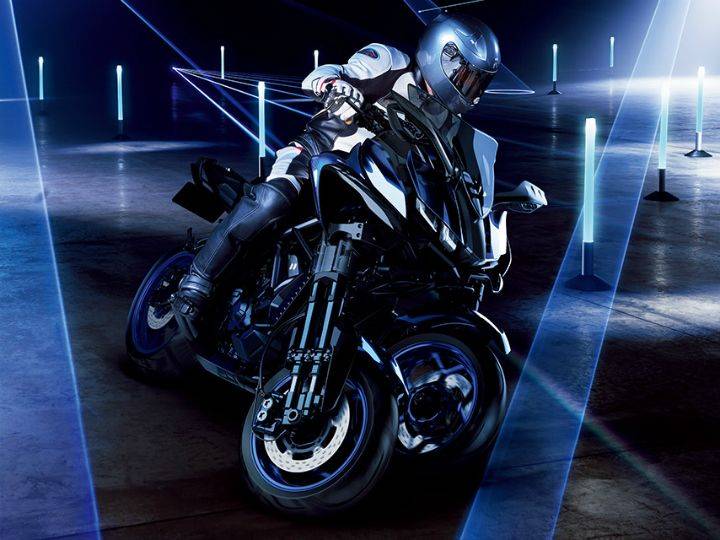 When it comes to autonomous vehicles, the whole world seems to be entering unchartered territory. Everything that seemed ridiculous a few years back seems fairly sensible now. Some of these vehicles aren't just science projects by tech-nerds anymore and are being seriously considered for mass production as a means of transportation.
Recently, we introduced you to the MC4-W, which is bound be to be launched during the 2017 Tokyo Motor Show. However, it seems like Yamaha isn't done yet. At the opening ceremony of the Tokyo Motor Show, the Japanese manufacturer showcased yet another concept for the future.

Called the Yamaha MWT-9 earlier,the Niken isn't just another three-wheeler like the Tricity that Yamaha currently produces. Yamaha says that the Niken is aimed at opening up a sports mobility segment for three-wheelers. While three-wheelers like the Yamaha Tricity and Piaggio's MP3 500 are primarily used for intercity commutes, the Niken, with its in-line 3-cylinder, 847cc engine borrowed from the MT-09. It will be aimed at the enthusiast. Unlike regular three-wheelers that have twist-and-go automatic transmissions, the MWT-9 will feature a manual 6-speed transmission with multiplate assist and slipper clutch. Yamaha calls the MWT-9 a 'cornering master' with the twin-front wheel configuration. Three-wheeled motorcycles are generally safer at cornering than two-wheeled ones, and Yamaha guarantees that the MWT-9 "will redefine what it means to slice through turns during sporty riding." The manufacturer has also stated that the latest three-wheeler will track the road performance of its front two wheels to offer the rider enough feedback to achieve better cornering capabilities. We believe they are further confident about its cornering capabilities due to the dual axle steering mechanism by Ackerman.

Now with EICMA, new details on the bike are out. Now we know that the Niken's frame is made up of alluminium steel and the swingarm is cast in alluminium. It further gets two 15-inch front wheels with double upside down front forks on each tyre and one 17-inch rear wheel with an adjustable almost horizontally placed monoshock damper for suspension. The tyres offer a high level of grip, wear resitance and wet-road capabilites maintaing the bike's sporty personality. The crank balance has been optimized to reduce vibrations while riding, making it a more comfotable ride on the road. For braking, there are discs on the outside of each front wheel with four piston radial callipers and a 298mm hydraulic disc at the rear. The bike's engineers have further done impressively well filling in several components to the bike and still offering a ground clearance of 150mm while maintaing a width of 409mm despite an additional wheel at the front. As per Yamaha this track size keeps the bike width almost as big as any other high-capacity bike out there, and with a leaning width of 45 degrees,it will also allow urban, city commute.
In features, the bike uses the ride-by-wire throttle system, adjustable throttle mapping, traction control and ABS along with a quickshifterand cruise control along with an LCD screen for display.

As mentioned before, the Niken's powertrain is based on the 3-cylinder engine from the MT-09. Hence, it would be fair to assume that the MWT-9 will churn out around 115PS to 120 PS of maximum power. In terms of looks, the concept version of the motorcycle looks very intimidating and unlike any other three-wheeler that promises to have the fun factor.
Like it or not, these three-wheelers that were first introduced a decade ago as an experiment by Yamaha and other Japanese brands, look inevitable now. With the new Yamaha Niken, the Japanese two-wheeler giant wants to make a performance that is associated with motorcycle accessible to amateur riders who'd prefer the safety nets offered by a three-wheeler. Sadly, our market isn't ready for extreme three-wheelers like this yet. But wouldn't you love to go corner hunting on the twisties of Lavasa without the fear of the front wheel washing out and returning back home in one piece? We sure would.
Have you taken a look at our latest round up on all EICMA bikes yet? If not, what are you waiting for? Click here