Yamaha To Unveil A New Four-Wheeler Concept
by Hiral
Oct 18, 2017
Views : 6347
---
Is the new Yamaha MCW-4 the ideal four-wheeler of the future?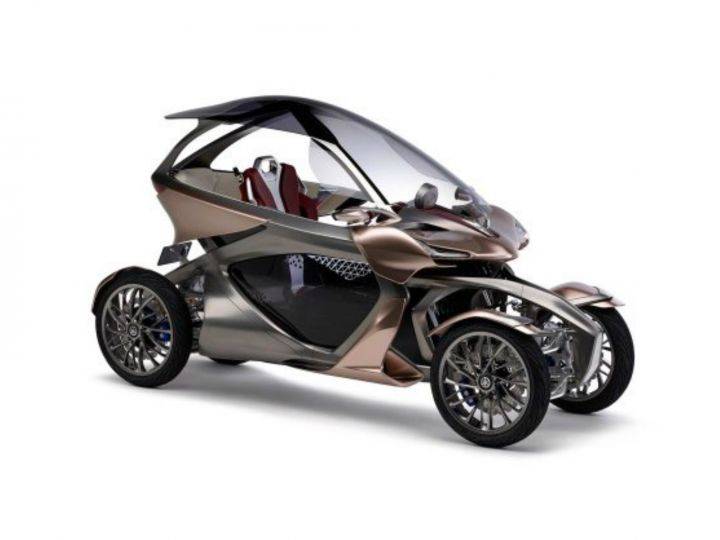 The range of Leaning Multi-Wheel (LMW) vehicles, as they are called, has a new addition called the MWC-4. One might think of it as a futuristic version of the three-wheeled Yamaha Tricity sold internationally. But no one would assume the latest concept to be what it truly is, a 4-wheeled motorcycle! It is an Electric Vehicle designed under the 'Half-Sized Mobility' concept equipped with a range extender (type is yet unknown) that uses something that's called "attitude control".
According to Yamaha, the styling of the bike is an amalgamation of the two things that the brand has been recognised for - motorcycles and musical instruments. Yamaha introduced a similar concept back in 2007 called the Tesseract, which was soon followed by the Tricity. Unlike the Tesseract, the MWC-4 features a roof.
Motorcycles such as these are supposed to have leaning chassis and multi-wheel designs, and this model is set on a narrower wheelbase to make the bike leaner and more petite. Excluding the Tesseract, Yamaha had earlier showcased prototypes like the ORT2 and the MWT-9. However, the three-wheeler Tricity is the only one to make it to production level. While all of the prototypes mentioned above were powered by regular petrol engines, Yamaha took a leap in the right direction with the MWC-4 by making it an emission-free vehicle, and just like the earlier prototypes, this concept too will be showcased at the upcoming Tokyo Motor Show.
While these concepts might look like a far away reality, they also provide a glimpse at what future holds for us. Automakers have been working hard on building vehicles of the future that focus more on improving our lifestyle rather than providing an adrenaline rush. With pollution and traffic levels in major cities at an all-time high, these vehicles will be designed to consume minimum energy and take up less space on the road while providing the utility of a motorcycle without compromising on safety and comfort that a four-wheeler offers.