Kia Seltos vs MG Hector: Real World Hands-On Comparison
---
So you've combed the interweb and watched all the reviews but you're still confused about which one to pick? Our side-by-side hands-on comparison aims to help you do just that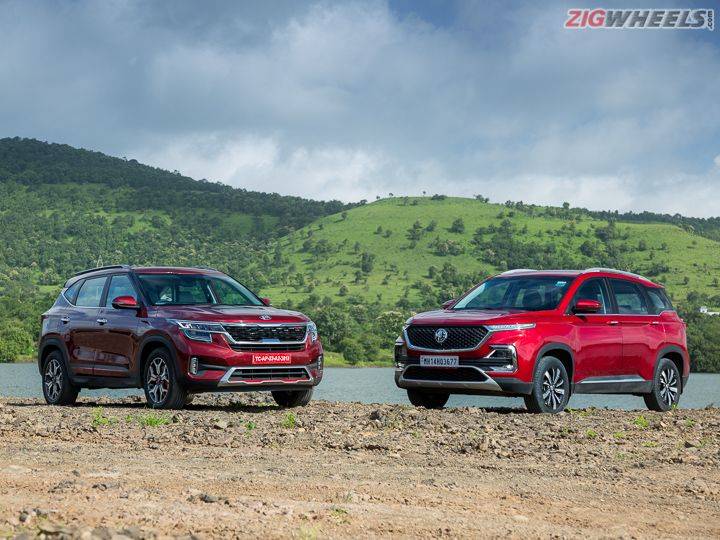 The Kia Seltos and the MG Hector have a lot more in common than just the buyers that they are aimed at. They're both new SUVs from new manufacturers to the Indian market, with brochures crammed full of tech, drivetrain options and a million variants to woo the goggle eyed buyer. Heck, there are literally enough options to give any potential customer a week of sleepless nights trying to just pick one! After a side-by-side drive with the Kia Seltos GTX Plus and the MG Hector Sharp AT in both of their top spec, fully kitted out petrol variants, we bring you a real world, hands-on comparison in terms of practicality, features and usability in a bid to help you make sense of it all.

Which one makes the biggest first impression?
Both Kia and MG score high on first impressions. The Hector's face is imposing with that massive grill and oversized MG logo hogging centre stage. The all LED lighting and dynamic turn indicators make sure that its presence is felt even when the sun goes down. The Seltos is just as impressive and though it doesn't sport the new, attention grabbing low headlight setup that's all the rage of late, it more than makes up for it with a healthy dose of chrome around it's signature tiger nose grille.


I
t too supports an all LED setup and in the GTX line, the DLRs are near 2ft long on either side and extend all the way over the grille almost meeting in the centre (but not quite). The Seltos's light set-up was even more striking in the night and had a near 100% head turn rate with Pune's chaotic two wheeled public.
Measurement
Kia Seltos
MG Hector
Length
4315mm
4655mm(+340mm)
Width
1800mm
1835mm(+35mm)
Height
1645mm
1760mm(+115mm)
Wheelbase
2610mm
2750mm(+140mm)
Boot Space
433 litres
587 litres (+154L)
Tyre Size
215/60 R17
215/60 R17
Where the MG dominates is in its size. In the flesh, parked side by side it's clear that it occupies more space than the Kia. And it should be, being 340mm longer, 35mm wider, 115mm taller and sitting on a 140mm longer wheelbase than the Seltos.

Viewed from behind they are neck and neck but both their tail ends are a little too busy for my taste. On the whole though, one thing's for sure, you can pick either one and you're sure to turn heads in your society on the way to office and at the mall on the weekend. That is at least till both Kia and MG start catching up with the 50,000 odd bookings that they have collectively garnered since bookings opened.


Which one impressed us with its features?
When it comes to pampering customers, these two take things up to a whole new level for the segment. If you have been following all the pre-launch stories and read/watched our first drives of both Hector and the Seltos, you will know that they have a lot in common. So they both sport all LED lighting, a powered driver seats, a sunroof, smart car connected tech, large touch screens, Android Auto, coloured multi info driver's displays, plenty of charge sockets, reclining seats, leather wrapped steering wheels and leather/leatherette seats. While these features are common between the two, there are some differences in how each have executed these features.

Sunroof
The sunroof in Hector is a massive dual pane unit and makes quite an impact when stepping inside, enhancing the already spacious interiors. The single pane one in the Selto's simply pales in comparison.

Touchscreen
Another thing that makes a big impact is the large touchscreen in the Hector. It's visual impact is simply outstanding compared to the mere 1/5th of an inch smaller unit in the Seltos. However after spending some time with both SUVs, it's the Seltos's unit, that edges ahead.

It's snappier, more informative and sports an interface that's better designed for operating in a car. In comparison the Hector's is laggy and the navigation is not quite as intuitive with tiny buttons and menu logic that takes time to learn.

Also Android Auto fills up most of the 10.25 inch screen in the Seltos but in the Hector it's portrait layout isn't optimised for Android Auto, which takes up a small space in the centre, leaving the rest blank. The Seltos infotainment also supports Apple CarPlay but it's not yet supported in the Hector system.
Connected Tech
Both the Seltos and the Hector feature connected tech which connects to a phone app and offers navigation with live traffic, find my car, vehicle status, geo-fencing, speed alerts and emergency service calling. Both function similarly but the Hector also allows you to open the sunroof remotely and bundles in apps like Gaana and Accuweather as well.

The Ganna app is a great feature which means that you don't necessarily need to rely on your phone for streaming music, but it is still a cellular data connection which means if your out of network, the music will stop. The Hector app has more functionality but ultimately most are quite gimmicky features and when it comes to true value additions they both offer similar experiences.

Exclusive features
With the Hector, in addition to the voice activated voice commands, it features cornering fog lamps, a powered tailgate and powered passenger seat. The Seltos features a head-up display, ventilated front seats, wireless charger, auto dimming IRVM and an air purifier. The Hector's features are again aimed to wow you but the daily utility of the features in the Seltos will continue to be useful even after their novelty has worn off.

There's also a lot of thought that's gone into their design as well, like the air vents that blow on to the wireless charging pad to keep your phone cool as it charges or the ventilated seats that keep you cool on a hot day.

Unique features
Kia Seltos
MG Hector
Android Auto, Apple CarPlay
Cornering Front Fog Lamps
8-inch heads up display
Gaana, Accuweather
LED Sound Mood Lights
Dual Pane Panoramic Sunroof
auto IRVM
4 Way Power Adjustable Co-Driver seat
UV cut glass front and sides
Powered Tailgate
air purifier, purfume diffuser
All Windows Down by Remote Key
wireless charger
Ventilated Frontseats

Music system
Both cars feature branded music systems and while you may think that the Bose sound system in the Seltos would be hands down superior, they both sound fairly similar. If anything, the Infinity system in the Hector sounds just a little clearer but definitely a lot louder.

Driver aids
Both SUVs also both feature cruise control, auto headlamps and rain-sensing wipers but the Kia's execution of these features is just that little bit more precise for both the cruise control and the wipers as well.
When in cruise control, they both allow you to accelerate to overtake slower vehicles without switching out of cruise control. In the Seltos, this works flawlessly but there is some very odd lag in the Hector's system. It will accelerate but when you get off the throttle it first doesn't stop accelerating for a second or two and then when it does, it allows the speed to reduce below your preset cruise speed and accelerates back up to it. In addition to this taking more time, it's quite confusing for the driver.
And with the rain-sensing wipers too, it sometimes doesn't notice when rain is falling and then at other times seems over sensitive - seemingly switching on the wipers for no apparent reason.

Safety
In the Seltos, six airbags are available in both the GTX Plus and the GTX. But this means that currently only the top petrol variants get six airbags while the rest of the line up is stuck with the standard two. With the Hector Smart, you get four airbags and the option of both petrol and diesel engines. In the top-spec Sharp, you will get six airbags again with both the engine options. So the Hector gives you more variety of options if you don't want to compromise on the safety package and you can even get the petrol automatic gearbox with both the Sharp and the Smart. So it's easier to opt for more safety in the Hector.

They both also get tyre pressure monitoring systems, ESC, ABS, EBD, traction control, and hill hold. Both also get disc brakes on all four wheels, front parking sensors, ISOFIX child seat mounts and 360-degree cameras. The 360-degree camera in the Seltos though is much clearer and easier to use. It also has a lane watch camera which transmits camera feed from two wing cameras under the ORVMs into the coloured driver's multi info display.

So while the Hector's feature set may have more of an initial impact, it's the Seltos' set that we feel you will appreciate more and more as the days go by. For more details on the variants and their breakups have a look at our variants explained stories here (Kia Seltos) and here (MG Hector).
Which one coddles the family better?
Like we've mentioned before the Hector is physically quite a bit larger than the Seltos and this is the overall theme on the inside as well. But there are some key differences that we noticed when jumping from one cabin to the other on our test.

Front seats
Both Hector and Seltos have powered driver seats, but the Seltos gets an eight-way adjustable seat as compared to the Hector's six-way adjust. The difference being that the Seltos allows the tilt of the seat base to be adjusted, letting us find better driving position as compared to the Hector's seat base which stays relatively flat.

However, the Hector also gets electric adjust for the front passenger seat while in the Seltos, the front passenger will have to adjust their position manually. In terms of comfort, the Seltos's seats are firmer but have a little more lateral support in their seat backs.
Front
Measurement
Kia Seltos
MG Hector
Legroom (min-max)
915-1070mm
885-1010mm
Knee room (min-max)
560-770mm
580-780mm
Seat base length
515mm
520mm (+5mm)
Seat base width
450mm
485mm (+35mm)
Seat back height
610mm
630mm (+20mm)
Headroom (min-max)
870-970mm
930-960mm
Cabin width
1395mm
1410mm (+15mm)
Shoulder Width
1340mm
1355mm(+15mm)
In terms of space, the Hector feels more roomy as it should considering it's larger dimensions.

The Seltos only pips it in one measurement that could be quite significant for really tall passengers - leg room. To give it it's palatial knee room in the rear MG has mounted the font seat rails in a more forward position and while knee room isn't a problem, leg room is actually roughly 60mm less than in the Seltos.

Rear Seats
When it comes to both the feeling of space and the actual space in the rear, it's the Hector that initially impresses. That massive sunroof, large windows and the excess of knee room further enhances that feeling of space. The sunroof does rob you of some head room but there's still more than enough for six footers to be more than comfortable. With a healthy 70mm more shoulder room, it's also the one to pick if you plan to pack three in the rear more often.

Rear

Measurement

Kia Seltos

MG Hector

Shoulder room

1320mm

1390mm(+70mm)

Headroom

945mm(+25mm)

920mm

Seat base width

1224mm

1240mm(+16mm)

Seat base length

480mm(+30mm)

450mm

Seat back height

640mm(+15mm)

625mm

Knee room (min-max)

615-830

700-930

Rear floor hump height

45mm

0

Rear floor hump width

325mm

0
The Seltos on the other hand can just about squeeze three in the rear and doesn't feel quite so airy as the Hector. But It does have better contouring to it's seats and better under thigh support. Despite having less knee room the Seltos does allow you to stretch your legs under the front seats, making it comfortable for two passengers.

Boot Space
With just 433-litres compared to 587-litres in the Hector, the Seltos is a good 154-litres short on boot space. With our 'bag test' this spare space translated to the difference of one large trolley or two to three soft bags more in the Hector. This is more than enough space for luggage for a long road trip for five. The Hector scores even more with the powered tailgate function that will come in handy when you're alone and have your hands full.

Which one is the most comfortable on the move?
Comfortable seats are one thing but it's when the suspension setup comes into the picture that you get an idea of true comfort. The Hector edges ahead here offering a softer, more balanced ride than the sportier setup in the Seltos. Both in town and out on the highway, the Hector does a better job of handling small and large bumps and the soft seats further help insulate passengers from the road.

The only complaint we have is that it does take a little time to settle down after hitting a bump and on the highway, this means there tends to be slight but constant motion in the cabin. The Seltos is sprung more on the stiffer side and while it does tackle speed breakers and big bumps in a composed manner, smaller bumps and road imperfections filter through. At slower city speeds, this isn't too much of a problem though you do hear the sound of the bumps.

But at highway speeds, sharper imperfections like level changes and expansion gaps are heard and felt in the cabin. The firm ride in the Seltos could do with some more tuning for our Indian conditions and feels more european in nature. Ride quality is one department where the MG Hector does trump the Seltos' setup practically across the board.

The MG Hector is the larger SUV, magnifies that feeling of space on the inside, rides more comfortably and sits three in the rear seats better. If you want to make a big impression and like to pack the car full of people, shopping and luggage on the weekends, then the Hector does these things really well. However, there are some features that could have been designed and executed in a better way and some of the materials could have been less plasticky.

The Seltos' feature set may not have quite the wow factor of the Hector, but it will appeal to the more practical side of customers. As a daily driver and for small road trips with up to four passengers the Seltos is brilliant. The Seltos also comes across as the more polished package where materials and fit and finish feels premium and better throughout. And more importantly everything consitantly works error free. And it's that feeling of quality, comfort and attention to detail that makes the Seltos the winner in our books.
They are also completely different driving experiences as well, so stay tuned for road test reports of the MG Hector here and the Kia Seltos here.
More on Kia Seltos

Rs. 9.95 Lakh Onwards
Ex-showroom, Delhi
See what our community has to say!
NEW
India's largest automotive community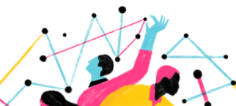 4 Offers Available