Mahindra Thar Road Test Review: Has The Monster Been Tamed?
---
The Thar mStallion petrol automatic that we've been all waiting to drive is finally here. How city friendly does it make the Thar and more importantly, how quick is it?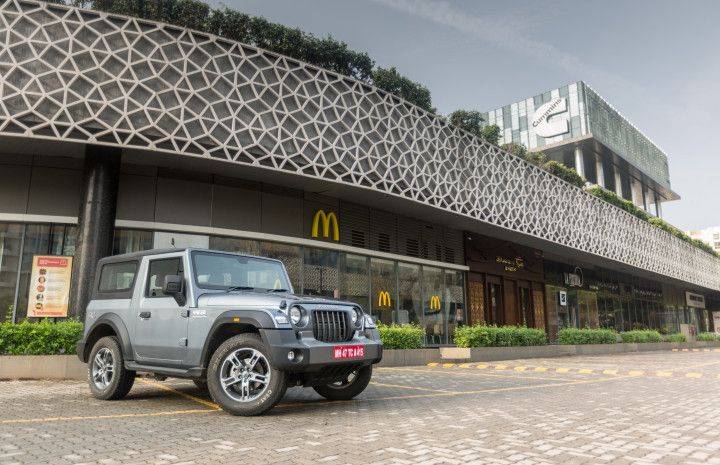 The Thar's utility and rugged off-road ability is legendary. But apart from a small group of people who have the financial ability to indulge, or the genuine need of a rugged 4x4, all it remains, for the majority of us, is a pipe dream. New automatic gearbox options and a more upmarket, kitted out interior aim to bridge the gap between dreams and reality while making the new Thar more marketable to the family. Just how friendly is the petrol auto in the city and can it compare to the convenience of a compact SUV? Time for a proper tarmac-only road test.
Just a small disclaimer: this story focuses solely on the Petrol Automatic Thar and its performance on a day to day basis. If you want more details about the Thar in general then check out:
2. Thar Diesel Manual: First Drive
If you're more interested in learning about how the Thar fares off-road and how it compares to its predecessor in every regard then check out this story:
Mahindra Thar Old vs New

Delightful powertrain
This petrol automatic powertrain is the one combination of the new Thar lineup that I was looking forward to driving. A new engine is always exciting but a large displacement turbo petrol can conjure up far more magnetic desires. And thankfully the new Mahindra mStallion petrol impressed right from the off. At idle it ticks over in a very refined manner, with barely any engine noise or vibrations permeating into the well insulated LX hardtop cabin. We do have to add a disclaimer that the AC blower is fairly loud even at its lowest setting and though this is a little annoying it does help mask the engine note
For a turbo the power delivery is smooth and linear, with not too noticeable a surge when it kicks in. And when you do mash the throttle and it does spool up, you are greeted with a nice flow of torque and what feels like fairly brisk acceleration. That is until you look at the numbers and then you realise that this hunk of metal, with a drag coefficient not unlike a brick wall, actually manages to hit the 100kmph mark in 10.21s. That's faster than a Polo GT TSI (AT), faster than the new Compass and barely a car's length behind the Skoda Rapid MT. Yup, this Thar is fast too. In terms of efficiency it managed to return a respectable 12.18kmpl on the highway and 9.16kmpl in the city. Not the best figures but then with a heavy kerb weight and powerful turbo petrol this seems fair.
City driving is a charm with this powertrain. The steering and pedals are nicely weighted, and the six speed auto shifts smoothly. At city speeds the shifts are actually hard to pick up and it's only when you rush the gearbox that it shows a bit of latency at high rpms. The 320Nm of torque means there's always plenty of pulling power for quick overtakes. It's only when it comes time to maneuver through tight streets that its width takes some getting used to. Its large turning radius means navigating tight parking lots or taking u-turns also needs a little planning and patience.
Almost Urban?

During this test we had a chance to pitch the Thar against the XUV300, a similarly priced compact SUV. The XUV300 is purpose built to handle city life and so was the perfect urban benchmark.
The Thar was surprisingly close to the XUV300 in both handling and braking tests, with the former managing to keep up around corners and only just stopping a few metres longer than the much lighter XUV300. What this means in the real world is that the new Thar is a lot more capable and stable both around corners as well as at high speeds than the outgoing model.
In terms of ride quality though, there is still a bit of gap between a typical city SUV's comfort levels and the Thar. At highway speeds there is a little vertical and side-to-side movement in the cabin and over broken roads the softer suspension setup of the XUV300 insulates you better from the bumps. The Thar's suspension is more tuned keeping in mind its off-road performance so this is one compromise that can't be helped.
So it's no surprise that the XUV300 came out on top in handling and braking tests and with a much more powerful engine the Thar was always the favourite in a drag race. But the pleasant surprise was how much closer the Thar ran in the competition.
To watch our Thar vs XUV300 video click here
Influencer's dream

The borrowed classic good looks are legendary. If you wanted to look butch or macho the Thar was all the makeover you needed and this thankfully hasn't changed. The new Thar may have its corners rounded off but that desirable edginess still exists. In fact the Thar has actually grown in width (129mm) and length(85mm) and lost a little height (86mm) and this has resulted in it looking more hunkered down and broader than ever, further emphasising its ruggedness. So it's a win-win situation really.
The real improvements though are the tighter fitting panels with consistent panel gaps and a hard top that promises to keep you dry even in the worst of weather. The nicely integrated bumper design that flows nicely into the cladding around the wheel wells and the moulded step along the sides also helps with this new softer edged design. One that promises not to rip your trousers or shirts to shreds as you climb into it.
The 18-inch alloy wheels also look nice but we really loved the look of the painted steel rims that Mahindra's off-road division had fitted to the test car we had in our Old vs New comparo. Another place you could look at changing things up with aftermarket goodies are the headlights which are simple halogen headlamps which function perfectly but feel a little dated in this era of LED everything. So yes there's plenty of room for tasteful upgrades to make those Insta posts pop.
As soft as a compact SUV?

A promise of being more friendly in the city is what has driven the interest in this Thar tremendously. And a lot of that is down to how famously bad the interiors of the old workhorse were. We've all got our own stories of cuts and bruises from spending time in the old Thar but its capable off-road performance was always the focal point of those experiences. The time spent in the cabin on the way to the exciting bits of those drives were memories we don't quite recall with fondness. The new interiors of the Thar are a refreshing change and ensure that those memories remain deeply repressed. Yes it may still feature hard plastics all around and there are still some ergo issues like the lack of knee room in the driver footwell and no dead pedal, even for the automatic variants, but all things considered, it's a lot easier to spend time in this cabin. That is of course if you're sitting in the front seats.
The rear seat ergos, ride comfort and ease of access still have plenty of room for improvement. If you are planning to spend quality time with the family in the car then the Thar will leave them wanting more. For the same price the creature comfort and ergos of a compact SUV is still leaps and bounds ahead of the experience in the Thar.
Check out our space and practicality review of the Thar vs XUV300 at CarDekho
Plenty of Performance but still a compromise

This mStallion petrol paired with the 6-speed auto box was the pick of the engine combinations we've experienced in the Thar. It's smooth and refined in the city and packs a heck of a punch when you push the go pedal. There's plenty of torque from the petrol motor too so though we didn't test it, it's sure to perform just as amicably in the off-road environment as well.
The Thar's appeal and promise to take you on great adventures is a big draw but living with it everyday will still ask you to make many compromises. As a second car or for those who just need the utility of the 4x4 the Thar's appeal is undeniable. And we honestly aren't going to let go of its keys till we really have to. But as an only car, one that you will share with a family who probably rank space and comfort higher than Insta cred, the Thar asks you to still make some compromises.
Mahindra Thar Video Review
More on Mahindra Thar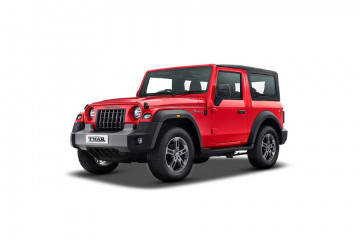 Rs. 12.10 Lakh Onwards
Ex-showroom, Delhi
See what our community has to say!
NEW
India's largest automotive community