Maruti Suzuki Jimny 5-Door Review: Lovable & Livable?
May 27, 2023
Views : 7040
9 min read
---
With the 5-door configuration, the Jimny has dialed up its family-friendly quotient. Can it be your only car though?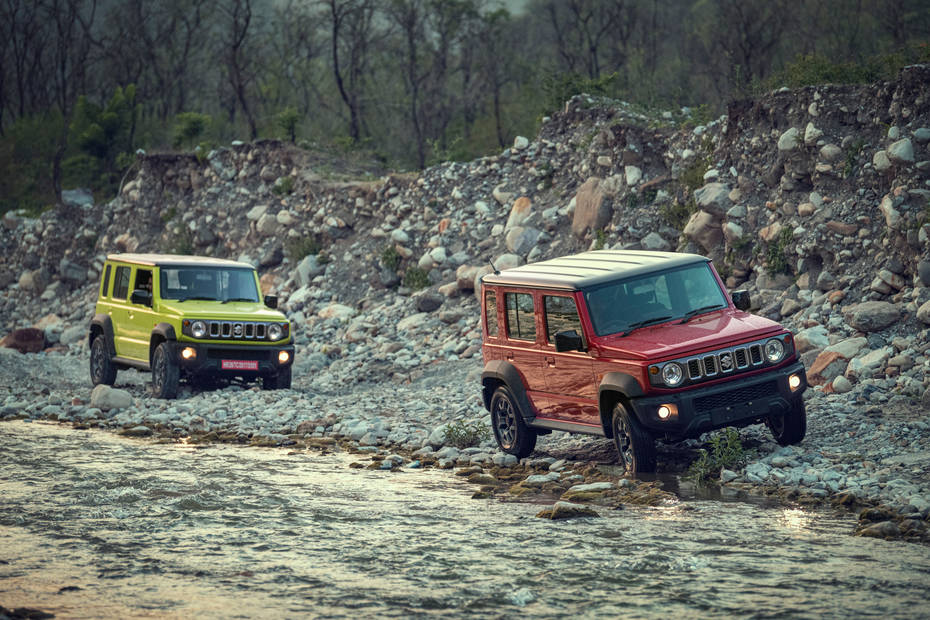 The Maruti Suzuki Jimny may be a purpose-built off-roader but the formula it applies is unlike what most popular off-road SUVs employ. It's light in weight, light on features and light on complexities as well.
Of Size And Style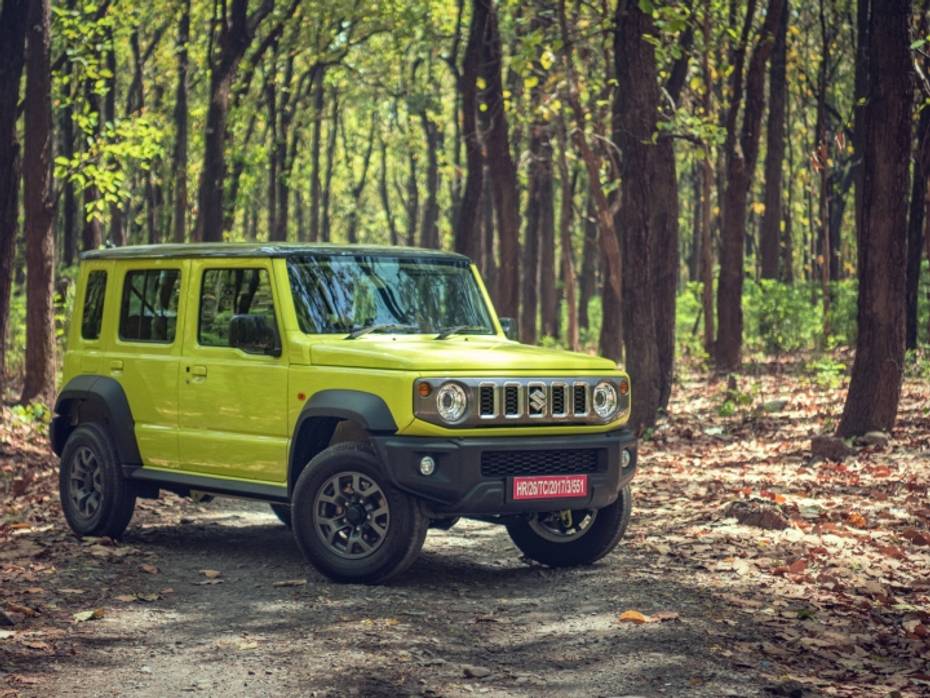 When you hear "off-roader" your mind may go to the Land Rover Defender, Ford Bronco or Jeep Wrangler when it comes to size. The Jimny is unlike any of these cars on that front. In fact, even though this is a 5-door car, the Jimny is notably smaller than even the Mahindra Thar 3-Door. It does get a longer wheelbase but is just as long as the Mahindra while being significantly slimmer and shorter.
| | | |
| --- | --- | --- |
| Dimensions | Jimny 5-Door | Thar 3-Door |
| Length | 3985mm | 3985mm |
| Width | 1645mm | 1820mm |
| Height | 1720mm | 1855mm |
| Wheelbase | 2590mm | 2450mm |
| Ground Clearance (Unladen) | 210mm | 225mm |
The Jimny rides on 195/80 tyres wrapped around 15-inch wheels. Compact dimensions aside, the Jimny 5-door also weighs in at just 1200kg.

Evidently, if you associate off-roaders with massive road-presence and macho SUV bravado, the Jimny probably isn't for you. This is also most likely why Maruti Suzuki didn't offer the Jimny 3-door in India, even though it is built here.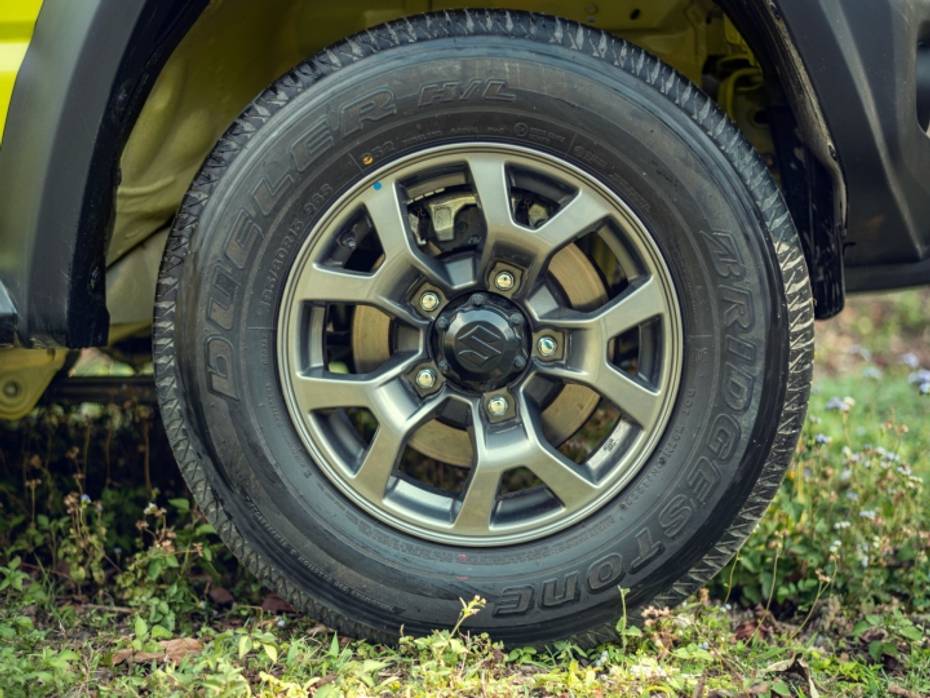 Fun fact: Save for its height, the Jimny 3-door is smaller than even the Ignis!

While the Jimny may not offer the muscular appeal of the Thar 3-door – let alone the upcoming Thar 5-door – these dimensions make sense on two vital aspects. First, the small size will make it easier to go through narrow trails, make tight turns and maneuver through tricky obstacles with more ease, reducing the risk of scratching up the car on branches or rocks.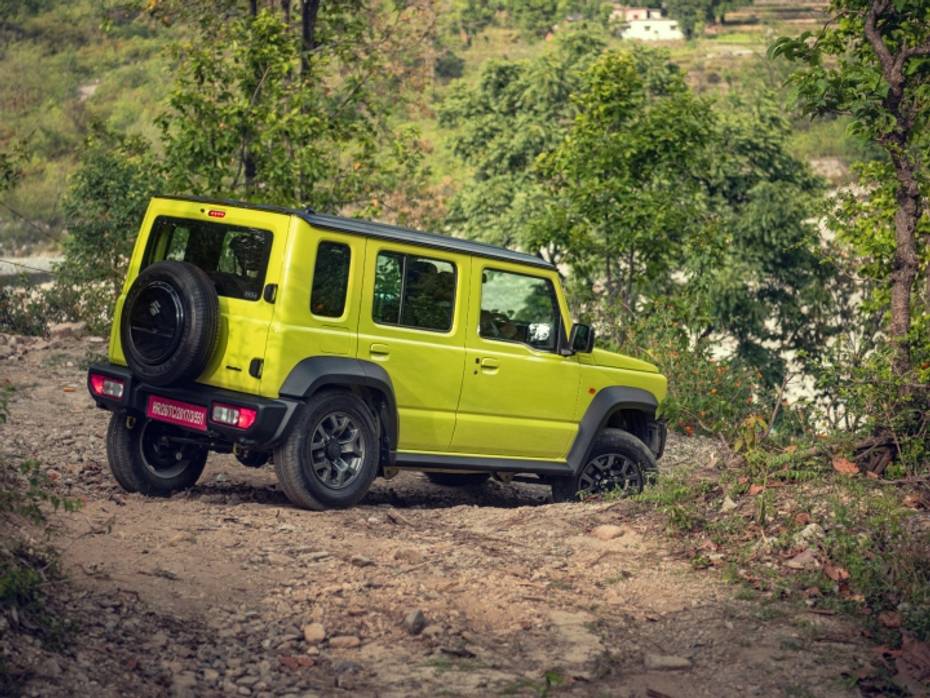 Get latest updates on
the automobile community

Login Now
Secondly, its compact dimensions make it easier to drive in traffic or park in cramped spots. If you're buying your kid a new car and they want to own something cool and unique, the Jimny is a tempting option. But importantly, it won't be a handful for them to get to grips with either and new drivers will be less likely to bump into other cars or kerb the wheels.

In the hilly parts of India, compact proportions are the reason why cars like the Eeco, Alto and WagonR are popular, and the Jimny has the same advantage. It's only an inch wider than a WagonR!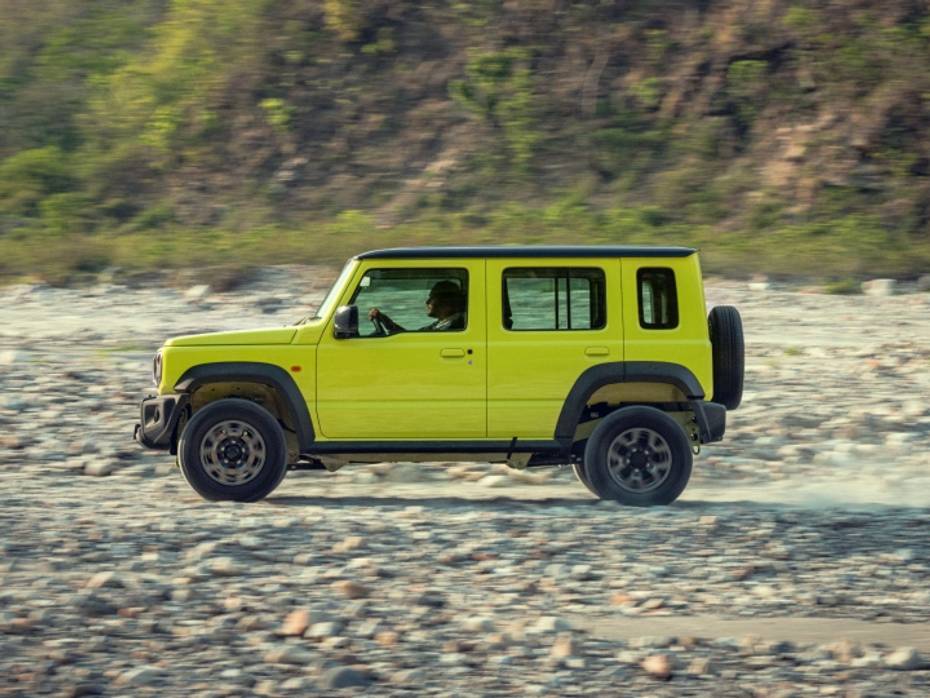 The duality of this is that the Jimny has all the right credentials for butch and macho design: boxy squared-off lines, a flat nose, old school round headlights (with washers), flared body cladding, large tyre sidewalls and bumper integrated taillights. A lot of these design traits are similar to the muscular Mercedes G-Class, but because it's on a small scale, it becomes cute!
Adventure Storage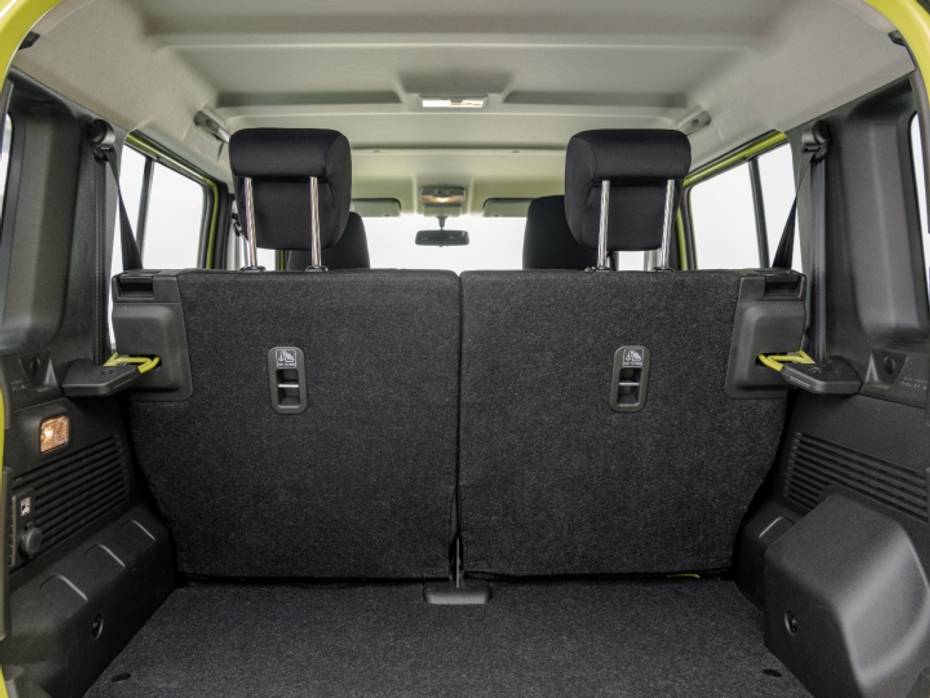 At 208 litres, the boot space seems quite poor on paper. However, you can vertically stack and accommodate medium-sized trolley bags or even a large suitcase. The rear seats are 50:50 split folding but they won't fold flush with the boot floor.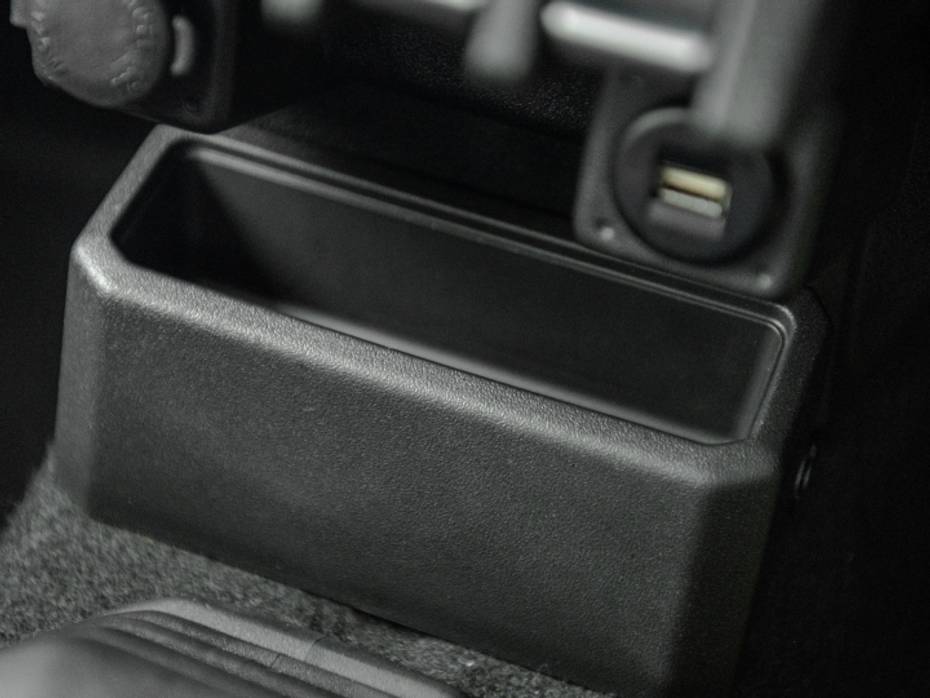 Inside the cabin, the glovebox is large enough for only a few documents and knick-knacks, but save for two bottle holders (shared by both rows), storage spots are almost nonexistent. There are no rear door pockets, while the front door pockets will accommodate perhaps a wallet or phone at best. While the automatic variant has room for a phone under the AC console while in the manual, this storage space gets even smaller and can handle keys or chewing gum strips at most.
Family Matters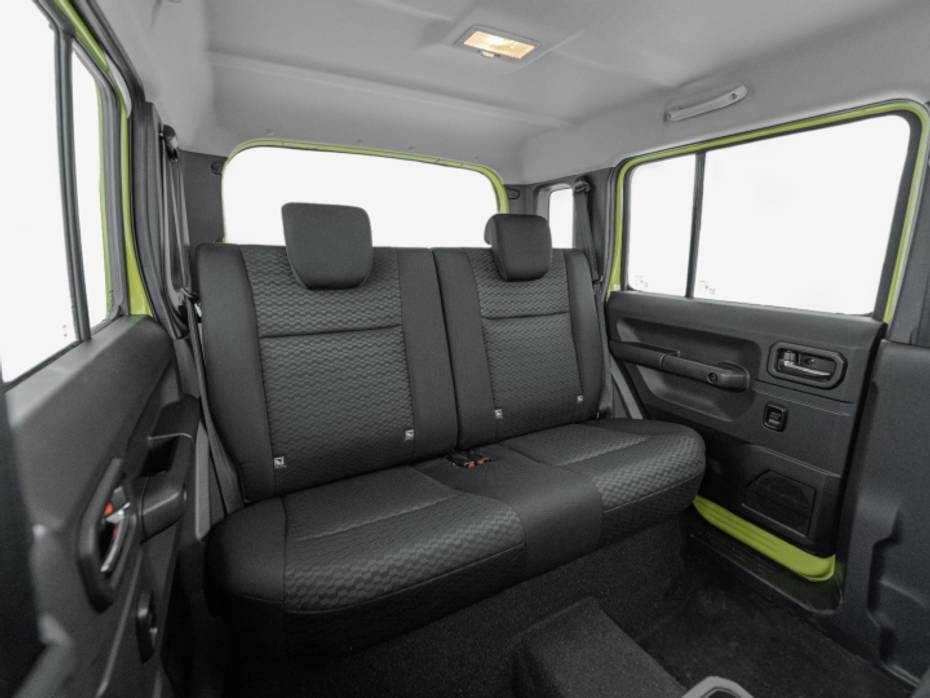 Getting into the Jimny is easy and the seats aren't placed too high up. However, the rear row entry is a little narrow and can be slightly uncomfortable for the elderly to access.

The interior quality is purely functional. The only premium touch in the cabin is the leather-wrapped steering.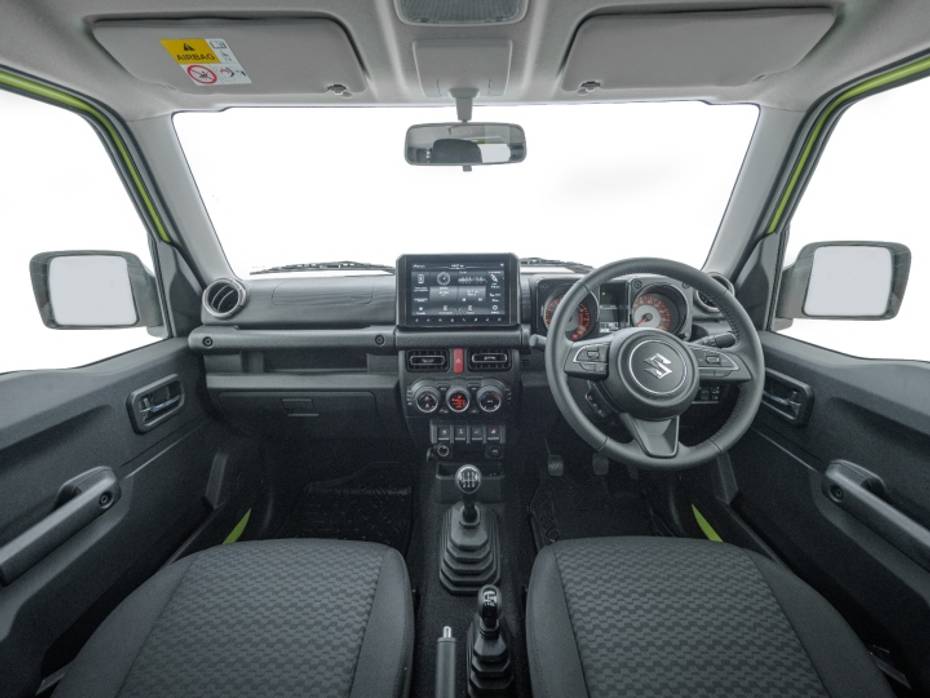 From the driver's seat, the view out is commanding and you can see the edges of the bonnet very easily. This makes judgement while driving convenient.

The driver's seat is not height-adjustable while the steering adjusts only for rake, not reach. With the default seat height set high, short users will be comfortable. However, drivers taller than six feet would have benefited from additional adjustability for both the steering and the seat.
Headroom is generous in both rows, even for those over six feet. There is adequate legroom and footroom for four six-footers. The cabin width, however, is small, such that two occupants of a large build might end up rubbing shoulders.

The seats are comfortable but lack lateral support, which would've come in handy, especially off-road. The rear seatback angle is also quite upright, even in its reclined position.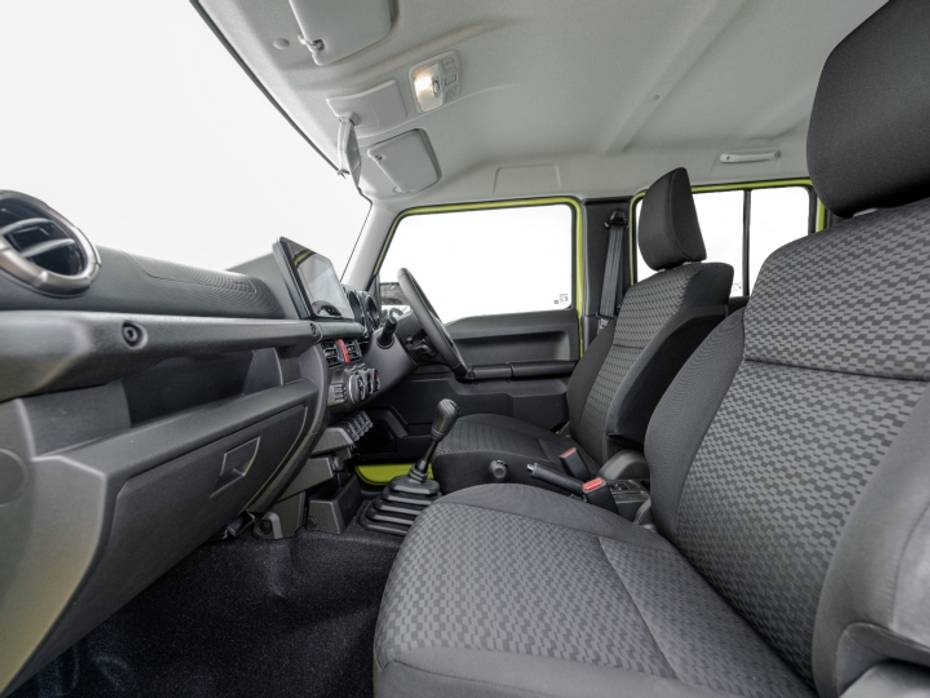 Overall, the Jimny's cabin is family-friendly enough, but not ideally so. Similarly priced sub-compact SUVs will offer better seat support, a greater sense of space and more amenities as well.
| | |
| --- | --- |
| Feature | Notes |
| 9-inch touchscreen with wireless support for Android Auto and Apple CarPlay | Layout is a little busy but easy to operate with good response times |
| 4-speaker music system | Average sound quality with the sound stage sitting below you, in the doors |
| Push-button start with smart-key | Request sensors available on both front doors and the tailgate |
| Auto AC | No rear AC vents |
| Electrically-adjustable mirrors | Foldable too, in the Alpha variant |
| Rear Camera | Poor resolution and slightly awkward placement, just above the rear number plate |
On The Road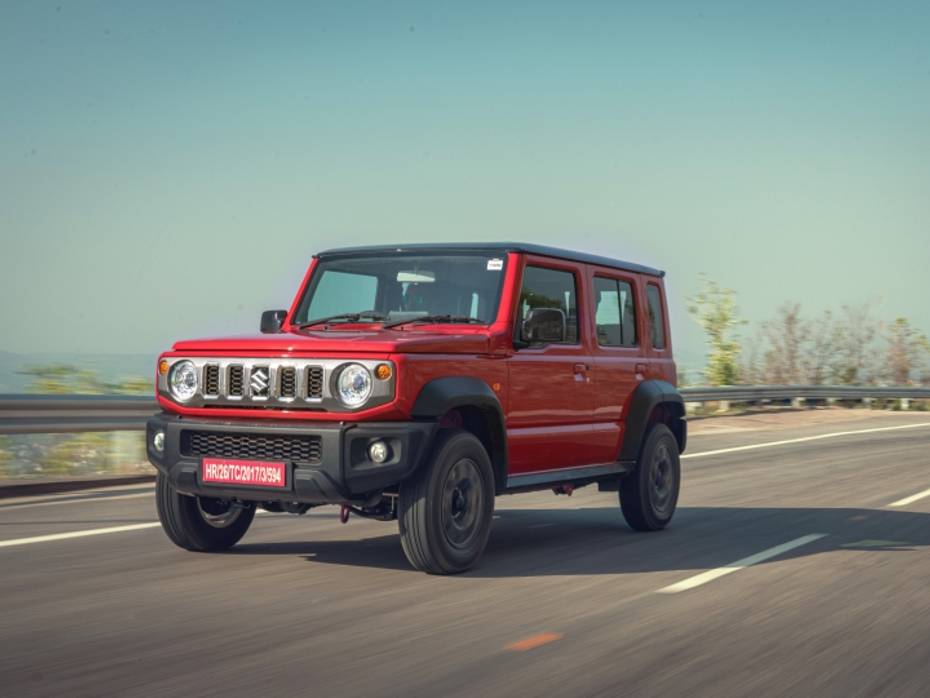 What stands out first is the Jimny's ride comfort. On smooth roads, the car feels planted and steady and doesn't weave about or even feel as noisy inside as the Mahindra Thar.

Even when the roads get bad, the Jimny feels comfortable and gets through even dirt tracks with minimal suspension noise or shock through the suspension.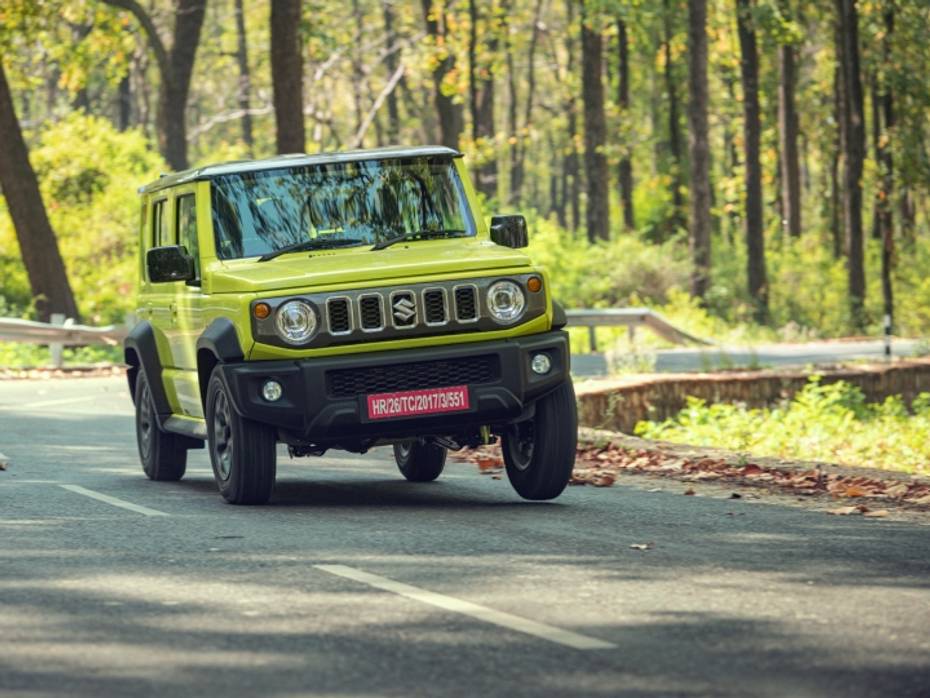 In typical off-roader style, the steering is quite slow. Hairpin bends will have to be taken slowly or you'll have to dial in a full steering lock or more to make the turn. It's also not as light as the Thar's steering and requires more effort during u-turns. To counter this, the return to centre action is extremely quick.

The 1.5-litre (K15B) 4-cylinder petrol engine (105PS/134Nm) offers adequate performance for daily city commutes and highway cruising. It's certainly an easy engine to live with but it doesn't have the strongest mid-range punch. As a result, overtakes on inclines and highways will require a downshift, and you'll need to rev up the engine before making an overtake.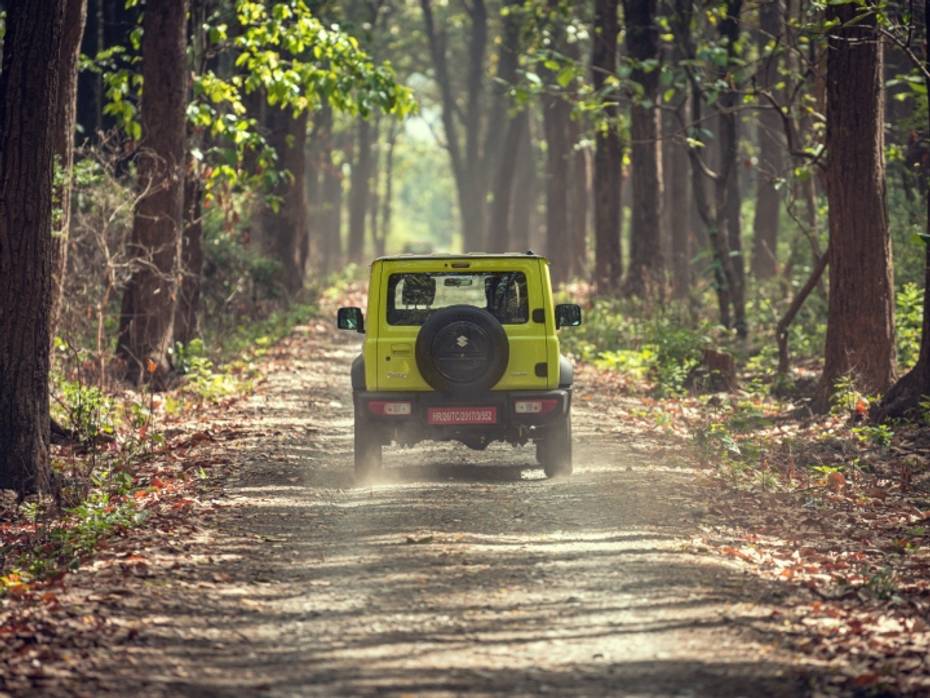 With a full passenger load, you will need to be patient even with city speed overtakes.

The 4-speed automatic transmission is dated but it gets the job done and offers smooth shifts. The 5-speed manual can take a little getting used to as the gear-lever's shift action isn't very smooth and the clutch travel is slightly long as well.
Off The Road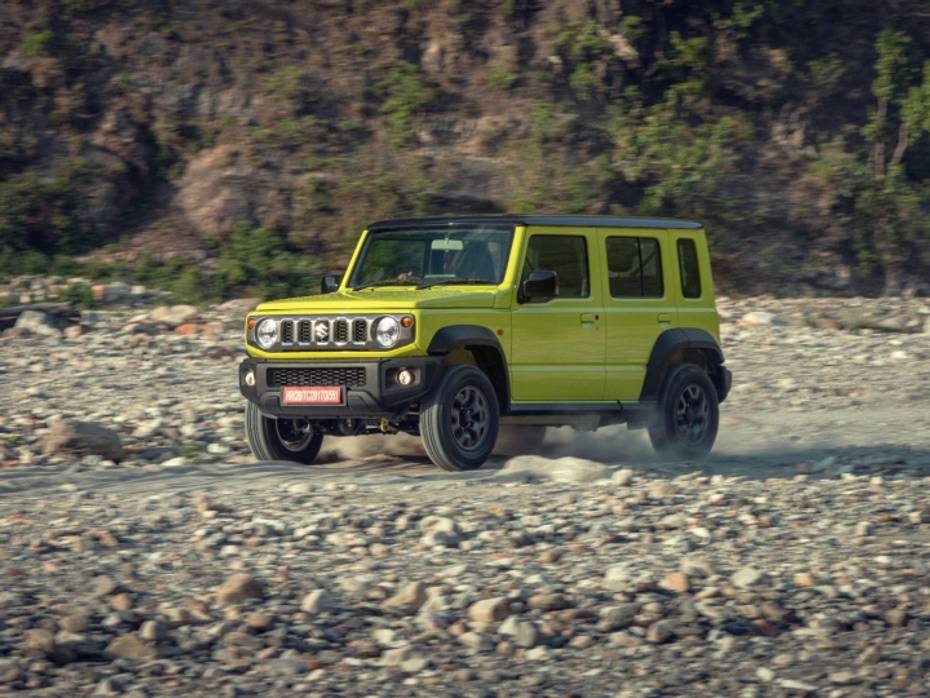 As standard, the Jimny gets Suzuki's AllGrip Pro 4x4 system. The system is operated via a mechanical lever next to the gear selector and includes the 2H, 4H and 4L modes. This is a part-time 4WD system where the front axle is driven only when 4H or 4L are active.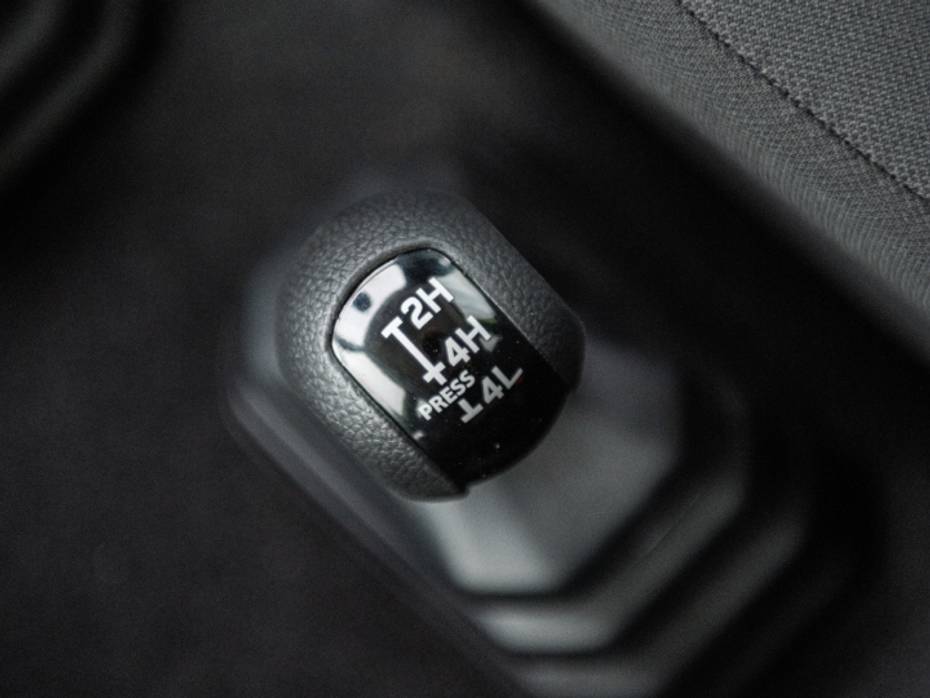 The Jimny does not get mechanically locking front or rear differentials, instead using a traction control-based brake locking differential that uses the wheel speed sensors to automatically control slip when a tyre breaks traction.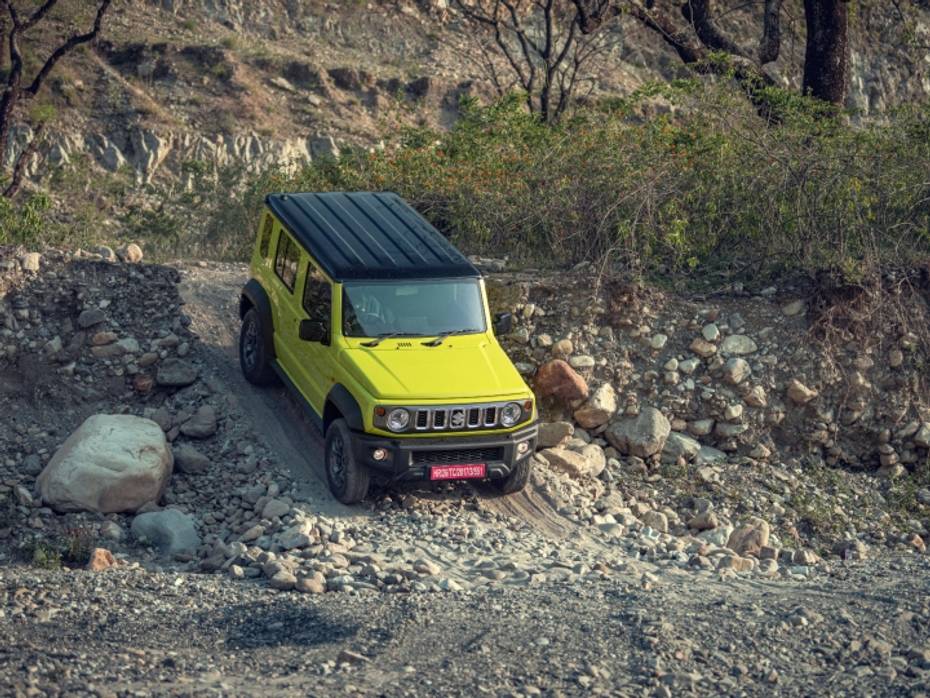 Through narrow rocky trails, with 4L engaged, the Jimny eases its way ahead with the low-range mode easily making up for an engine that otherwise doesn't offer much torque low down. Even over steep uphill tracks with four on board, the Jimny scampers its way up quite happily.
| | | | |
| --- | --- | --- | --- |
| Clearance | Jimny 5-Door | Jimny 3-Door (not sold in India) | Thar 3-Door |
| Approach | 36 degree | 37 degree | 41.2 degree |
| Departure | 50 degree | 49 degree | 36 degree |
| Rampover | 24 degree | 28 degree | 26.2 degree |
Not only does the Jimny get through rocky portions without digging into the trail too much thanks to its light weight, the suspension controls the drama inside the cabin remarkably well. Watching the Jimny articulating and the chassis happily flexing for the surface changes is just a different kind of entertainment!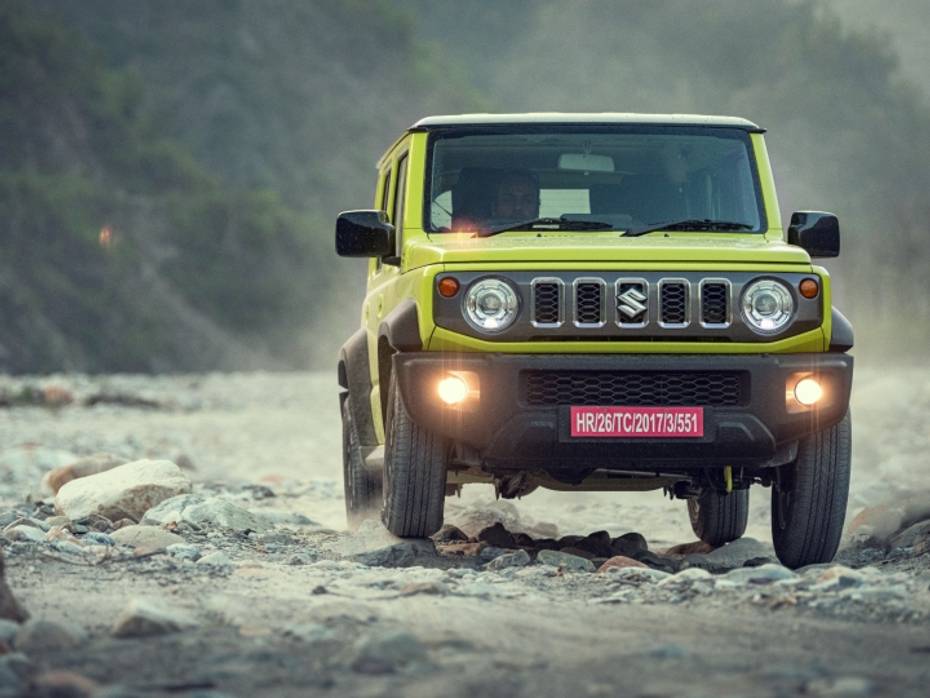 Above all else it's the Jimny's compact size that makes manoeuvring it through tight spots an easier affair. You can confidently follow super tight markers and not worry about dinging something or kerbing the wheels. All of this also factors into how amateur-friendly it is.

The cherry on top is that it managed all these challenges on stock, highway-terrain tyres, and in showroom-car spec.
Board The Hype Train?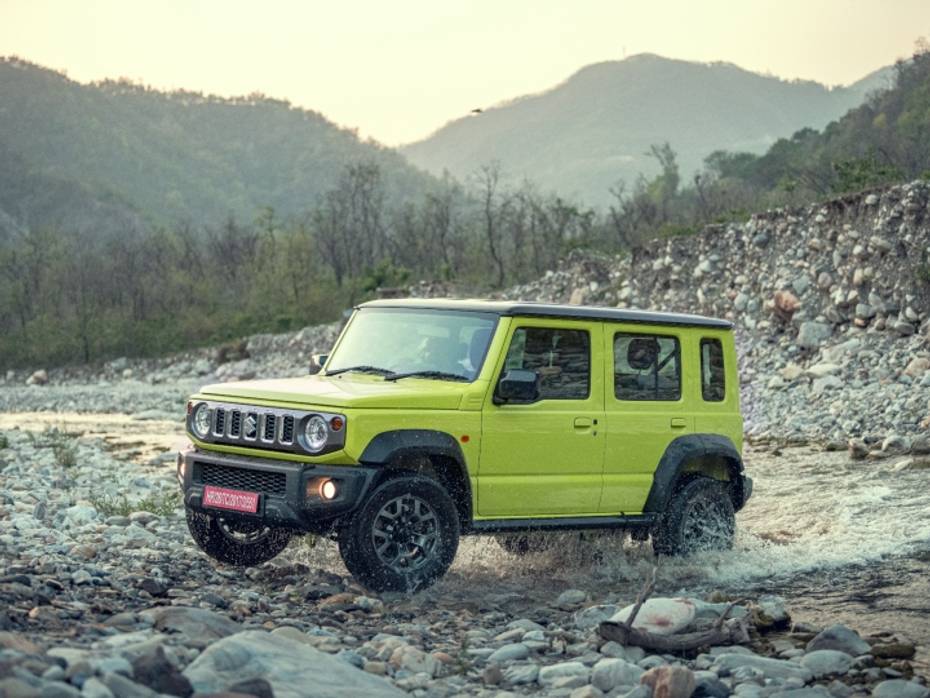 At its core, the Jimny is still a purpose-built off-roader, around which everything else is built. What you get is a very capable off-roader that's just practical enough to live with, if not ideally so. Importantly, the Jimny's road comfort hasn't taken a hit in the process of improving its off-road capability.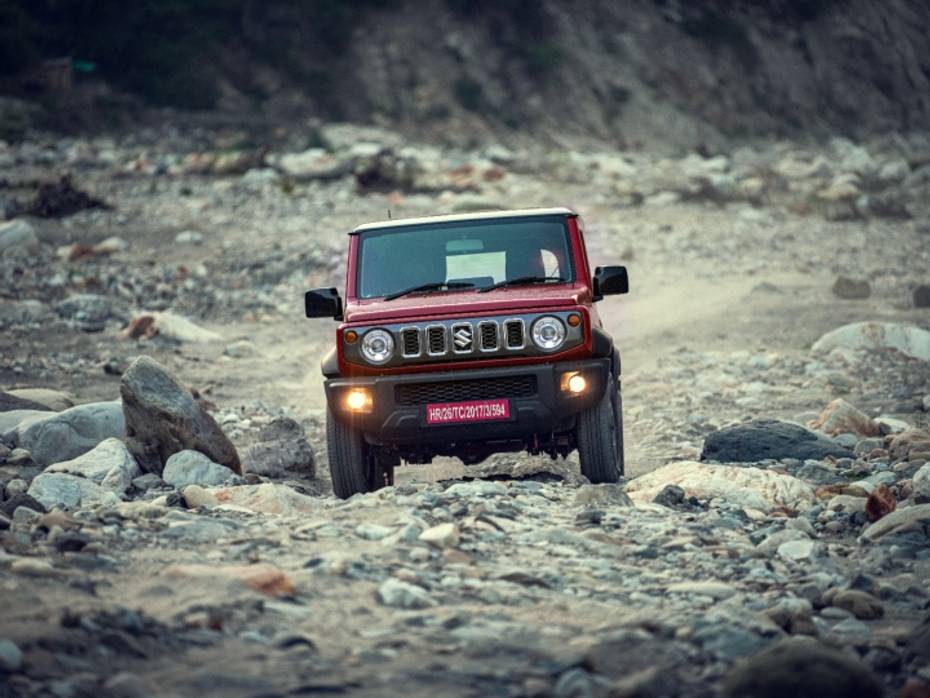 What you don't get is an SUV that's particularly large or intimidating in its presence and its performance won't feel as exciting as its direct rival, the Mahindra Thar. At an estimated Rs 11-14.5 lakh (ex-showroom), the Jimny would offer good value for those who want a serious off-roader that's also nimble and calm to use as a daily commuter.
Additional Information
There is a 12V socket in the boot in addition to the socket in the cabin
The hydraulic assist for the tailgate is quite strong, accounting for the spare tyre's weight. As a result, once you pull the flap, the tailgate opens like it's powered
The rear tow hooks are located near the exhaust end can and not near the bumper. Similarly, the front tow hook is placed near the front-left wheel hub. While they are accessible, these hooks can be a little tricky to reach in deep slush or a water-crossing
The headlight washers are not an extension of the wipers. They have a separate switch near the headlamp leveler
Like the Mahindra Thar 3-door, the Jimny 5-door is rated as a 4-seater
6 airbags, ABS with EBD, ESP, hill-hold, hill-descent control and ISOFIX are offered as standard. Auto headlights and front fog lamps get added with the Alpha variant
Interestingly, while you do get an indicator to tell you when 4H is active, the only indication of 4L being activated is the traction control off light on the MID
Maruti Jimny Video Review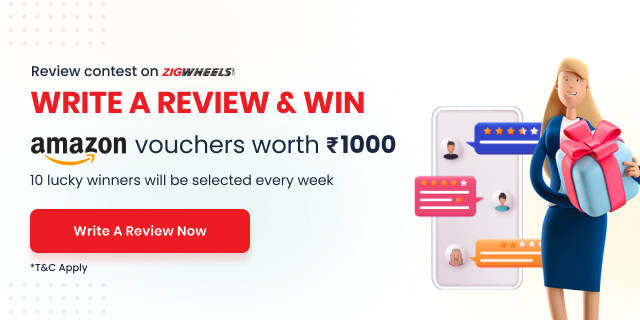 See what our community has to say!
NEW
India's largest automotive community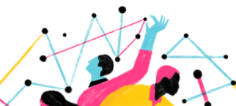 1 Other Things You Might Want To Do