Benelli Imperiale 400 Road Test
by Ruman
Nov 13, 2019
Views : 13043
---
You know how it fared in the comparison, but what exactly makes the Imperiale 400 tick?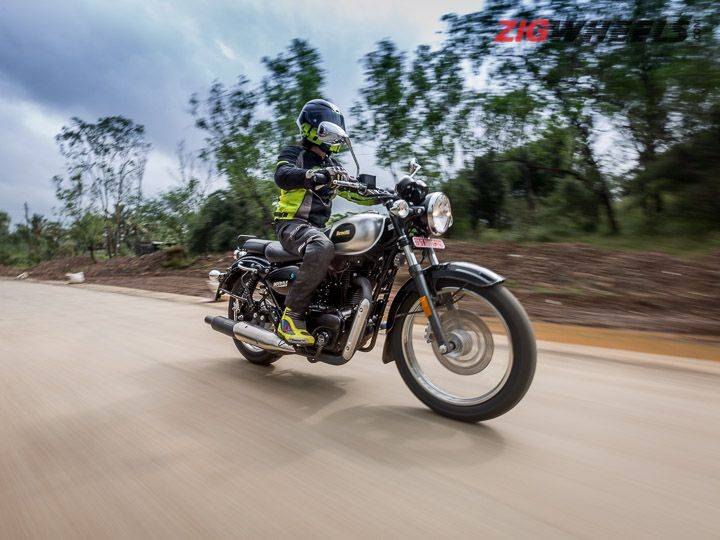 Are you wondering why you have to read a road test of the Imperiale 400, days after we've announced it as the winner of its class? Fair enough. There's no point in keeping it from even those of you who haven't read the story - the Imperiale has outdone the Jawa and the Royal Enfield Classic 350. So, what exactly are you going to read about further? Er, I am not entirely sure. But perhaps this is the time to look at it in the perspective of isolation, to see how its qualities come together to make it the motorcycle it is.

Let's begin with the genesis. It's true that Benelli had no real pressure of conformity with the Imperiale 400, because the motorcycle it borrows its name from was no milestone of its era. In fact, the original Imperiale, a 125, wasn't even technically a Benelli but a Motobi, devised by one of the six Benelli brothers who evidently had little regard for familial unity. Sure, the original was an extremely beautiful motorcycle, but without a raging mob knocking on present-day Benelli's door, demanding a revival of the nameplate, it was free to take any approach with the new Imperiale 400's design. In that context, it has done rather well.

With the Imperiale 400, you get two design languages for the price of one. I will refrain from going into the details because you have already had ample opportunities to examine the Imperiale's design, but here's some perspective. The front half of it is a perfect tribute to '50s British motorcycles - and it really is stunning if not outright pretty (unlike the Jawa) - while the rear reminds you of some unflattering motorcycle designs that have emerged from one of our neighbouring countries. It still paints a beautiful silhouette, though, and thankfully it is pretty well put together as well.

The one area Benelli could have invested more effort in would be chrome, and some aspects of the packaging. The towering engine block is all black, and on a motorcycle such as this one, some machine-finish cooling fins (if not a smattering of chrome) would have elevated the sense of premiumness. The blacked-out Bullet-esque exhaust will definitely be easier to maintain, rust-wise, but it should just have been a chrome unit. In fact, I wish Benelli had managed a twin-port, twin-exhaust design - the Imperiale really has the stance to shoulder it. While the blacked-out elements aren't a flaw, what's less acceptable is the shoddy electrical packaging. A patient look at the engine bay reveals a lot of exposed and untidy cabling, which is unpleasant when compared to the Imperiale's otherwise great fit and finish. As an afterthought, I suppose it would've been nice to see a kick-starter as well - for nostalgia's sake, at least!

The view remains consistently pleasant from the rider's perch, thankfully. The Bonneville-style twin-pod instrument cluster looks quite swanky, what with its secondary arc of mph readings and digital inserts which feature the odo, tripmeter, a central fuel gauge and a gear-position indicator. The handlebar clamp is neatly finished and the chrome on the mildly contoured handlebar looks expensive, too. The plastic-chrome mirrors look nice (at least while they're brand new) and are useful on the move, too; and while the switchgear isn't stellar, it's of a decent quality. Oh, and you get hazard lights, which is a bit worrying given our tendency to misuse the feature.

You sit at a decent height, 780mm off the ground, which enables you to place your feet flat on the ground as long as you aren't shorter than 5'8". The distance between the seat base and the footpegs is definitely roomy even for six-footers over a long riding day. However, it is worth pointing out that the rider's footpegs are centre-set and not spring-loaded, which means they tend to foul with your shins when you want to walk the bike in traffic or a tight parking spot. That aside, the Imperiale is spot-on for the rider. For the pillion, things look bright in terms of seating comfort. The cushioning and room on offer are superb and in the city, it is the best of the lot, but there is one long-distance limitation: the pillion footpegs are positioned a bit too high. Pillions shorter than 5'8" will be okay with this but if you are any taller, be prepared to tap your pilot on the shoulder at regular intervals, reasoning for a break so you can stretch out.

But wait, I am yet to ride the bike (for the sake of the story's chronology, at least!) So in goes the Swiss Army-style key into the central key slot, engine un-killed and thumb-started to life. Hmm, nice little beat we've got going on here. It's mild, mellow - almost as if it were a Bullet that went to Cambridge for higher education - and oddly refined. I say oddly because Benelli hasn't made a lasting impression (not the right kind for sure) with its previous single-cylinder experiments. But the Imperiale's motor feels really pleasant. A slightly long-ish throw into first reveals refinement is a permanent theme of the Imperiale's personality. Under gentle acceleration, it's muted and nearly silent and there isn't a vibration in sight. You shift through the 5-speed gearbox rather effortlessly - too effortlessly, perhaps? - with no audible mechanical clunk and the Imperiale remains easy, unstressed and refined all the way to the top. At 100kmph, the tacho needle sits at roughly the 4800 rpm mark, and even though it has very little to offer beyond a speedo-indicated 120kmph, it feels relaxed and effortless even at that point!

Even if you begin to ride it hard, as you are likely to do once you familiarise yourself with its dimensions and girth, the Imperiale remains unfluttered. Sure, it sounds nicer when pushed a little (the exhaust will even do a pop and crackle number if you please) but refinement and linear performance are simply never compromised. Credit goes to the 374cc, air-cooled, 4-valve, fuel-injected motor which is more modern but identical in basic architecture to the long-stroke or undersquare motor seen in the immensely successful Royal Enfield Classic 350. With a low compression ratio (8.5:1 - same as the Classic), the Imperiale is designed with relaxed - and relaxing - performance in mind, although its numbers are perfectly acceptable especially considering it is a 205kg motorcycle. It goes from 0 to 60kmph in 5.06s while the 100kmph mark comes up in 15.7s. In-gear acceleration is similarly impressive, with 30-70kmph (3rd gear) coming up in 5.90s and 40-80kmph (4th gear) taking 8.99s. Here's where you can compare these numbers to those of its rivals.

More than the numbers, though, the Imperiale excels in the sensations it delivers. More than a handful of people who rode it mentioned 'feels like a twin!' in their post-ride description of it, which is a huge compliment. Also, the manner in which that underwhelming spec sheet which reads 21PS and 29Nm of torque translates to real-world character is most endearing. It's got the sort of personality that will make you go on a short spin - even if just a really short one - even after you've returned home from a 400km riding day on it.
One chink in its armour, applicable only under aggressive riding, is the gearbox' tendency to get wedged into neutral when shifting from first to second. This is offset by the Imperiale's low-speed tractability, which means you will only find yourself in first gear when you come to a complete halt. Its overall tractability, too, is really quite superb and absolutely no situation demands frequent gearshifts. This heartening performance does come at the expense of fuel efficiency, however, with the Imperiale returning 35kmpl in the city and 34.3kmpl out on the highway. This also endows the Imperiale with the lowest range in its class, given that it also has the smallest fuel tank, at 12 litres.

What it lacks in terms of stretching a litre of petrol, it more than makes up for by offering the most long-distance-friendly dynamics package. The Imperiale feels like a well-engineered, uncompromisingly stable motorcycle, and the ergonomics and engine character all come together to create a fatigue-free long-distance experience. Its responses are stately and predictable thanks to the 19-/18-inch (front/rear) wheel combination, although the TVS tyres do deprive it of grip when subjected to a demanding riding style. What further enhances this is the ride quality. The telescopic fork is fantastic and feels well equipped to tackle the worst our roads have to offer, although the pair of gas-charged shock absorbers are a bit on the firmer side. This does discount the cornering liberties you can take with it given that it creates a fair amount of wallowing, but it works suitably for the purpose the Imperiale has been designed for.

What is impossible to forgive, though, is the braking. To give you the numbers, it comes to a halt from 60kmph in 23.38 metres and from 80kmph in 40.48 metres. This is the least impressive when compared to the Jawa (20.54m from 60, 35.95m from 80) and even the Classic 350 (21.85m from 60, 38.73m from 80). The Imperiale seems to have all the right hardware (even an adjustable brake lever!) but it feels unacceptably wooden - i.e. entirely devoid of bite, feel and progression - which seriously dents the overall riding experience. That's not to say you can't get used to it, but it's just unpleasant that Benelli let it pass.

Now for the bit you don't need to go over again. You already know it's better than its competitors, but for the benefit of context, I will mention that while it isn't necessarily the benchmark in any singular performance aspect (refinement and cruising ability aside), it presents to you a riding experience that is intensely fulfilling. The Imperiale urges you to judge it beyond the sum of its components and that, for a Rs 1.69 lakh (ex-showroom; the maroon and black colours will set you back by another 10k) motorcycle, is quite delightful. However, it's not going to be a walk in the park for Benelli because there are a few concern areas even in the minds of people who have immense affection for the brand. The first is the typically high service cost associated with Benellis. The second is the service network itself. With 26 outlets across the country and presumably lots of takers for the Imperiale, now is the time for Benelli India to truly step up. Not an easy task, but that's what you get for making a really nice motorcycle!
Benelli Imperiale 400 Video Review
More on Benelli Imperiale 400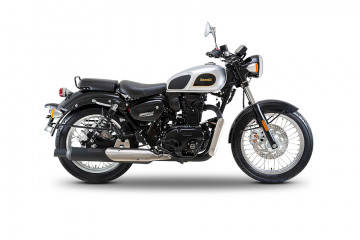 Rs. 1.89 Lakh Onwards
Ex-showroom, Delhi
Imperiale 400 Alternatives
See what our community has to say!
NEW
India's largest automotive community