The Volvo XC40 Electric Is Bringing Google's Android To Cars
---
Volvo's first EV, which will debut on October 16, will also be the first to sport a Google Android Automotive OS infotainment system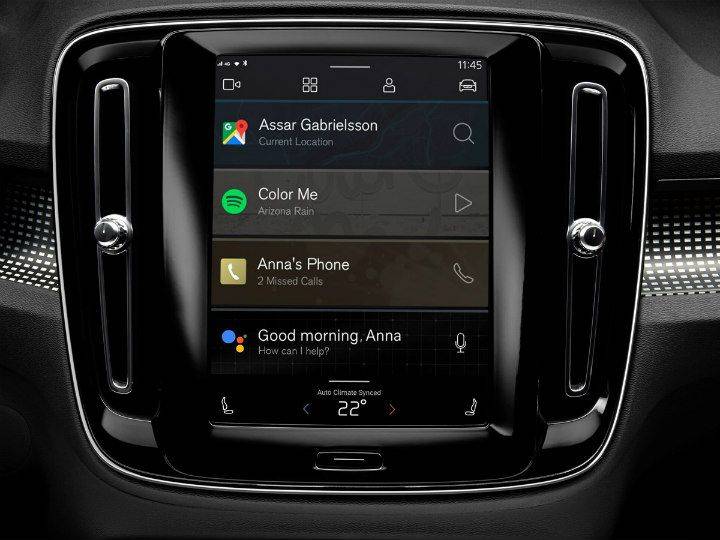 The new OS will enable any kind of car-adapted apps, as well as timely updates, to be downloaded directly to the infotainment system.
It will also greatly reduce the need for a smartphone to access Android or other connected features since it will be a standalone system.
The system will be Google's answer to connected car tech from all major manufacturers.
Safety enhancements to the EV include reinforced front and rear end as well as a floor-mounted battery.
Volvo has continued its teaser campaign for the October 16 debut of its first electric vehicle (EV), the XC40 Electric, by revealing that its cabin tech upgrade will include an infotainment system with its native Android software, developed by Google. The Android Automotive OS has features such as Google Maps, Google Assistant and Google Play, which means that any kind of car-adapted apps can be downloaded directly onto it. All these features will be accessible via the model's own integrated Wifi.

Essentially, instead of just being an app that links with your smartphone like Android Auto or Apple CarPlay, the Android Automotive OS is its individual system built into the car. It eliminates the need to use a smartphone to access Android features. With this OS, the XC40 Electric's infotainment system will be able to have timely software updates, which can certainly keep the electric SUV's system fresh for a while. This is a welcome move by Volvo against rivals such as the Mercedes Me Connect, UVO Connect on the Kia Seltos, and Hyundai's Blue Link connected car tech recently introduced in India.

Volvo had earlier claimed that the upcoming car will be one of the safest EVs with tweaks including a reinforced front structure, due to the omission of the internal combustion engine. Other updates include a floor-mounted battery housed within an aluminium safety cage. This should form a crumple zone around the battery for additional safety. Other reinforcements to the XC40 EV include a reinforced rear structure for better dispersion of collision energy away from the cabin to reduce collision forces felt by passengers inside the cabin, thus lowering the risks of serious injuries.

The XC40 Electric will also go a step further with its updated safety kit, which will include the newly developed Advanced Driver Assistance Systems (ADAS). This will consist of radars, cameras, and ultrasonic sensors that will rely on a software created by autonomous driving tech developer, Zenuity.

With the official debut only a week away, expect further details from the carmaker before the XC40 Electric is unveiled. The current ICE XC40 is sold in India at Rs 39.90 lakh to 43.90 lakh. Expect a long wait for the EV iteration to hit Indian shores as only the diesel variants are sold in India. It currently rivals entry-level German luxury SUVs such as the BMW X1 and Audi Q3.
Add Your Comments