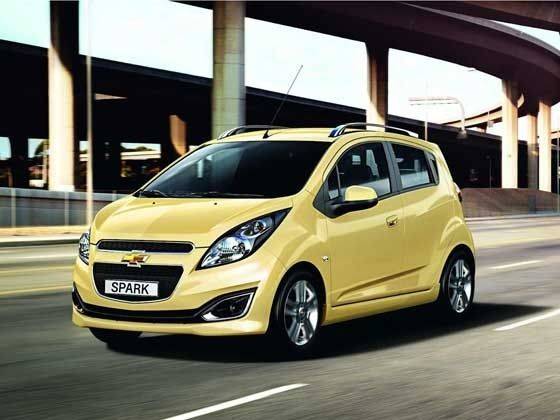 Face-lifted Chevrolet Beat
Expected Mid 2013, Price: Rs 3.8-5.7 lakh
Showcased at the 2012 Paris Motor Show, the face-lifted version of the Chevrolet Beat will be launched in India in the second or third quarter of 2013 and will carry with it a more enhanced look both on the inside and outside as compared to the outgoing model.
The refurbished American hatch will sport a bigger grille, a redesigned front bumper with a single piece air dam finished in black, and fog lamps that are now placed at the edges of the air dam with chrome surrounds. Other changes include newly designed alloy wheels and rocker panels. The tail lamp cluster has also been tweaked on the next gen Beat, while its tail pipe has gotten slightly bigger. The insides of the 2013 Beat model will be fitted with a redesigned centre console and a new infotainment system, a more attractive speedo and a circular digital rev counter. The engine options will remain the same in India with the 1.2-litre petrol and the 1.0-litre diesel engine. Also, a budget of Rs 5 lakh+ should easily get you the top-end variants of the Beat.
Datsun model range
Expected: Late 2013; Price: Rs 4-6 lakh

Nissan India unveiled their low-cost Datsun brand for the Indian market a few months ago. The first product will be a A-Star competitor and the other car is expected to be a Santro/Wagon-R-like tall-boy hatch. Both these products will be priced at Rs 4 lakhs onwards, placed below the Nissan car portfolio. This is the first time the Datsun brand has come to Indian shores and there is talk of the two products coming in late 2013. The Datsun brand will target used cars buyers and two-wheeler owners looking for budget cars and the Datsun brand promises to attract them with lightweight, durable, practical and affordable cars.
Volkswagen up!
Expected: Mid 2013, Price: Rs. 4-6 lakh
Volkswagen is expected to launch its smallest car up! in India by mid-2013. The three body styles include a 2-door hatchback, 4-door hatchback version and 4-door wagon with a longer wheelbase. In India, the petrol variant will be powered by a 1.2-litre 4-cylinder engine producing 76PS of power and 183Nm of torque, mated to a 6-speed manual gearbox. The diesel variant will be powered by the 0.8-litre 2-cylinder turbocharged engine producing 52PS of power and 100Nm of torque, mated to a 6-speed manual transmission. The concept features 18-inch alloys and wider wheel arches. The Indian version will feature disc brakes at the front and rear drum brakes.
The dashboard of the up! Space concept will sport an 8-inch monitor displaying fuel level, range, and speed while another 17-inch monitor will display climate, multi-media and navigation system controls. The Indian version will have fewer safety features and spartan interiors to price it below the Polo. Of course, the top-end varaints will be more feature rich and cost upward of Rs 5 lakh.
Fiat Punto Evo
Expected: Mid 2013, Price: Rs. 4.5 - 7.5 lakh
After taking back the reins from Tata for its sales and distribution network in India, Fiat clearly has its task cut out. However, it is also refreshing it model line-up to boost in India. Its most affordable car, the Grande Punto has been around for a while now and Fiat plans to give it a mid-life face-lift. In all probability, sold abroad as the Punto Evo, is what will be launched here. The Punto Evo features distinctive interior and exterior styling changes and should pack in more equipment as well. It will have a new front bumper, grille, refreshed styling, new wheels, tail lights and interiors and is likely to be lighter and more fuel efficient.
The 1.2-litre and 1.4 FIRE petrol engine as well as the 1.3-litre MultiJet will continue to do duty but we would have loved to see the 1.4-litre MultiAir petrol engine under its hood. Along with a refreshed Punto Evo and an updated Linea, Fiat needs to ensure effective after sales service before the cars are launched to exploit their full market potential.
Chevrolet Enjoy
Expected: First half of 2013, Price: Rs 6 lakh
The MPV segment is definitely on a roll with Maruti Ertiga and now Chevrolet announcing the launch of its Enjoy MPV by 2013. While the company has just launched the BS IV Tavera, the Enjoy is sure to be a much more modern and well equipped car. The Chevrolet MPV as it was seen at the 2012 Auto Expo, did not have anything ground breaking about its looks even in its concept avatar. Typical MPV proportions with a nice compact design pretty much summed it up. Expect the interiors to be pretty upmarket with spacious seating for seven passengers.
On the engine front, nothing is clear but expect a detuned version of the Tavera's 2.2 litre diesel unit. There is also a small capacity petrol and the multifarious 1.3 litre Multijet unit from Maruti in the pipeline. The Enjoy is slated to be manufactured at the Halol facility and is sure to attract a lot of buyers considering the demand for MPV's here in India. Pricing however will be the key and GM will have to play it right in that department to make the Enjoy a success.
Honda Amaze

Expected: Mid 2013, Price: Rs 6 – 7.5 lakh

Japanese auto major Honda will debut the Amaze sedan mid 2013 in India. Debuted in Thailand, on November 23, 2012, the Honda maiden diesel offering is one of the most eagerly awaited of the company's products. The 1.5-litre i-DTEC oil-burner has been developed by the former Honda F1 team. According to the company, the sub four-metre sedan is expected to deliver fuel efficiency of around 25kmpl.

In Thailand, the Amaze was launched in four variants including two manuals, S MT and V MT and two automatics, S AT and V AT. India is likely to get the same. The Honda Amaze will be positioned against the Maruti Suzuki Dzire, Toyota Etios and Tata Indigo CS.
Volkswagen Vento*

Volkswagen Sub-four metre Sedan
Expected: Mid 2013, Price: Rs 5 - 7 lakh


The benefit of being charged only a 12 per cent excise duty vis-a-vie the 22 per cent charged for sedans above four meters has proved to be lucrative for Volkswagen just like other mass marker car manufacturers. Volkswagen is reportedly working on a sub four meter sedan based on the Polo. This car will slot in between the larger Vento and the Polo hatch and as expected, it will have a rather competitive price tag.
Hyundai i20*
Hyundai i20-based Sedan
Expected: Late 2013, Price: Rs 5 - 7 lakh


With flagging Accent sales and no fluidic design car in the entry level sedan segment, Hyundai is expected to launch a new sedan based on the i20 hatchback by the end of 2013.

Featuring the frame and design of its smaller twin, it will be available in both petrol and diesel variants. An i20 with an integrated boot, it will probably be a sub 4-metre car packed with features, expected to replace the Accent.
*Image for representational purpose only
Toyota Etios*
Toyota Compact Sedan
Expected: Mid 2013, Price: Rs 5 - 7 lakh

While you already have the Etios hatch and the sedan, there is a strong possibility that Toyota is planning to slot a sub 4 meter notchback in there as well. Expect petrol and diesel engines from the Liva hatch back with the sub four metre dimensions promising some very attractive pricing.
Tata Indigo Manza*
Tata Motors Manza based Compact Sedan
Expected: Late 2013, Price: Rs. 6-7.5 lakh
Tata Motors were the first to avail of the sub four-metre excise duty benefits, by trimming its Indigo mid-size saloon and christening it as Indigo CS (compact sedan). The reduction in duty meant they were able to price the CS aggressively and it turned out to be a great success story for Tata. For 2013, a sub four-metre Manza is on the cards, the Manza CS is likely to be powered by a 1.2-litre petrol and 1.3-litre diesel sourced from the Vista. It will be interesting to see how Tata manages to price the Manza CS and it could be marketed as a notchback version of the Vista.
*Image for representational purpose only
Maruti Suzuki XA Alpha
Expected: End of 2013, Price: Rs. 7 lakh
With the success of the Mahindra XUV 5OO and Renault Duster, Maruti Suzuki unveiled its own all-new mini-SUV, the XA Alpha concept at the 2012 Auto Expo in Delhi. Based on the Swift platform and sticking to the SUV DNA this new mini-SUV has extremely short front and rear overhangs, funky headlights, and thick C-pillar. The interiors are likely to be similar to the Swift and Swift Dzire. It will sport the K-series petrol engine and 1.3-litre diesel powerplant. It will be interesting to see how this one is priced.
Volkswagen Cross Polo
Expected: Early 2013, Price: Rs. 6-8 lakh
The Volkswagen Group will be launching the Cross Polo, which is a rugged version of the existing Polo by early 2013. The Cross Polo will have 15mm more ground clearance than the current version of the Polo along with a silver diffuser at the rear and big 17-inch alloy wheels. The car has black matte plastic molding around the wheel arches, bumpers, and side sills and the side profile has sporty black wheel arch extensions to give it a tougher look. It is speculated to have a tailgate-mounted spare wheel to give it a SUV-like resemblance and a 1.5-litre, four-cylinder diesel engine exclusively for the Indian version.
Force Motors Gurkha
Expected: Mid of 2013, Price: Rs. 6-8 lakhs
After a successful SUV segment foray with the Force One, Force Motors is reviving its popular Gurkha to take on the Mahindra Thar. It will be powered by a 2.6-litre diesel engine producing 76PS of power and 195Nm of torque, and will be mated to a five-speed manual transmission. The new BSIV compliant engine will make it eligible for sale in metros.
The new Gurkha, based on the legendary Mercedes-Benz Gelandewagen (G-Wagen), will be built under license from Daimler. Changes on the 2013-spec Gurkha include all-new headlights; alloy wheels from the Force One and revised interiors. The A-pillar placed snorkel establishes its off-road credentials.
New Maruti-Suzuki Sedan
Expected: Late 2013, Price: Rs 6.5 - 8.5 lakh
Maruti Suzuki could have a sedan for 2013 to slot between the Swift Dzire and SX4. However it will not fall into the sub 4-metre category. It may be based on a new platform and feature an entirely new design language and will be powered by a 1.3-litre diesel and 1.4-litre petrol powerplant from the Ertiga.
Volkswagen Polo Automatic
Expected: Early 2013, Price: Rs. 7-7.5 lakh
The demand for automatic transmission cars in the premium hatch segment in India is on the rise, hence the re-launch of Polo's discontinued 1.6-litre petrol engine with automatic transmission is a perfect fit for the market. The Polo AT is similar to the Vento Automatic and will feature changes such as new headlamps and alloy wheels for a sportier look. However, the Polo being lighter as a hatch will make up for the fuel efficiency deficit experienced with the Vento's automatic version.
It will make a strong contender to Hyundai i20, which is already in the market. It will be priced approximately between the Rs 7 and Rs 7.5 lakh brackets.
Ford EcoSport
Expected: Mid 2013, Price: Rs 7-10 lakh
American car maker Ford gave Indian masses a first look of their latest, up-and-coming automobile tailor-made for the Indian market, the EcoSport, at the 2012 Delhi Auto Expo in January. The compact SUV design that is somewhat unique to the EcoSport does give it a slightly different appearance from the other cars in its SUV gene pool. It's sleek and aerodynamic rather than chunky and conspicuous, but with a 200mm ground clearance it'll ride as well as any of the bigger SUVs out there. The engine too is a departure from tradition. The EcoSport boasts of surprisingly diminutive one-litre, 3-cylinder 'ecoboost' petrol engine, but it's been turbocharged to produce a respectable 120PS of power and 170Nm of torque. Ford claim the SUV will give 16kmpl, which is quite decent for a vehicle its size.
The car comes pre-loaded with a few toys, too. Microsoft's SYNC voice control lets you make calls, reads out your texts, and even allows you to browse through your music collection without taking your hands off the steering or looking away from the road. The manufacturers also proudly proclaim the car contains an insane 20 different storage spaces, including an ample 346 litre boot space, air-conditioned glove box, a James Bond-esque hidden compartment under the front seat that slides in and out, and a designated space to store an umbrella! Safety too has been looked after with the inclusion of front and side curtain airbags, ABS, traction control and ESP. The SUV also contains a hill launch assist system that helps you pull out on an incline without rolling back, and smart start, Ford's keyless entry system that detects your proximity to the car and unlocks the door when you get close enough, and with ignition at the push of a button, keys are more of an option than a necessity in this car.
The EcoSport will also come in automatic transmission and diesel engine variants. This car is being compared with the Renault Duster due to its styling and size, but if it does fall within the expected Rs 6-10 lakh price bracket, it may well turn out to be Ford's most successful contribution to the Indian market.
Nissan Sunny Automatic
Expected: February 2013, Price: Rs 7.5 – 8.5 lakh

Japanese car maker Nissan plans to launch the Sunny in an 'autobox' option. Mated to a six speed CVT, the petrol motor is likely to be priced Rs 80,000 dearer than the manual. The popular diesel version may contribute to the bulk of the sedan's sales in India, however, the Sunny CVT would be a great option for buyers who drive themselves over a short distance.

Powertrain on the Sunny CVT will be the 1.5 litre motor, currently doing duty in the manual gearbox version of the Sunny petrol.
Face-lifted Fiat Linea
Expected launch: Mid 2013, Price: Rs. 6.5 - 9 lakh
The 2013 Fiat Linea mid-size sedan is due a facelift for 2013. It was introduced in Turkey earlier in 2012. The revamped car's exterior styling updates include a new front bumper with revised fog lamp housings and a new grille. At the back, is a new bumper with a big strip of chrome. The number plate housing is relocated from the bumper to the boot lid, with a chrome strip on top.
The interiors have been given a new lease of life with Fiat 500 inspired dashboard with a curvy contrasting colour section (in this case beige) across the centre. The instrument binnacle is reshaped while retaining the circular dials that now have a black background. The old air-conditioning vents have been replaced with more modern ones, there is a new integrated stereo and new air-con controls. The steering wheel has been given silver inserts.
The face-lifted Fiat Linea has a more modern and appealing interior while exterior styling changes are modest at best.
Current-gen Honda City*
Face-lifted Honda City
Expected: Late 2013, Price: Rs 7.20 – 10 lakh

Japanese car maker Honda is expected to launch a face-lifted version of the City by late 2013. The sedan will not feature any design changes, but Honda will bring in the 1.5- litre i-DTEC oil burner to take on the Volkswagen Vento TDi and Skoda Rapid TDi.

The introduction of the diesel engine is part of Honda's plan to boost annual sales from three million to six million units by 2017. The petrol engine option will sport the acclaimed 1.5-litre i-VTEC tweaked to improve performance and fuel efficiency.

The interiors are expected to remain the same.
Nissan Evalia*
Renault MPV
Expected: Mid-2013, Price: Rs. 7-10 lakh
Badge re-engineering is the mantra of the day, and the Renault-Nissan Alliance is prime example of it being a win-win situation. With the Micra-Pulse and Sunny-Scala on the streets, it is only a matter of time before Renault brings in their version of the Evalia. Like the Pulse and the Scala which are priced higher than the Micra and Sunny respectively, Renault's Evalia based MPV too will be priced marginally above the Evalia. Under the hood, this new MPV will have the 1.5-litre dCi mill from the Evalia.
Renault Duster *
Nissan Compact SUV

Expected: August 2013, Price: Rs 7.5 – Rs 11 lakh

As a part of badge re-engineering between Nissan and Renault, the Japanese car maker will launch a compact SUV similar in design and build to the Duster. The SUV is expected to go on sale by August 2013 at a more aggressive price tag.

Overall, the vehicle, code named NH79 is expected to have minor changes to the exterior design while the interior is expected to remain the same similar to what has been seen with the Micra and Sunny being re-badged as Pulse and Scala respectively.
*Image for representational purpose only