Top 7 Best Concept Motorcycles Of 2018
by Niraj
Dec 13, 2018
Views : 885
---
From Kymco's electric superbike to Royal Enfield's concept KX, here's a list of the concepts which managed to catch our fancy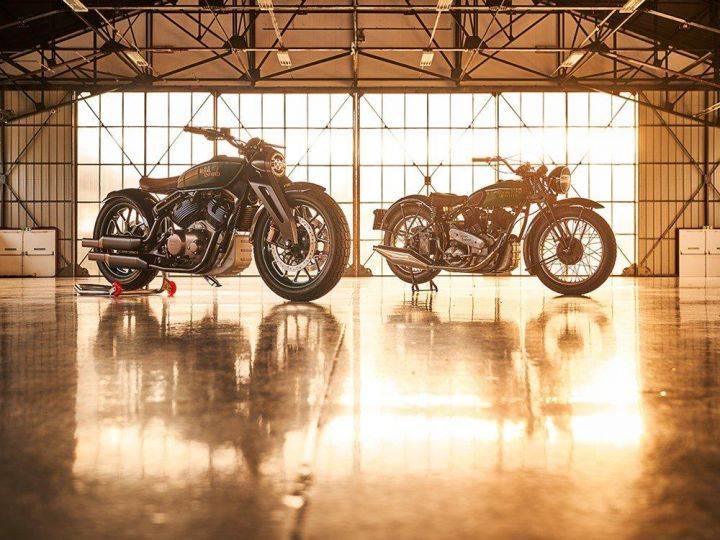 Concepts often offer a peek into the future, showcasing what the brand can achieve. Of course, they are over the top and sometimes even downright crazy! This year was no exception with numerous bikemakers previewing their future approach through concept motorcycles. And here are the top seven that caught our fancy.
1) Royal Enfield Concept KX
Royal Enfield debuted one of its most ambitious concepts this year, called the Concept KX. And no, we won't blame you for mistaking it with the Indian Scout. While the engine was in fact developed in collaboration with Polaris, RE says the design inspiration has been taken from the 1938 Royal Enfield KX motorcycle. The Concept KX sports a low-slung design with raised handlebars and a retro-style fuel tank design. However, there are a few modern touches in the form of alloy wheels, LED lighting and a fully digital instrument console.
While the original KX featured an 1140cc V-twin engine, the new concept gets an 838cc V-twin air- and oil-cooled powerplant. Royal Enfield has not revealed the power and torque figures though. All said and done, Royal Enfield did say they will not be bringing this bike into production, but we think otherwise. There's a good chance that the concept might roll into production soon. Perhaps a 2020 surprise debut?
2) Hero XPulse 200 Concepts
We've been waiting and waiting for Hero to launch the XPulse, ever since it was first showcased at the 2017 EICMA Show. While it looks like we may have to wait a bit longer, Hero showcased not one, but four new concepts based on the Xpulse 200 at 2018 EICMA Motor Show - the XPulse 200T Scrambler, XPulse 200T Desert, XPulse 200T Flat Track and the XPulse 200T Cafe Racer.
Each motorcycle uses the same 200cc engine of the XPulse and electronics. Here's what differentiates each motorcycle (link to the EICMA story). While Hero has confirmed that the more adventure-focussed XPulse 200T will make it into production, the same cannot be said about other models. But we're still keeping our fingers crossed!
3) MV Agusta Superveloce 800 Concept
How can it be a list of crazy concepts without including MV Agusta? For this year, the Italian bikemaker showcased the Superveloce 800 concept at the EICMA Show. And boy are we in for a treat even if the production bike looks half as good as this. MV being MV has blended classic styling elements with futuristic design. For example, the bullet-shaped headlight houses LED headlamps, but has yellow lenses, enhancing the vintage appeal. Then there's the LED DRL mounted right behind the instrument console.
While engine details aren't out yet, we expect it to house the same engine as the Brutale 800 in a different state of tune. This 798cc inline three-cylinder liquid-cooled motor produces 110PS of power and 83Nm of torque, mated to a 6-speed gearbox. MV says the concept will go into production in the second half of 2019. We for one, can't wait to see it in the flesh.
4) Kymco SuperNEX
If you thought electric two-wheelers were boring, well, you're in for a surprise. Taiwanese brand, Kymco Motors showcased its electric superbike concept called the SuperNEX at this year's EICMA Show in Milan. And yes, a superbike it is with futuristic design, aggressive riding position and sporty styling. In order to keep the riding experience immersive, the SuperNEX mimics the sound of an IC engine via an Activa Acoustic Motor (speakers in simpler words). Surprisingly, it also gets a 6-speed gearbox along with a slipper clutch and a quick shifter.
As far as numbers are concerned, Kymco claims that the SuperNEX can sprint from 0-100kmph in under 3 seconds. But that's not it, it also has a claimed top speed of 249kmph which can be achieved in 10.9 seconds! Kymco will also throw in a 'Full Engagement Performance' system, which includes a launch control, traction control and rear wheel lift mitigation system. The bikemaker hasn't given us a timeline as of when the concept will go into production. A safe estimate should be around 2020.
5) Peugeot P2X Roadster and P2X Cafe Racer
Peugeot Motorcycles, famous for their scooter range unveiled two new concept motorcycles at the Paris Motor Show. Called the P2x Roadster and P2x Cafe Racer, the two motorcycles pack the same engine derived from the Mojo. This 295cc single-cylinder, liquid-cooled motor makes 27.1PS of power and 30Nm of torque. What separates the two motorcycles from each other is their design.
While the Roadster is more of a retro-modern motorcycle with spoke wheels and upright ergonomics, the Cafe Racer gets alloy wheels and an overall sportier riding position. Both get the same set of features including a fully-digital instrument cluster with a navigation system and smartphone connectivity. Not to mention, both get all-LED headlamps, USD forks and J Juan brakes with a dual-channel ABS system. The two motorcycles are set to enter production next year. But the French brand hasn't confirmed whether it has plans to enter the Indian market. Considering that it will be built in India, there's a possibility that Peugeot might position itself as a niche brand, similar to the Husqvarna.
6) Aprilia RS660 Concept
Aprilia showcased the stunning RS 660 concept at this year's EICMA motor show. Designed to tackle both road and track, the middleweight motorcycle looks like a scaled-down RSV4 1100. However, unlike the RSV4, comfort has been given importance here with a wider seat and raised clip-on handlebars, which have been mounted on top of the upper yoke instead of the forks. All this indicates that the bike might be a sports tourer rather than a full-fledged superbike.
The production model is likely to be powered by a 660cc parallel-twin engine derived from its elder sibling, by installing the front half of the RSV4's 1100 V4 unit. While no power figures have been disclosed yet, we expect it to be close to around 100PS. Aprilia has already started testing the bike at Italy's Vallelunga circuit, suggesting that we might see a production version soon.
7) Yamaha Hyper Slaz
Based on Yamaha's M-Slaz production model, the Hyper Slaz looks straight out of an Arkham game. Sporting a naked design, this concept motorcycle gets all sorts of fancy bits like Ohlins suspension, delta box frame, USD forks and a transparent clutch cover. Then there is the futuristic headlamp design and alloy wheels wrapped in premium Pirelli Rosso II rubbers. Oh, did we mention the piece de resistance - a tiny camera on the forehead.
Unlike other manufacturers, Yamaha's track record of converting concepts to production-ready bikes has been good so far. The recent example being the Ray-ZR Street Rally which was earlier showcased as a concept.
Add Your Comments