SWM Motorcycles To Enter India By End Of 2017
May 23, 2017
Views : 6561
---
SWM has partnered with Pune-based Motoroyale, to launch its middleweight adventure tourer, the Superdual T first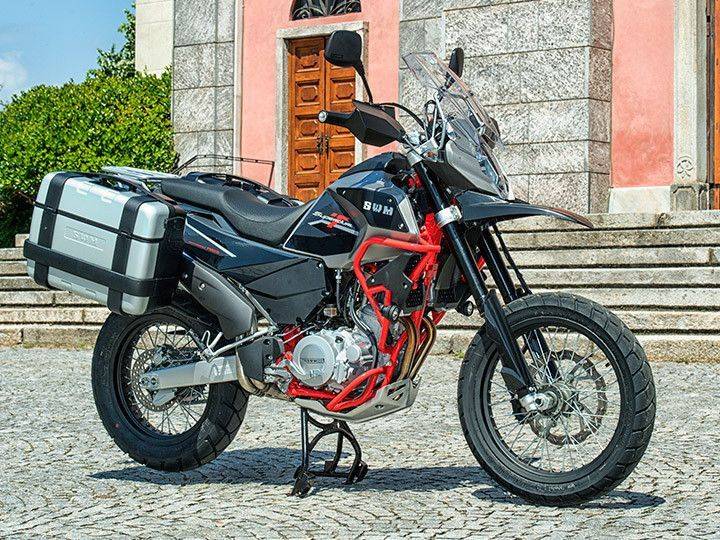 What is it?
SWM Motorcycles is a brand not many in India would have heard of. Of course, one of the biggest reasons behind that is the fact that the Italian brand had shut shop in 1984, only to be revived three years back. The brand was founded way back in 1971, and colloquially, SWM stands for Speedy Working Motorcycles, though originally it denoted the names of the founders and the place where it was headquartered. In fact, it wasn't even SWM originally, it was SV.VM, which stood for Sironi Vergani Vimercate Milano as it was founded by Piero Sironi and Fausto Vergani and was based in Milan in Italy.
Back then the brand was known for its motocross, trials and enduro bikes and was extremely successful in dirt racing. Engines back then were sourced from Sachs and Rotax, and SWM was one of the biggest brands in Italy when it came to off-road motorcycles. The company went into liquidation in 1984 when production was ceased.
The revival
Ampelio Macchi, an old timer who has worked previously with Italian brands like Aprilia, Cagiva and MV Agusta has been instrumental in reviving the SWM brand, with financial support coming in from Chinese major Shineray Group, who, apart from other businesses, is into motorcycles themselves. SWM is now headquartered in a quaint little town called Biandronno, on the outskirts of Varese in northern Italy. SWM now has a full-fledged factory to itself, with an annual capacity of about 80,000 motorcycles. This is the old Husqvarna factory, which was functional when Husqvarna was owned by BMW Motorrad. When Motorrad sold the brand to KTM, the Austrians moved Husqvarna out of the factory, moving Husqvarna to Mattighofen in Austria.
KTM, however, did not take most of the equipment with them while vacating the factory, thus leaving most of the machinery and test equipment, which is now used by SWM. In essence, most new generation SWM motorcycles, or their engines at least, are based on Husqvarnas. Following the official announcement at the 2014 Milan Motor Show, SWM has presence in as many as 25 countries already.
The MV Agusta connect
During its tumultuous ride back then, SWM was, at one point of time, also owned by the Castiglioni family who owns the exotic Italian brand MV Agusta currently.
The motorcycles
The current SWM range is expectedly, dominated by dirt bikes and supermotos. Powering these are single cylinder engines displacing 125cc, 300cc and 500cc. The range topper in this segment is a 600cc dirt bike though, and all these engines are manufactured at the very plant in Italy. Apart from these, there's a range of retro-classic motorcycles too, powered by 445cc, single cylinder engines that are sourced from China, understandably from the Shineray Group. But none of these are coming to India, for now at least.
So what is coming to India?
The first SWM to be launched in India will be the Superdual T, which is the Italian brand's flagship motorcycle. It is an on/off-road motorcycle powered by a 600cc, liquid-cooled single cylinder engine, which is again based on an old Husqvarna engine. The Euro IV compliant version of the Superdual T has just entered production at the factory and Pune-based Motoroyale, owned by the Kinetic Group has partnered with SWM to sell its motorcycles in India. Readers might recall, Motoroyale are the same people who brought MV Agusta into India two years ago.
Ajinkya Firodia, who heads Motoroyale, tells us that his idea was to always have multiple motorcycle brands under the Motoroyale umbrella, with a clear focus on high-end machinery. He sees the demand for a middleweight adventure tourer in the country to satiate the needs of Indian bikers wanting to go touring on motorcycles. And we cannot deny the fact that most adventure tourers on sale in the country currently are too big, heavy and expensive, putting them out of reach from a huge chunk of bikers. The Superdual T thus holds a lot of potential for the Indian market.
There's a more off-road biased version of the Superdual on offer internationally as well, called the Superdual X. The only differences between the Superdual T and the X are larger wheels on the X – a 21-inch front and an 18-inch rear wheel, more off-road biased tyres and shorter gear ratios. The Euro IV compliant Superdual X will enter production later this year and will probably come to India sometime next year. The Superdual T though is expected to arrive at Motoroyale for homologation by June or July and will be launched by the end of 2017.
What is it?
The Superdual T, as mentioned above, uses a 600cc, liquid-cooled single cylinder engine that produces 54PS of power and 53.5Nm of torque in its current state of tune. It looks typical of an off-road motorcycle and its high-set mudguard is a nod to dirt bikes. It is fairly light, with its dry weight of 169kg, and gets an 18-litre fuel tank. The front end boasts 45mm Fast Ace fully -adjustable upside down front forks with 210mm of travel, while the rear end gets a Sachs fully adjustable rear damper. Wheel sizes are 19-inch at the front and 17-inch at rear, shod with Metzeler Tourance tyres that are dual sport, but with a road bias.
Minimum ground clearance is a healthy 180mm and depending on suspension adjustment, can go up to 230mm. Seat height is pretty high at 890mm and shorter riders will have some trouble getting onto the motorcycle. To complete its touring stance, the bike also gets a tall windscreen, apart from protection like knuckle guards for the rider, as also protection for the radiator and engine. A set of panniers will be on offer as accessories. When launched, the bike will come as a CKD and is expected to be priced around the 5 lakh rupee mark.
You can read our first ride review of the SWM Superdual T here.
Where can I buy it?
Motoroyale plans to convert its current MV Agusta dealerships into multi-brand ones and effectively, anyone walking into a Motoroyale dealership will get to see MV Agustas and SWMs parked next to each other. Currently, Motoroyale only has presence in Pune and Bangalore, though plans are afoot to have at least two more dealerships soon, in Mumbai and Surat. New Delhi and Chennai might join the list in the near future.