Motorcycle Themed Gift Ideas For Christmas
by Gaurav
Dec 12, 2018
Views : 844
---
Here's a list of Christmas themed motorcycle gift ideas for your friends, siblings or spouse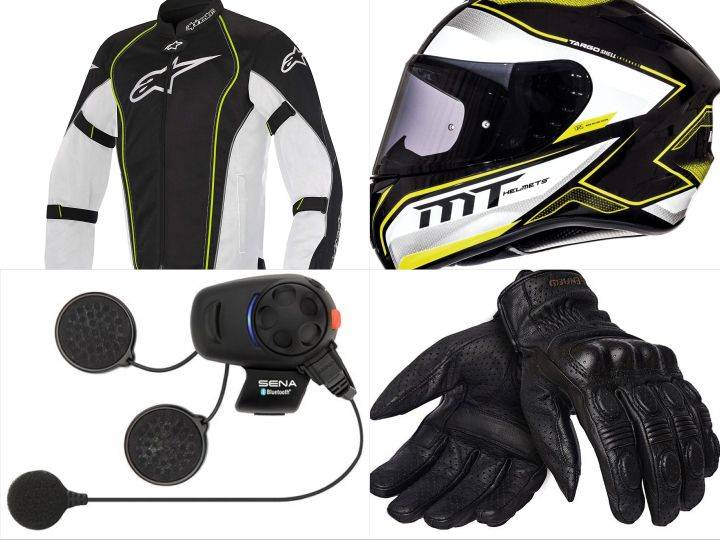 Brace yourselves, Christmas is coming! While most people are busy putting up early Christmas decorations, we've prepared a list of motorcycles themed gifts you could give your loved ones. Hey, after all, Christmas is all about giving (and receiving) presents, isn't it? So here's a list of gift ideas that'll make life a lot simpler if you're planning on buying something for us crazy bikers.
Riding Gear
Protective gear is an absolute essential while riding bikes and you couldn't possibly go wrong with this. Motorcycle gear comprises of a full-face helmet, mesh or leather jacket, riding pants, gloves, boots or a complete race suit. Check what the person in question has missing from his/her riding gear and pick one, maybe even two if necessary, from the above-mentioned list. It's most definitely the best Christmas present a biker could ask for. Motorcycling gear not only keeps you safe, but also makes you look like you're one of the coolest guys on the planet, even if you aren't.
Cool tip: It is better to go in for gear made for summer conditions (eg: Mesh jacket) as India is primarily a tropical country.
Mesh Jackets range: Approx Rs 5,000 - Rs 20,000.
Website: Amazon India, Spartan ProGear, High Note Performance, Royal Enfield, Bike Gear.in
Motorcycle Mobile Mount and Helmet Bluetooth
Any rider would know that it's extremely annoying to take out your phone from your pocket to attend calls or check the GPS for directions. A mobile mount, on the other hand, is a lot more convenient as the phone's placed on the handlebar, making it easily accessible. Pair this with a helmet Bluetooth and you're all set for a long haul. Moreover, the Bluetooth device pairs with your smartphone and enables you to answer/reject calls handsfree, enabling you to concentrate on the road ahead.
Price Range: Approx Rs 2,500 - Rs 30,000
Website: Amazon India, GearBest, SENA

Motorcycle Book
Books are timeless. While there's a never ending list of books to choose from, we'd narrow it down to something that lays emphasis on the technical side, a memorabilia, a biography or motorcycling history. If all this is a little too confusing, just get a book on the workings of a bike. Bike enthusiasts love getting their hands dirty, and there's no better way than working on your bike yourself. The bond between man and machine increases tenfold when you fix your own bike.
Price Range: Approx Rs 300 - Rs 3,000
Website: Amazon India
Motorcycle T-shirt
A bikers closet feels incomplete without a motorcycle T-shirt. I mean, who doesn't like flaunting their favourite bike or a motorcycling quote slapped onto a T-shirt?
Price Range: Approx Rs 499 - Rs 2,000
Website: Amazon India, Myntra, Jabong and Flipkart
Bike Posters

Most of us bike enthusiast grew up staring at posters of our idols on the wall. No, we're not asking you to get one of those humongous posters that'll eat up half of your wall space. Instead, get one that's decently sized and framed. It could be anything from illustrations of bikes, inspirational quotes or a MotoGP rider he/she looks up to. It'll not only make for a really nice gift but also add to the room's decor.
Price Range: Approx Rs 250 onwards
Website: 100kmph, Allposters.com, ebay
Toolkit or Cleaning Kit
A toolkit is an absolute must in a biker's arsenal. The bike ain't going to fix itself, you know! Though all manufacturers provide a basic toolkit with every two-wheeler, it isn't enough for intricate jobs. In this case, a multi-toolkit would be your best bet. It's lightweight, compact, and you have an array of tools to choose from for the desired purpose.
A bike cleaning kit would be apt for bikers who love keeping their prized possession spick and span. A complete care kit includes liquids for all types of surfaces on a bike and keeps the bike in pristine condition.
Price Range: Approx Rs 500 onwards
Website: Amazon India
Motorcycle Scale Models
A biker who loves collectibles would kill for scale models of his/her favourite bikes. You could choose from various sizes but we'd suggest you go for 1:12 scale as it isn't too big but still manages to showcase all the complex details and surfaces of the bike.
Price Range: Approx Rs 400 - Rs 1,000
Website: Amazon India
Add Your Comments