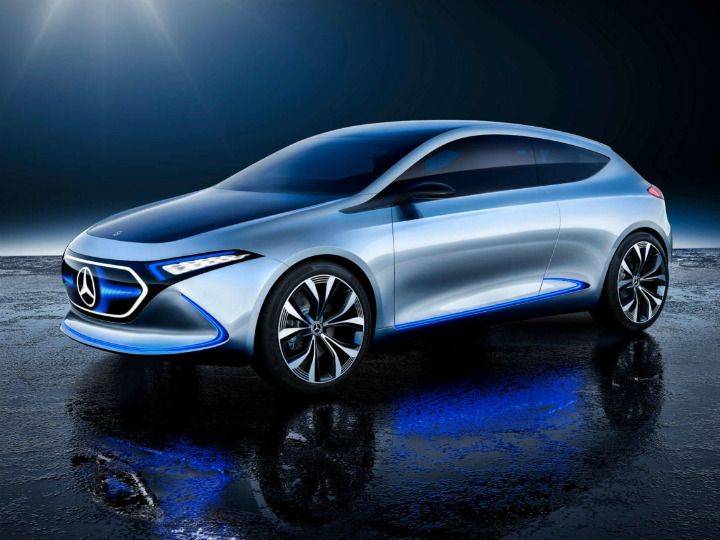 The Frankfurt Motor Show keeps bringing us more and more surprises. This time Mercedes-Benz is in the spotlight for unveiling their EQA Concept. The all new compact electric vehicle showcases the company's upcoming EQ brand of Electric Vehicles (EVs). The EQA concept is quite compact like the Volkswagen Golf or the Audi A3. It is 4285mm long, 1811mm wide and 1427mm tall to be more specific. It also sports 20-inch wheels and the overall design will remind you of the A-Class.
However, it's not the dimensions of the EQA that get your attention, it's the design. The EQA comes with an interactive grille which now merges with the car's headlights. This is done with the help of LED technology that uses fiber optics instead of diodes to give it a more three-dimensional look. The other cool thing is that the grille utilises a black panel display which can change graphics according to the drive mode. For example, in 'Sports' mode, the panel will show a flame graphic and in 'Sports Plus' mode, it will display a red Panamericana grille, similar to the one found on the AMG GT.
The EQA Concept is powered by two electric motors that produce a combined output of around 271PS of power and 499Nm of peak torque. The power is transmitted to all four wheels with the help of an electronic all-wheel drive system. The 'Sports' mode can also alter the torque distribution between the front and rear wheels. Mercedes claims a range of 400km on a single charge for the EQA. It also utilises a fast charging technology which will you give a range of 100km in just ten minutes. It'll be compatible with both standard and inductive charging systems.
Mercedes-Benz will also launch additional services for customers such as pulling up into any public charging station for a recharge, regardless of the network. The driver will be able to pay online at Mercedes's website. The switch towards electric shouldn't come as a surprise since Mercedes-Benz is major investor in ChargePoint, an EV charging provider in America.
With most manufacturers switching towards electric vehicles, Mercedes is the last carmaker you'd expect to play catch up. They have an ambitious goal of expanding the EQ brand by launching 10 EV's by 2022.
Recommended read:
- Audi Elaine Concept: Taking Autonomous Driving To Level 4
- Mercedes-AMG's Project One Hypercar Is Human Ambition On Wheels