Last Volkswagen Beetle Rolls Off The Assembly Line
Jul 12, 2019
Views : 2185
---
The Beetle brand has been put to rest after 81 long years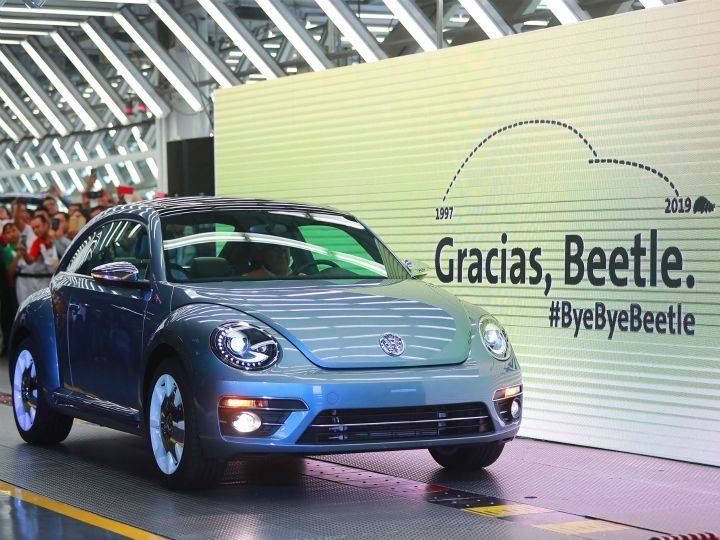 The Final Edition Volkswagen Beetle has rolled out of the brand's production facility in Mexico.
It is finished in a denim blue shade.
The car will be showcased at Volkswagen's museum in the city of Puebla, Mexico.
The iconic Volkswagen Beetle started life as the Volkswagen Type 1 during the infamous Nazi regime in Germany. The first Beetle, or 'bug' as it is more popularly called, was the end result of Hilter's vision for an affordable and simple car. Penned to life by the venerable Ferdinand Porsche (though Béla Barényi is the father of Beetle's design), the Beetle brand is 81 years old and the longest-running car based on a single platform ever made. Volkswagen is putting it to rest now and the final hurrah of the Beetle, christened the Final Edition Beetle, rolled out of VW's assembly line in Mexico.
Back in 1934, the Führer instructed Ferdinand Porsche to create a car that could seat a small family and comfortably cruise at 100kmph on the Autobahn. Enter the Type 1 Beetle which was also one of the first rear-engined cars in the world. Porsche purists and 911 fanatics should also thank the humble bug for its role in shaping the 356, which later evolved to become the legendary rear-engined 911 as we know today. The Volkswagen Hippie van or the Type 2 Bus is also a derivation of the original Type 1 Beetle - now you know where it gets its good looks from.
The original Beetle was built from '83 to '03 in various markets and, Volkswagen debuted the new Beetle in 1997. While the overall silhouette managed to trickle down to the new car, the engine was unfortunately shifted to the front. The A5 Beetle which was sold from 2011 till now also followed the same approach.
The original VW Beetle was a legend in its own right with more than 21.5 million units sold all over the world. The later generations also sold well, but could not attain the same stardom as the original bug. The last ode to the Beetle is finished in a denim blue exterior shade and will be on display at Volkswagen's museum in the city of Puebla, Mexico. While the classic Beetle was never sold officially in India, a lot of them were privately imported by enthusiasts. Volkswagen India did offer the new Beetle beginning 2009 and the A5 Beetle in 2015, but a lukewarm buyer response forced VW to stop selling the model in 2018.
Recommended Read:
How The Iconic Toyota Supra Evolved Over The Years
New Mini JCW GP Clocks Its Fastest Ever Lap At The 'Ring
Add Your Comments