New Mini JCW GP Clocks Its Fastest Ever Lap At The 'Ring
---
Spiciest version of the Mini Cooper lapped the Nurburgring in 7:56.69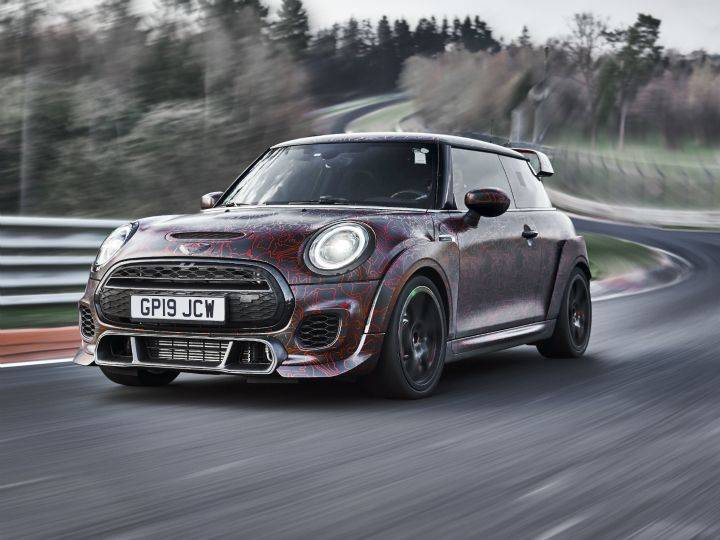 2020 JCW GP will be the fastest and the most powerful Mini ever.
The hot-hatch was also spied a couple of times prior to this at the Nurburgring Nordschleife.
The previous JCW GP's lap time stands at 8:23.
Power will come from a 2.0-litre four-cylinder engine with an expected output of around 300PS/450Nm.
Nurburgring lap times have become the norm these days with every manufacturer chasing the numbers with more enthusiasm. The latest car to do the run is the upcoming 2020 Mini JCW GP. It is the spiciest version of the already scorching Mini JCW and the hot-hatch has registered a lap time of 7:56.69.

A photo was shared on Twitter, revealing the dashboard of the upcoming Mini JCW GP. The interesting part from the picture is the engraving on the dashboard which read " 7:56.69". You don't have to be a geek to figure that out and Mini seems to be rather proud of their accomplishment. The current FWD record holder is the Renault Megane R.S. Trophy-R , which did the run in a blisteringly fast 7:40.1. The french hot-hatch also dethroned the Honda Civic Type R which did the same in 7:43.8. Clearly, the Mini JCW GP is not in the same league. But, considering the previous JCW GP's 8:23 Nürburgring lap time, the latest iteration definitely means business.

The smoking hot hatchback is expected to come with a turbocharged 2.0-litre four-cylinder engine with an output of around 300PS and 450Nm of torque. The hatchback was also spied a couple of times at the 'Ring, with a massive splitter, huge boxy fender flares and a sinister looking wing.The hatchback was sporting a cool camouflage and the interiors were also spied with sportier seats and an automatic gearbox.

The 2020 JCW GP will be the fastest and the most powerful Mini ever and it will be limited to 3000 units like the previous JCW GP, which was limited to 2000 units. The reveal will happen in the coming months with sales set to begin from 2020. The GP coming to our shores is still far-fetched, but, instead you can get the 2019 Mini JCW, which we found out to be a cracker during our time with it at the Madras Motor Race Track.
Add Your Comments