Keanu Reeves' Wick-ed Bike Goes Futuristic In Cyberpunk 2077
---
The highly awaited game will feature a futuristic version of the achingly gorgeous Arch Method 143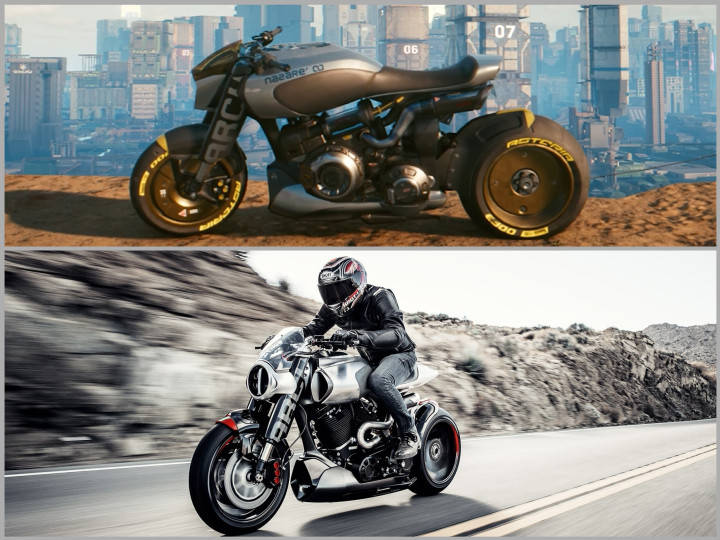 Cyberpunk 2077, an upcoming open-world role-playing video game is highly awaited for all the right reasons. Movie enthusiasts would be glad to know that our beloved Keanu Reeves stars in the game. Discerning motorcycle aficionados would also be aware that Keanu has his own high-end, bespoke motorcycle brand, Arch Motorcycle Company. In a perfect marriage of the virtual world and the pursuit of custom motorcycling, one of the brand's bikes, the Arch Method 143, will be featured in the game, albeit in a tastefully done futuristic form. In fact, Keanu and his partner-designer Gard Hollinger have been working on capturing the essence of the bike for players to enjoy in the game. Drool over this behind the scenes video:
The makers of Cyberpunk 2077 (Poland-based CD Projekt Red) have taken inspiration from the Method 143 and added a creative futuristic twist to the game. It gets a rather compact yet presumably powerful powerplant with a twin exhaust system, solid wheels, and an authentic, raw V-twin engine note as Keanu puts it "...the source will be pure!" They have even gone to the extent of creating a detailed first person view of the cockpit, complete with a functional fully digital instrument cluster.
The bike in real life is powered by a massive 2,343cc S&S air-cooled V-twin engine that's good for 172PS of power and about 200Nm of torque. It nestles inside America's first production carbon-fibre mono-cell motorcycle chassis linked to an inverted front fork and a rear monoshock mounted on a single-sided swingarm, both from Ohlins and fully adjustable.

It features several performance enhancing bits with painful attention to detail like the machined aluminium fuel tank, tail section, billet aluminium headlamp cowl, carbon-fibre fork aero-foils, front and rear fender, and even a set of turbine-style carbon-fibre wheels. And oh, the dual MotoGP-inspired exhaust by SC Project is made from a combination of titanium, carbon fibre and billet aluminium. Of course, all the cool engineering commands exclusivity. It takes 90 days to build a bike and production is limited to just 23 units.

The details of how to unlock/acquire the motorcycle will be revealed when the game releases on November 19, 2020. We hope this game will be well worth its salt. After all, it's made by CD Projekt Red that has won many accolades, particularly for The Witcher series, for its incredible storyline and lore, soulful character development as well as addictive gameplay.