Geneva Motor Show 2017: Aston Martin Names Its Latest Hypercar The Valkyrie
---
The racecar-for-the-road is a jointly developed product between Aston Martin and Red Bull Racing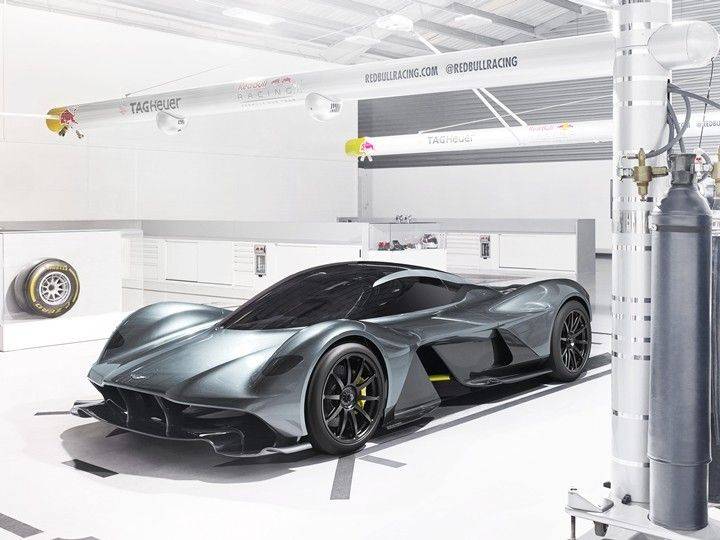 Derived from Norse mythology, the Valkyrie is the newest super..er..hypercar from Aston Martin. Valkyrie, meaning 'chooser of the slain', were female goddesses who chose who may live or die in battle. It is quite an apt name considering the road-legal hypercar will, supposedly, be faster around the track than a Formula One car; a feat it promises to achieve with a completely new, naturally-aspirated V12 engine. It will feature hybrid technology playing a minor role as Aston Martin says the Valkyrie would have a 1:1 power-to-weight ratio and weight close to 1000kgs. So that's 1000bhp or 1014PS from the engine then. The completely new transmission will be developed by Red Bull Advanced Technologies.
The lightness is achieved via a full carbon fibre construction - the entire body including the frame will be made of the lightweight material. Aerodynamics play another important role when it comes to high speeds and fast lap times. Most of the downforce required would be generated by the underbody and that leaves designers free to create a car devoid of ducts and winglets. The car does have active aero in the form of a small wing hidden in the rear. While road cars have been borrowing technology from F1 cars since time immemorial, the Valkyrie pushes the envelope further. In addition to the all-carbon body and aerodynamics, it will feature pushrod suspension and completely carbon brakes like the ones on F1 cars.
The cockpit will be large enough to accommodate two 'full-size' adults, though driving the car will require a high form of contortion as it is an F1-style 'feet-up, hip-down' driving position.
The Valkyrie is a joint project between Aston Martin and Red Bull Racing where they planned to build a GT car that would be faster than an F1 car. Initially codenamed the AM RB 001, the hypercar promises to push the performance envelope so much further, it will make the likes of the McLaren P1, Porsche 918 and Ferrari LaFerrari look like garage builds.
The Valkyrie is slated to launch in 2018. Aston Martin will make around 99 to 150 'homologation-special' models of the car and 25 'track-only-versions' The car is expected to cost above two million GBP (around Rs 16 crore). Aston martin already has their order books full, so maybe the world is crazy after all.
Check: Aston Martin DB11 Launched In India!
More from Geneva Motor Show 2017
- Lamborghini Huracan Performante Takes A Bow!