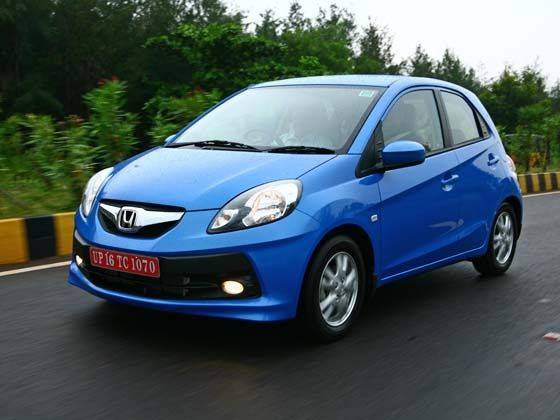 New launches, eye-catching face-lifts, jazzy feature upgrades and revised pricing strategies are the very fundamentals that serve as the backbone of an evolving four-wheeler industry, especially in a culturally diverse nation like India, where only the right mix finally makes the perfect cocktail.
Like in 2010, new car launches have been abundant this year as well, and as expected it's the influential modern day hatchbacks like the Honda Brio (Read : Road Test) and the even smaller but sexier Hyundai Eon (Read : First Drive) that have come so very close to attaining the divine stature of a quintessential Indian small car, something that even indigenous old timers like Maruti Suzuki, not to mention internationally reputed brands like Volkswagen and Toyota have yearned to deliver to their discerning Indian customers year after year.
While the B-Segment in India continues to inch closer to a picture perfect scenario, a year of utter exuberance has just blown across the Indian subcontinent in a hurried gusto, and in less than twelve months since Mercedes-Benz announced its 125th year of existence in the automotive world, India has already become a nascent supercar market, with entry of world famous badges the likes of Ferrari, Lamborghini, Koenigsegg, Aston Martin and others.
While, this may be true, the market at large continues to cater to the mass market consumers, and even in that respect 2011 has sprung some positive surprises. Based on feedback obtained from our readers and interested new car buyers, we have narrowed down our list of special mentions from this year's new car launches to those that at least for our users have shown tremendous recall value, and in a sense symbolize the year that was for the Indian auto market.
In the second half of the calendar year, Honda witnessed its two most exciting months as a progressive small car supplier to India's competition stiff hatchback battlefield. While the launch of the Honda Brio was amongst the most anticipated this year, the re-entry of a face-lifted and better priced Jazz proved to be a righteous revival for Honda's original compact hatchback for India. "Already backed by the Honda badge, the new Jazz with its revised pricing and bolder design upgrades now makes a lot of sense. It is undoubtedly the most memorable automobile launch for me this year," said Amit Shinde from Pune.
Speaking of stunning new face-lifts on existing small cars in the country, none have had a head to toe make-over quite like the all new Indica Vista, or should I say the Tata Manza, now without a boot. Nevertheless, the Manza mimicking style treatment has definitely extended the shelf life of the Vista hatch from Tata Motors, and many have take notice. Deba Prasad from Delhi was particularly impressed with the overall look of the new Indica Vista. Speaking to ZigWheels, he said, "The glossier look, nicely laid out cabin and the overall fit and finish is huge improvement from the older Vista model. The car feels just as good to drive and I am overall quite satisfied with this product."
Better efficiency has always been the biggest virtue of automobiles getting their energy from alternate fuel sources like LPG and CNG. Earlier this year, Hyundai went the LPG way with one of its best-selling hatchbacks in India, the i10. Despite being priced Rs 27,630 more than the existing 1.1-litre petrol model, the new factory-fitted LPG version of the i10 promises better efficiency and lower running costs, giving it that extra edge amongst its existing crop of staid looking LPG competitors. Pratibha Pahuja from Delhi was excited to hear about the introduction of LPG spec i10 model and said, "I like the new i10 model, mainly because of its compact design, and alluring interiors. I am quite sure the overall efficiency and drive quality on the new model will not disappoint."
Now the larger sized premium compact sedan segment in India has certainly conquered some new ground in areas of technology, design, production and overall product affordability. After witnessing the stupendous success of the Volkswagen Vento since being launched in India, it was only a matter of time before Czech subsidiary Skoda came along with its own stylish rendition, a swanky looking sedan that we now know as the new Skoda Rapid (Read : First Drive). "All said and done, it is a great looking car, and constitutes a worthwhile package, especially when you look at the interior fit and finish, all of which is on offer at such an affordable price point," said Manbha Shaw Khonglah from Shillong, who recently moved to Mumbai to work for an online travel portal, Celebrate India.
In late September this year, Mahindra unveiled its new age SUV for India and the world, christened the XUV5oo, which has quite simply been the company's scintillating success saga for 2011. With impactful pre-launch marketing initiatives and various customer engaging social media platforms drawing bountiful attention to the launch of the vehicle, SUV enthusiasts like Ashwini Gokhale from Pune found themselves being drawn towards the hype around the Mahindra XUV5OO (Read : Road Test). Being the most memorable SUV launch for her this year, Ashwini said, "The market hype around the car just got me so inquisitive, and after seeing its captivating design and the plethora of features on offer I was thoroughly impressed."
While, the arrival of the XUV500 has been one of the major highlights of this year's four wheeler launches, it was the re-birth of a decade old sedan from South Korea that has left Indian C-segment buyers perplexed at Hyundai's recent manifestation of what it call its newly acquired 'fluidic' design language.
Parikshit Shirsat from Pune is among countless Indians, who was simply floored by the crystallized design cues on the new 'fluidic' Verna. "It is a fantastic looking sedan, with features that completely outweigh the competition. It is certainly a car, whose launch in India has left an impregnable mark in the minds of the consumers."
Srinivas from Bangalore was also mighty impressed with the new 'fluidic' Verna, and said, "The new Verna has an exterior design that I find very appealing. It offers a reasonably good drive as compared to the Honda City and the Ford Fiesta, and where features and gadgetry are concerned, it is unbeatable at the moment."
Now available in higher displacement 1.6L petrol and diesel models, the new fluidic Verna has arrived in acute style. Class leading features, a drop dead gorgeous fascia and lines that reek creative inspiration, the Fluidic Verna (Read : First Drive) from Hyundai is the by far the Most Memorable Car of 2011.