BMW Motorrad Working On A Roofed Electric Scooter
by Niraj
Jun 4, 2019
Views : 1658
---
Surprisingly, this isn't the first scooter to come with a roof out of BMW's garage
The concept appears to be designed after BMW's C1 scooter, which was launched in 2000.
Patent images suggest the "roof" structure will be easily removable.
They also indicate the safety cell will house safety features such as seatbelts and side protection buffers, along with a windscreen wiper.
The scooter will be based on BMW's C Evolution electric scooter range.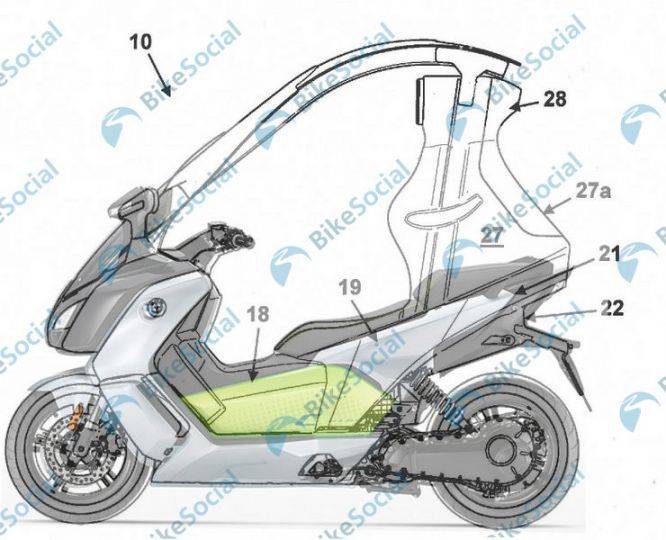 Our job as auto journalists has accustomed us to some bizarre two-wheeled creations over the years. Now, recently leaked patents suggest that BMW Motorrad seems to be working on a roofed electric scooter. And from the looks of it, the all-new BMW C1 has the potential to top that list.
Also Read - BMW's Concept R18 Cruiser Breaks Cover

This isn't the first time we're seeing something like this from BMW. The firm had developed a similar scooter with the same moniker back in 2000. Called the 'C1,' the scooter came with a safety cage and seatbelts to protect its riders in the event of a crash. But as noble as the idea sounded, motorcycle purists of the early 2000s didn't agree with the sentiment. Hence, BMW had to pull the plug on it after just two years.

Now, almost 19 years after that, the bike maker seems to be taking another stab at the unique looking "two-wheeler," but this time around, it's electric! And as you can see, the patent shows a scooter that isn't drastically different from the earlier C1.

Also Read - New BMW Cruiser Bike Spied Testing
The folks at BMW have placed the battery pack as the main structure to keep the weight down and low. This will also help in quick removal and attachment of the roof. The roof structure appears to come with X-shaped seatbelts, side protection buffers and even a windscreen to protect the rider from most external elements.

Also Read - BMW F 850 RS Patent Image Leaked
This bolt-in nature of the external roof has given BMW leeway to not mess around with the electronics, suspension and steering of the two-wheeler, which has been carried straight from its C Evolution electric scooter range. The scooter packs a lithium-ion battery which is good for a range of 159km. It makes 47.5PS of max power and 72Nm of torque and has a claimed top speed of 128.7kmph.

Coming back to the C1, sources also say that the safety cell above will use carbon-fibre bits to keep the weight down and maintain structural strength.
Will we ever see it in the flesh? We don't know. Although, the idea of delivering the same mobility of a scooter, with the increased safety of a car, does seem interesting.
Source - Bike Social