Maruti Suzuki S-Presso vs Renault Kwid: Comparison Review
---
The New Maruti Suzuki S-Presso and the facelifted Renault Kwid share the same formula: They sport a reasonable set of features for budget cars, have quirky styling and cost practically the same. So which one does it better?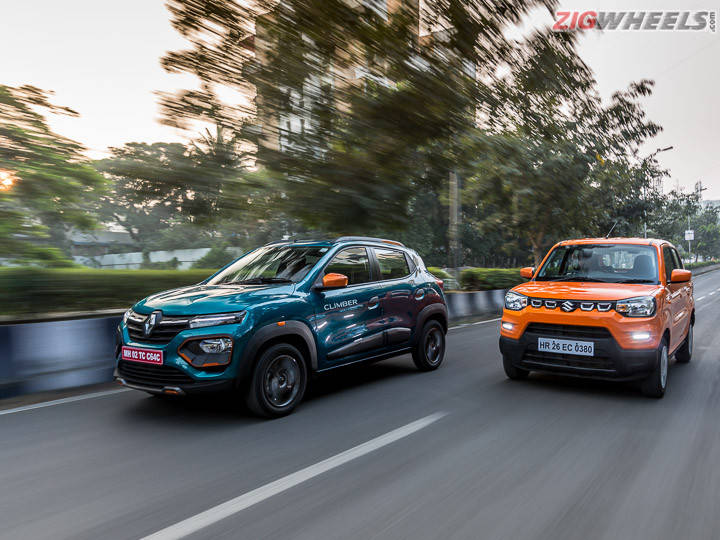 Back in 2015, the Renault Kwid taught us that affordable cars don't need to be basic, simple and boring. Its main draw was its SUV-inspired styling, strong feature list, decent powertrains and a good driving experience.
After four years of no competition, the Kwid got a new rival in the form of the Maruti Suzuki S-Presso. Its feature list is just as long, it isn't conventionally styled and even features a BS6-compliant engine.

Renault isn't about to let the S-Presso steal its limelight and so it rolled out the 2019 Kwid a day after the S-Presso's debut. A new face, more features and added ground clearance are what it's bringing to the table this time around.
These cars are likely to be your first car but could also be your second car for the city. More importantly, they could be spending a large amount of time in traffic. With that in mind it's the two AMT variants we have on test here.

The Renault Kwid Climber Option AMT is priced at Rs 4.92 lakh while the S-Presso's VXI+ AMT variant is priced at Rs 4.91 lakh (ex-showroom Delhi). Let's see which one has aced this formula.
Which One Stands Out From The Crowd?

The Renault Kwid is the premium looking car with its split headlamp setup and big bold Renault grille. Viewing the Kwid head-on at night makes it look like a mini Harrier when the DRLs and headlights are on. The 14-inch steel wheels are cut in the shape of the wheel caps and look like alloy wheels when viewed from a distance. Elements like roof rails and body cladding with orange inserts add to its mini-SUV styling. Except for new LED lights, the Kwid looks similar to the previous version. The Renault is also the more proportionate looking hatchback, something which we can't say about the S-Presso.

The S-Presso looks awkward because of its height and narrow width. It comes with a stubby nose that packs a Vitara-Brezza-esque grille and halogen headlamps. The bumper area looks a bit plane jane and those small DRLs you see here is an accessory that costs Rs 10,000! In profile, the S-Presso looks more like a jacked-up Alto with a slightly more upright stance. Maruti has tried to jazz it up with creases above the wheel arches and doors. But that doesn't liven things up. You don't get wheel arch cladding and side cladding as standard. These are offered as accessories which sets you back by Rs 8,280! The S-Presso stands on 14-inch wheels that look small due to its tall height and huge wheel well gaps. At the rear, the S-Presso comes with ordinary halogen tail lamps and an upright tail gate.

The S-Presso's bumpers feel a bit soft and there is a considerable amount of movement when you shake the front fenders and headlamps. Panel gaps are also inconsistent in the Maruti. For example, the gaps around the boot are wider than usual. On the whole, though, it's fairly standard for the budget end of the market. The Renault Kwid feels better built for the price with more consistent panel gaps.

Contrary to our opinion on which one is the better looker of the two, it was the S-Presso that garnered more interest from the public during our drive. No doubt helped by its flashy orange colour and quirky design.
Am I Posh Inside?

The quirky theme of the S-Presso continues inside with a funky round central console. You might not like the design at first but it'll start growing on you.

All might not be rosy with the S-Presso's cabin as there are some minor ergonomic issues. The unconventional placement of the speedo needs getting used to while the cubby holes in the lower central console is placed a bit too low. Coupled with the taller seat height, you need to stretch a bit to place your things.

Orange S-Presso owners can spruce up the interior by adding colour co-ordinated accents in the central console and AC surrounds. However, if you intend to do the same in the Red, Blue or Silver shade of the S-Presso, it is a paid option which sets you back by Rs 4,990! Seriously, Maruti? On the plus side though, you get colour co-ordinated inserts on the doorpads as well with these colour options.

The Renault Kwid comes with a more functional layout. The speedometer is placed where it should be while the high-mounted infotainment system and air con controls means you just need a glance to operate it.

Feel-good elements in the Kwid include the chunky 3-spoke steering wheel with partial leather wrapping that feels great to hold. Then there is the piano-black plastic trim with an orange surround around the infotainment system that looks tasteful.

Both the Kwid and S-Presso fare equally in terms of interior quality. However, certains trims and pieces of the S-Presso's interior come with better graining which feels premium. Also, the Kwid's indicator and wiper stalks feel a tad low rent when compared to the Maruti which shares its components from its bigger stablemates.
What Are The Gadgets On Offer?

Both models come with a touchscreen infotainment system with Android Auto and Apple CarPlay, a digital speedometer, a multi-info display (MID), manual aircon, remote locking, central locking and front power windows.

When it comes to exclusive features, though, the Renault Kwid comes with rear power windows and a rear armrest when you select the 'option variant' in addition to adding in the passenger airbag. The S-Presso on the other hand counters with steering-mounted audio controls and manual ORVM adjustment stalks on the inside. The Kwid's infotainment system is bigger than the S-Presso's unit and has better resolution. However, Maruti's SmartPlay head unit comes with features like fuel efficiency status and other vital stats.

Safety features on both models include dual airbags, ABS with EBD, rear parking sensors, driver and co-driver seatbelt warning as well as a high speed alert. While dual airbags are standard across the S-Presso range the Kwid only gets dual airbags in its 1-litre and AMT option variants. The Kwid does come with a rear parking camera but it does an average job only.
Are they still budget then?

Yes, there are tradeoffs in both models for those premium set of features. There's no rear wheel well cladding in the S-Presso and you can see the bare chassis and the fuel hose. All the feel-good elements like the LED DRLs and body cladding are offered as accessories rather than standard equipment.

The Kwid employs three wheel lug nuts rather than four and that could pose a problem if you intend to swap your standard wheels with aftermarket ones as this design is rare. The boot floor lacks full carpeting and the bare metal of the rear wheel wells and struts are exposed.

Both models come with a fixed steering without any tilt or telescopic adjustment, which is a major miss. While the Kwid's steering is fixed at the right height, the S-Presso's unit is a tad low set and could hinder a tall passenger's thighs while turning.
Which Is More Spacious Inside?

The Kwid is the larger car here barring its height. Unfortunately, that doesn't reflect in its interior space. You need to duck a bit to get inside and once seated, you notice that space is extremely limited. I am 5.8-feet tall. Sitting behind a 5.7-feet driver, my knees were brushing against the front seat and there was very little space to tuck my feet under the seat ahead of me. You sit lower in the Kwid with a knees-up position and that hinders underthigh support. Overall, the Renault's rear seat experience is average at best. At the front, the Kwid comes with a decent amount of space for both occupants. It also feels more car-like thanks to lower seat height and high-set dashboard.
| | | |
| --- | --- | --- |
| Rear Seat | Maruti S-Presso | Renault Kwid |
| Headroom | 920mm | 900mm |
| Shoulder Room | 1200mm | 1195mm |
| Minimum Knee Room | 670mm | 595mm |
| Maximum Knee Room | 910mm | 750mm |
| Ideal Knee Room* | 710mm | 610mm |
| Seat Base Length | 455mm | 460mm |
| Backrest Height | 550mm | 575mm |
On the other hand, the S-Presso's seats are set at a nice height and ingress and egress is a breeze. Once inside, you'll wonder whether if you're really sitting inside a mini hatchback as there is enough space to shame cars from a segment above. Kneeroom and headroom are plenty and coupled with the seat's good underthigh support, fatigue shouldn't be a problem on long drives.

The S-Presso also comes with a bigger glass area that adds to the sense of airiness. And despite that, the air conditioner is much more effective than the Kwid and cools the cabin down quickly.
| | | |
| --- | --- | --- |
| Front Seat | Maruti S-Presso | Renault Kwid |
| Headroom | 980mm | 950mm |
| Cabin Width | 1220mm | 1145mm |
| Minimum Knee Room | 590mm | 590mm |
| Maximum Knee Room | 800mm | 760mm |
| Seat Base Length | 475mm | 470mm |
| Backrest Height | 660mm | 585mm |
The front seat experience in the S-Presso is... good. The tall seat height and low-set dashboard means you get a more SUV-like seating position. Then there's the fact that the S-Presso's seat is slightly better for people with a larger frame.

Maruti Suzuki S-Presso

Renault Kwid
The Renault Kwid and Maruti Suzuki S-Presso offer a similar boot capacity of around 270 litres. However, the Kwid's boot is much better shaped and has a smaller loading lip, ensuring you pack more stuff. The S-Presso's boot has a taller loading lip and narrower shape and as a result it can haul far less luggage.
Small Engine, Big Punch?

The S-Presso and Renault Kwid come with a 1.0-litre three-cylinder engine that develops similar power and torque figures, and comes with a 5-speed AMT as well. So they should drive the same too, right? Unfortunately, that's not the case.
| | | |
| --- | --- | --- |
| | Maruti Suzuki S-Presso | Renault Kwid |
| Engine | 998 cc | 999 cc |
| Power | 68PS @ 5500 RPM | 68 PS @ 5500 rpm |
| Torque | 90Nm @ 3500 RPM | 91 Nm @ 4250 rpm |
| Transmission | 5-Speed AMT | 5-Speed AMT |
| BS6 | Yes | No |
Slot the Kwid's gear lever into Drive and you'll notice the lack of power instantly. It needs plenty of gas to get going from a standstill despite the creep function. Once on the move, it responds fine to part throttle and the 5-speed AMT shifts up early to save fuel. However, things start to differ when you up the pace. The engine doesn't like to be hustled while pushing hard and the lack of power is evident. Refinement levels are average and the powertrain sounds gruff in the higher end of its rev range.

The Kwid's AMT takes its own sweet time to downshift and you need to plan your overtakes. You also wish that it shifts down two gears rather than one to make up for the lack of power. Making matters worse, you don't get any sort of manual intervention to control the gearbox.

The Kwid is the slower car here, covering the 0-100kmph run in four seconds more than the S-Presso. During kickdown though, the Renault did the 20-80kmph just 0.74 seconds slower than the Maruti.
| | | |
| --- | --- | --- |
| | Maruti Suzuki S-Presso | Renault Kwid |
| 0-100kmph | 15.10s | 19.05s |
| 20-80kmph (Kickdown) | 9.55s | 10.29s |
The S-Presso's unit is completely different in character and feels much better tuned. It responds to the slightest nudge on the throttle and jumps with enthusiasm while doing so. However, it might feel a tad too enthusiastic and you need to be gentle with the throttle while driving through dense traffic. Refinement levels are much better than the Kwid. One point to note is that in 1st gear the S-Presso does tend to spin its front wheels when pulling away in minimal grip conditions (like gravel). In this instance we found it beneficial to switch to manual mode and pull away in second gear. A hack, no doubt, but one that works.

The S-Presso's gearbox is much quicker to respond though that typical AMT pause can be felt at times. Drive it enthusiastically and it even shifts down two gears to keep the engine on the boil. Tiptronic mode also is handy while chugging up your favourite ghat road or holding onto a particular gear while going up a slope.

AMT cars aren't known to be much fun due to their slow-shifting character. But the S-Presso changes that perception with its peppy engine and responsive gearbox.
But How Do These Cars Ride And Handle?

The Renault Kwid comes with a slightly softer suspension setup and is the choice if your daily commute involves rough roads. It soaks up bumps brilliantly and body movements are nicely controlled but it sometimes gets caught out on sharp bumps and expansion joints which make their presence felt with an audible thud. Its softer suspension also tends to ride lower when loaded up. With three well-sized adults, the Kwid's underbelly was scraping on tall speedbreakers.

The S-Presso, on the other hand, comes with a firmer suspension setup. This results in stiffer ride quality and the S-Presso tosses you around while attacking a bumpy stretch of road. Further, even the lightest undulations of the road surface can be felt in the cabin.
It's not that the S-Presso is extremely uncomfortable; it's just that the Kwid does things better in this department.Up the pace and the S-Presso's ride starts to settle down. While the steering is light and easy to use, it requires more turns lock to lock while taking an U-turn. However, it easily returns back to its position unlike the Kwid.

The stiffer suspension setup in the S-Presso means it's the better handler at high speeds. Straight line stability is good and cruising at highway speeds is effortless. It's also the naughtier cars around corners, attacking them with poise and minimal roll. That said, the S-Presso doesn't feel happy while changing lanes on the highway.
On the other hand, the Kwid is a decent handler. Steering is effortless and it is light to use in town. However, it requires more effort to self-centre when taking U-turns and has a bigger turning radius as well.

Highway manners are safe and predictable and you won't have much to complain here. Yes, the softer suspension means it does roll a bit while hustling through corners. The steering is too light at highway speeds and could do with a bit more weight.
Fuel Pumps Mean Heart Attack?
| | | |
| --- | --- | --- |
| | Maruti Suzuki S-Presso | Renault Kwid |
| City Fuel Efficiency | 19.96kmpl | 17.09kmpl |
| Highway Fuel Efficiency | 21.73kmpl | 21.15kmpl |
In terms of fuel efficiency, the Maruti Suzuki S-Presso returns 19.96kmpl, which is 2.87kmpl more than the Kwid. Clearly, the S-Presso's effortless engine and AMT gearbox has helped it here. However, the S-Presso's highway fuel efficiency is just 0.58kmpl more than the Kwid.
Picking The Winner

The Renault Kwid is still a great all rounder. Its strengths include a healthy feature list, solid build and phenomenal ride quality. Also, the styling of the facelifted model is much more desirable than the S-Presso. However, the Kwid is cramped inside and its powertrain simply isn't up to the mark. You need to rev it hard to get it going and your driving experience is ruined with the dull AMT gearbox.

The S-Presso, on the other hand, has a stiff ride and its styling might not appeal to all. However, its powertrain feels more responsive than the Renault and it is the more involving car to drive. Then there's the interior space that's so good, it makes you wonder whether you're sitting in a car from a segment above. Coupled with Maruti's strong after-sales service, the S-Presso makes for a no-brainer. Yes, it may not be the better looking car but if you're able to get past that minor hurdle, it's the S-Presso that packs in better bang for your buck.
Maruti S-Presso Video Review
Add Your Comments

More on Maruti S-Presso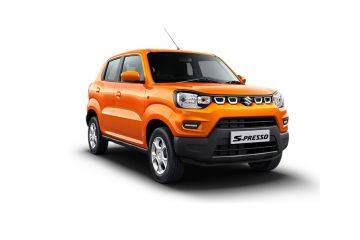 Rs. 3.71 lakh Onwards
Ex-showroom, Delhi
View May Offers
View On Road Price
Maruti S-Presso Alternatives