First Drive: 2020 Mercedes AMG GLE 53 Coupe
---
Mercedes AMG GLE 53 Coupe 4Matic+ -- It's a long and complex name, but what it stands for is sport and sweet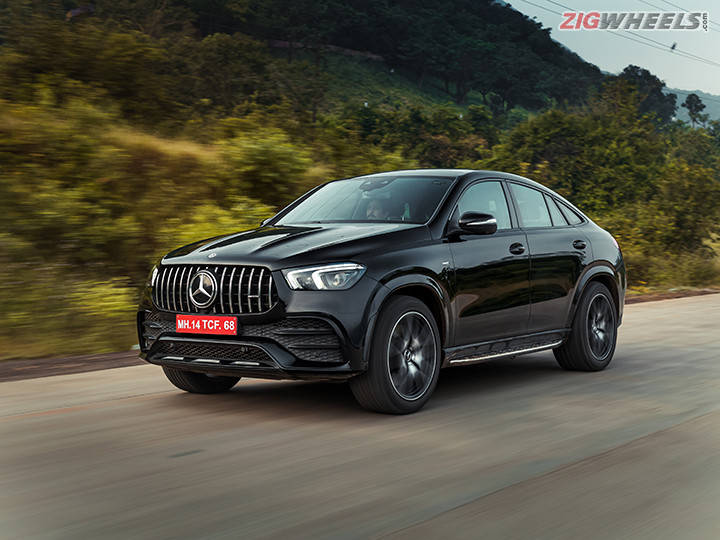 If you combined the defining traits of your dream garage's inhabitants you'd probably end up with something like the Mercedes AMG GLE 53 Coupe. It's a luxury car. It's a performance machine. It's also an SUV. Oh wait, it's styled like a sports car too. But, what is it exactly?
A gorilla in a bowler hat
In this black shade the GLE Coupe looks get-out-of-my-way-now primal. Take our word for it, other road users promptly make way for the large and fast machine the instant it turns up in their rear view mirror. No doubt, the large Panamericana grille gritting its teeth at you speeds the decision along. The massiveness of the Coupe becomes all the more apparent as it closes in, as it is just under 2.2 metres in width and it is a bit longer than the outgoing GLE 43.

And as it barrels past, the smoother flowing coupe-like roofline will have people looking up to it, literally and figuratively. It'll be the kind of look you'd give to a gorilla in a bowler hat: smile pleasantly at the contrast in personality, but be happy still to see the back of it. The lines just flow better in this new gen GLE Coupe, giving it a more satisfying coupe look. And yes, the GLE still looks muscular from this angle, the high-set boot towers and the large blacked out bumper ups the air that it's willing to take some ribbing lightly.
Mercedes Bling

Inside, it is the glitter and sparkle of the MBUX infotainment system that steals the limelight. The twin screens look stunning, properly pinsharp and vivid colours. They are also fantastic to use, be it via the centre console-mounted touchpad which packs superb haptic feedback, the left hand side controls of the steering wheel which are super handy for the driver, or well, the touchscreen. The screens take pride of place on a dashboard that looks like its wide and short final shape was derived by stretching something taller and narrower to tautness, with plenty of horizontal lines highlighting its width.

The geeky and technical quotient for this AMG beastie is highlighted by the buttons and switches that let you control the settings. There's an array of them behind the elevated palm rest on the centre console. There are dedicated buttons for changing settings of the suspension, gearbox, electronics strategy, exhaust, ride height and exhaust mode.

You can also switch all these settings with a cool dedicated controller on the lower portion of the steering wheel. It has a small colour display to let you scroll through the settings and make quick changes. A similar round controller on the right hand side lets you switch drive modes without getting your hands off the steering wheel.

But some things could have been more Mercedes. This faux vent on the dash next to the screen looks a bit low rent and low on love. The quality of some of the buttons like the aircon controls or the steering wheel-mounted switches for the drivetrain and chassis feel and sound very obviously plastic.
Of Ghosts and Ghouls

Talking of sounds, which would you prefer: a ghost or a ghoul? I'll explain. Even though this is not a full blown AMG, it is an AMG nonetheless, which gives it a childish appeal because of the exhaust note. In the more everyday drive modes, like Comfort, the exhaust's noisiness is set to a more civil setting. So, all you hear is a "wooOOoo" sound from the tailpipes; much like, I imagine, a timid but theatrical ghost would. But when you switch to Sport + or just press the exhaust button to turn on the special exhaust mode - that timid ghost metamorphosises into a gurgling ghoul that cackles and rumbles, threatening to be a nuisance but never really becoming impolite. Because it isn't banshee wild, you won't be labeled Public Enemy No 1 on those early morning or late night drives, which means you could enjoy it more often. It's worth keeping in mind that the power unit responsible for all of this isn't a vee-six or a vee-eight, it's an inline-six!


Wheeeeee-Six!
When you take an inline six, combine it with an electric supercharger and an electric motor in Affalterbach, what you get is a big first for an AMG. Of course it has a turbocharger as well. The supercharger steps up the boost until the turbo wakes up and somewhere in between all of that the electric motor adds 22PS and 250Nm for short bursts! In all you have a hefty chunk of torque on tap and its accessibility makes city commuting seem like second nature. First nature would of course be the high thrill shenanigans, where it swaps its measuredness for a bit more franticness. If you Sport+ it, the GLE Coupe turns into a grizzly. Not an angry one, but a bear that's sniffed out honey. It darts forward with purpose and hunger, licking its lips. With over 430PS it's a very very quick bear too. In our tests the GLE hit the 100kmph mark from standstill in 5.5s!

The throttle response feels more smile inducing, pushing you back into your seat with authority. The nine-speed gearbox shifts up and down quickly. The engine will rev to over 6000rpm in one strong and quick sweep; when you ease up on the throttle the 'box doesn't hold a gear unnecessarily, making it fun and fast but not unnecessarily aggressive either. So, sweeping through corners, you don't feel the need to use the paddles to drop the revs when just holding speed. Then when you put your foot down, the combination of supercharger, turbocharger and electric work seamlessly together to deliver a properly rapid and clean pull. And when you have had your fill of redline sorties down a mountain road, you could switch to Comfort mode and choose to travel from one city to the next, and to the next, in calm and comfort.
SUV, sah?

For an SUV, it has a few uncharacteristic traits. For instance, when you come whizzing down a highway onto a rough patch, don't threaten to pound the potholes into submission. No, you don't need to be ultra careful; just don't be careless.

At the press of a button you can bump up ground clearance by 55mm and that lets you peacefully cover bad ground at speeds up to 70kmph! But for the sake of your comfort and the integrity of the 21" rims, drop down to a more reasonable pace. It's also better at a more sedate pace as the GLE Coupe tends to thunk and roll firmly over broken sections.

Over proper off-road kind of situations you also have the Sand or Trail drive modes to choose from to help you out, while the Slippery mode is usable even on the road. Even though there's no proper low-range gearbox, if you just tread carefully this AMG will get you through most rough sections and to the next great stretch.

On the next great stretch it'll show you why it's an un-SUV 2300 times over. Lightning fast responses and adjustments by the AMG Dynamics suite of electronics, electrically adjusting the anti-roll bars, tuning the suspension, sliding the torque from one wheel to the other makes it seem that the GLE Coupe's 2300kg of kerb weight has melted into thin air. It flows fast and fluid around the bends at silly speeds, without making any fuss.

Like Spidey shooting webs to swing around a building, the GLE does that with its all-wheel drive system. Inner wheel braking, outer accelerating, but with such fluency and fluidity that it will land you in trouble. No, not in trouble with the GLE, but the next vehicle you get into because you'll expect it to do the same. But it won't. This AMG's size, fluid manners and brute force on offer make it ridiculously enjoyable. Keep in mind the GLE's manners lack the nth degree of slickness and sophistication, but that little bit of boorishness doesn't dampen the fun quotient.
Spoil me silly!

A gigantic and customisable heads-up display is sure to wow the driver. As will the snug and adjustable AMG seats. One function for the motorised seat was hard to comprehend: the seat seemed to adjust support for underthigh or tilted the seatback while I was driving. It is, possibly, trying to improve support around bends or while braking, but it just felt a bit unsettling. Thankfully you can just keep that particular feature switched off.

In the rear seat, comfort is a simple analogue formula -- headroom and kneeroom to satisfy six-footers. Cushioning and contours that, despite the slightly upright seatback, offer good comfort to journey in. Despite the rolling roofline, the windows and the quarter glass provide a sense of airiness. If you open up the gigantic sunroof there'll be no shortage of light anywhere in the cabin. While it will be possible to sit three abreast here in fair comfort, the raised middle seat will be best used for shorter journeys. Thankfully, there's four-zone climate control which will keep all passengers comfy, and there are USB ports for all four seats, albeit USB-C ports. Which means you'll also have to get new cables for your devices.

With 650 litres of boot space, luggage space is plenty for all. You could drop the second row down to get a flat floor that could work as a sleeping space for two adults, making camping easy! Yeah, right, camping in an AMG. In the realm of reality, in crowded spaces, one should also be grateful for the blind spot and collision warning which makes this an always-alert package. The driver also gets the assistance of the full-LED headlamps with high-beam assist that floods the road ahead with light without blinding oncoming traffic.
So, what is it?

Quite simply, it is fun. Its promise of performance is delivered in a laugh-along-with-it manner rather than in a scare-yourself-silly way. Its sports car quotient is frankly ludicrous for a vehicle of its size. You could nitpick about some lack of connection or finesse in the way it steers or rides, but it's really the GLE's unyielding manners over rough roads that temper its winning ways. Throwing a bit of a damp blanket on the "everywhere" part of its "everyday and everywhere" appeal. Despite some plasticky bits, the luxury quotient is very Mercedes and its ability to calmly go the distance on paved roads will make it a more frequent pick in your multi-crore-car garage. At Rs 1.2 crore ex-showroom, the AMG GLE 53 Coupe isn't inexpensive, but for that price it gives you a lot more -- power or features -- than similarly priced vehicles. So, as promised, the Mercedes AMG GLE 53 Coupe is a lot of car, and a very satisfying one at that.
Mercedes-Benz GLE Video Review
More on Mercedes-Benz GLE

Rs. 73.70 Lakh Onwards
Ex-showroom, Delhi