Would You Rather: Buy A New KTM 790 Duke Or An Used 2011 BMW 3 Series?
Jun 11, 2020
Views : 4465
---
Both are known for blazing their rear tyres and are extremely fast machines. Which one would you choose though?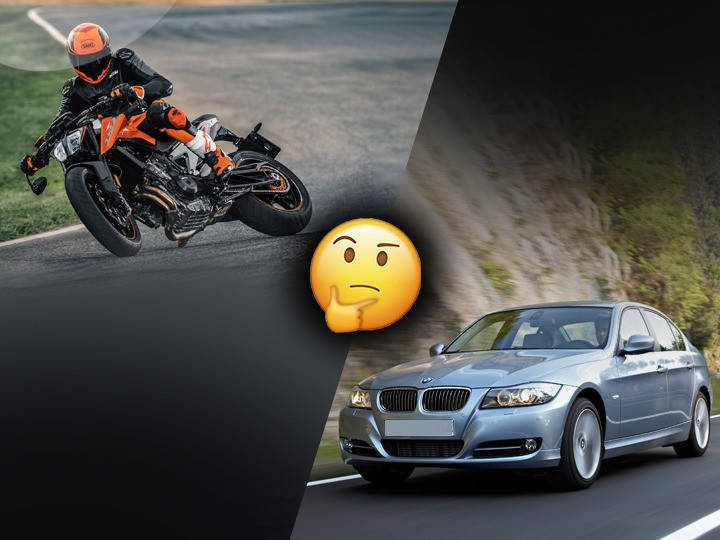 India recently got a taste of one of the maddest KTMs ever made: the 790 Duke. Also known as the Scalpel, it's the machine to go for if speed and power is your first priority. However, there's one thing this bike surprisingly lacks - the value for money quotient. At Rs 8.64 lakh, it's definitely priced on the higher side. For similar money, you could look at an used 2011 E90 BMW 3 Series which also scores high on fun-to-drive quotient and is known for setting its rear wheels ablaze. Which one should you choose - the Scalpel or the Bimmer?

Let's begin with the Scalpel, one of the sportiest bikes from the Austrian manufacturer. The 790 Duke does have a disadvantage on paper as it puts out the least amount of power when compared to its competitors. But that's where the disadvantages end.

The KTM 790 Duke, with its relatively light 169kg dry weight, has one of the highest power-to-weight ratios in its segment. 629PS per tonne to be exact! In comparison, one of the fastest hypercars of all time, the Bugatti Veyron, boasts of a power-to-weight ratio of 530PS per ton. And if you're worried about putting all that power down, fret not. A whole bag of electronics comes to your rescue if things go awry, but more on that later. The light weight also means it's more agile when riding hard on your favourite ghat roads. And thanks to the 245-degree firing order, you have a raw-sounding exhaust note roaring along the way.

But what if you want to slide around like a hooligan? The 3 Series is definitely the way to go. Known for its rear wheel drive layout and tight handling, the 3 Series will always please you whenever you take charge. Back in the day, the 3 Series also packed in a creamy 255PS 3.0-litre in-line six petrol engine, and this should be your default choice if you want to have a proper BMW experience. It's also a rare gem as BMW has stopped offering full-sized 6-cylinder engines in the 3 Series in India. But if you want to pick the 3 Series as a daily driver, we suggest you stick to the 320d with the 2.0-litre diesel engine that puts out in excess of 170PS. The diesel model was the better seller back in the day thanks to its efficiency and free revving nature. Further, availability of spare parts shouldn't be an issue with this diesel engine.

But what about features? Naturally, the 3 Series being the older model loses out on fancy kit like Apple CarPlay and Android Auto, a coloured digital instrument display and even drive modes. But that's not to say it's badly equipped. Dual-zone climate control, a sunroof, BMW's i-DRIVE infotainment system and powered front seats are some of the notable features on offer. It's also the far safer option here thanks to electronic stability control, multiple airbags and a solid German-built cabin surrounding you.

That doesn't mean the 790 Duke lacks safety features. A 9-level IMU-based traction control, adjustable wheelie control, and cornering ABS are present to ensure that no untoward incident happens. Further, there are four riding modes, including Sport, Street, Rain, Track, which lets you play around with various parameters of the bike. All of these can be controlled via a slick TFT colour display which, sadly, is a tad smaller than the one 390 Duke.

Another aspect that the 790 Duke shares with the Duke 390 is its styling, which is no bad thing as that makes it capable of hiding itself in a crowded parking lot. At the end of the day, you don't want people to sit on your precious machine and take selfies, right?

But if you want a vehicle with an understated elegance, the E90 3 Series does it better. Despite being more than a decade old, the E90 3 Series has aged gracefully. That said, it's starting to get a bit long in the tooth. However, the kidney grilles in this model are much better integrated than the one on the polarising BMW 4 Series. Even the interior of the E90 3 Series, though a bit dated, comes with a tough build quality while the plush leather seats means it's the more comfortable vehicle to drive around in.
But What Would The Author Choose?

If I had to choose, it would be the 3 Series, provided the example I pick is in pristine condition. Yes, an old German car could drain my wallet and I won't have the benefit of a warranty either, which is something I'd get on a new bike. But the 790 Duke is not my type as I prefer adventure bikes more than naked motorcycles. Also, being a car guy, I'd rather spend my money on something that would make me smile whenever I hit my favourite road. And the E90 3 Series' fun-to-drive quotient is more than enough to seal the deal for me.
Add Your Comments

More on BMW 3 Series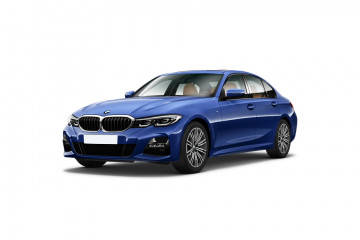 Rs. 41.7 Lakh Onwards
Ex-showroom, Delhi
Contact Dealer
View On Road Price
BMW 3 Series Alternatives