The Bugatti Chiron Is Still Not Officially The Fastest Car In The World
Sep 8, 2019
Views : 14942
---
Bugatti says it could have broken the 500kmph barrier but decided not to. Here's why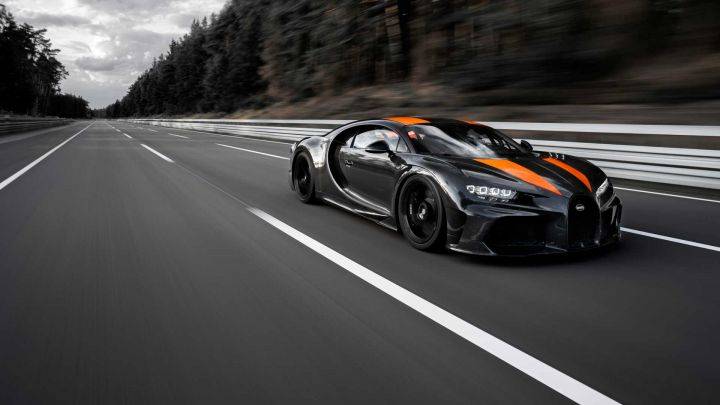 Some days ago, out of the deepest blue, Bugatti snatched the title for the fastest car in the world with a modified Chiron (more like a Chiron Long Tail). A top speed of 304mph or 490kmph is what Andy Wallace, Bugatti's chief test driver, saw on the speedo in his record stint at the VW Group-owned Ehra Lessien track in Germany. We don't know how to put this but Bugatti has achieved speeds that were previously deemed undoable with an automobile. With this otherworldly accomplishment, it has also pushed the envelope even further for competitors like Koenigsegg and Hennessey. But there is more to it that meets the eye. As uncanny as it seems, Bugatti's celebrated speed-run is not a world record! And Bugatti has already sent out a release saying that it could've shattered the 500kmph mark but decided against it. Adding to this muddle is Bugatti's reason as to why it chose not to.

It all started two years ago when questions arose as to why Bugatti was not planning to test the top-speed of the successor to the Veyron. Andy Wallace put all the queries to rest claiming that modern tyres couldn't handle the extreme pressure at those speeds. Fast forward to today and thanks to Michelin, Bugatti has casually crossed the 300mph (490.48kmph to be specific) speed barrier that was previously reserved for small aircrafts.

Michelin is not the only one to thank as the renowned Italian chassis manufacturer Dallara was behind the modifications that were done to the "near-production" prototype which broke the speed barrier. The Chiron used for the record breaking attempt uses the same quad-turbo 8.0-litre W16 engine as the regular car. It pushes out around 1600PS to all four wheels using a 7-speed dual-clutch transmission. Bugatti calls it a near-production version of the Chiron and rumour mill suggests that this might actually make into production. (Update: It's here!)

Michelin provided special Pilot Sport Cup 2 tyres that were rigorously tested at speeds of up to 511kmph. Dallara, with its expertise in motorsports, added 25 centimeter to the overall length of the Chiron to make it more aerodynamic at these warp speeds. The exhaust layout was also modified along with revised suspension settings and thorough testing of the whole car with clinical levels of precision. All this sweat and tears resulted in the highest speed ever achieved by a car in a stretch of tarmac. But still, it's not an official world record and here's why.

Simple. Andy Wallace forgot to drive it back. For a top-speed stint to be a world record, it has to be a two-way run where the average of both the attempts will be considered as the top speed. This is done to factor in wind speed and other variables.


Anyway, Bugatti clearly has some edge in this matter as the Ehra-Lessien has an 8.7km straight of gobsmacking tarmac which has banking at both ends for high speed entry. Bugatti's top-speed record run with the Veyron Super Sport became an official world record as it did both runs. Don't get us wrong here, besting what Bugatti has accomplished is almost impossible but unfortunately, this is how things work here. Moreover, one should also factor in the speeds we are talking about here and how much of a risk it involves. That's why Koenigsegg Agera RS still holds the world record for the fastest car in the world clocking 447.19 kmph. The Chiron Sport bettered it by more than 40kmph! Writing it down seems so effortless, but keep in mind that at these unimaginable speeds, it is almost as if one's driving against a thick wall of resistance from air.

Right after the high-speed run, the French giant made it clear that it is done with the race for the fastest car in the world. "Our goal was to be the first manufacturer ever to reach the magic 300-mile-per-hour mark. We have now achieved this – making ourselves, the entire team and myself, incredibly proud." With this new world record, Bugatti will also withdraw from the competition to produce the fastest serial production cars. "We have shown several times that we build the fastest cars in the world. In future we will focus on other areas," said Stephan Winkelmann, President of Bugatti Automobiles.

The interesting thing however is Bugatti's claim that the car could've gone faster. Bugatti's press release says that the Ehra-Lessien track is only 50 metres above sea level unlike higher-altitude high-speed tracks in Nevada. "Air pressure, air density and temperature are very important for high-speed driving and can make a difference of up to 25kmph, depending on the altitude," says Stefan Ellrott, Bugatti's development head.

The main reason for picking the Ehra-Lessien track even though Bugatti claim it's slower than some highway in the US was safety. Bugatti said, "The route in Nevada is very long and only goes in one direction: security forces would have taken too long to get to the scene in an emergency".
But why Nevada in specific? We don't know. But we do know that Koenigsegg's Agera RS's two-side world record run was completed on an 18km straight stretch of the Nevada State Route 160. What Bugatti basically did is break the 300mph barrier claiming it could've done better but choosing not to due to safety reasons.

Koenigsegg for their Agera RS record run, used the same "unsafe" Nevada highway with a well laid out safety plan, strategically spaced ambulances, provision to land an emergency helicopter, and two backup helicopters. Why couldn't Bugatti, owned by the largest automaker in the world, do the same if a relatively small Swedish manufacturer who makes hypercars out of a hangar can pull it off? Moreover, the highway in Nevada is reported to be safer as it's surrounded by flat barren lands as opposed to barriers, trees, wildlife and what not in Germany.

Meanwhile, some distance away from Molsheim, John Hennesey from Texas thinks that the Chiron needs 2000PS to get up to speeds in excess of 300mph. Hennessey has the 1600PS Venom F5 in the pipeline which it claims will be the fastest car in the world. Hennesey has openly stated on Instagram that it accepts Bugatti's challenge, making things even more interesting. There is also the Tuatara from Washington that makes more than 1700PS from a turbocharged V8. Meanwhile, closer to Bugatti's base in Molsheim, Koenigsegg has the Jesko which the company says is capable of surpassing the 300mph mark. The world record for the fastest car in the world is still up for grabs but who will it eventually go to and more importantly, who 'could've gone faster'?
Source: Jalopnik
Add Your Comments
View all comments