Suzuki Teases Jimny Sierra Pickup, Survive Concepts
---
Made for the 2019 Tokyo Auto Salon, the two concepts make us want the Jimny even more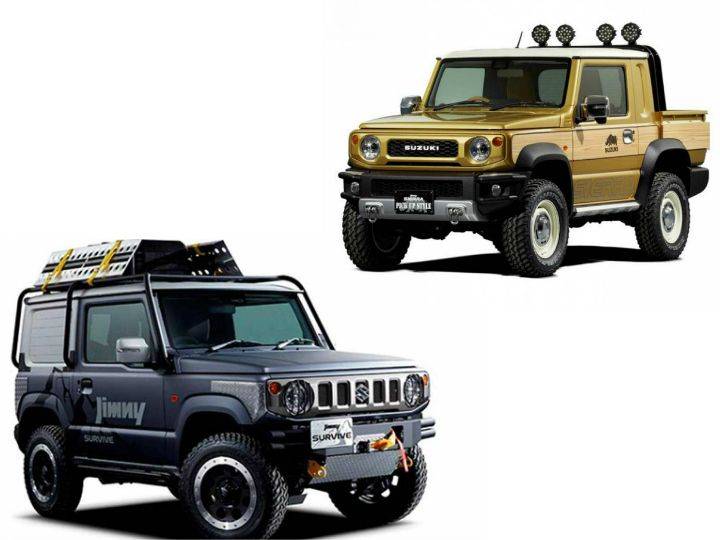 Jimny Sierra is a mini pickup truck with a retro logo and wooden panels
Jimny Survive is a more off-road oriented variant to help explore the wild
Based on the Jimny, the concepts are unlikely to make it to production
It's no secret that all of us at ZigWheels simply adore the new Suzuki Jimny. And it broke our hearts when Maruti confirmed that the little-off roader won't be coming to India. However, the fire in our hearts has been re-ignited by the new concepts which Suzuki will be showcasing at the upcoming 2019 Tokyo Auto Salon. Called the Sierra Pickup and the Jimny Survive, the two concepts show the Jimny in more purpose-oriented packages. Where the Jimny Survive is a hardcore off-roader with a roof rack, powered wrench and higher ground clearance, the Sierra Pickup is more of a farmland vehicle with a short bed attached behind the cabin in place of the rear seats.

The Suzuki Jimny Sierra Pickup Style concept also gets a lot of retro elements like a single-piece honeycomb grille along with the old Suzuki logo. Adding to the charm are the 'Sierra' stickers on the lower half of the doors along with the Suzuki Rhino Club logo. What's more, the beltline features wooden panels that remind us of SUVs from the past. It also makes the pickup feel like a proper old-school workhorse. With bigger wheels, the ride height of the Jimny also seems to have been increased and LED focus lights have been added to the roof for prowling the jungle, urban or otherwise, at night.

Moving on to the more serious concept of the two - the Jimny Survive - this concept would be an ideal vehicle to explore the wild outdoors. Highlights here include a new off-road bumper, knobby tyres, a solid bash plate, an external rollover cage, a roof rack with tracks, a winch and metallic plates on all for corners for better protection from the elements.

There have been pickup variants of the Jimny in the past and hence there is a possibility of one based on the current generation as well. As for the Survive extra off-road goodies, we expect Suzuki to offer them as optional accessories, letting customers kit out their tiny SUV to suit their needs and taste. Speaking of the owners, we won't be joining the list anytime soon and the only way you could get one in India is if you import one from overseas.
Recommended Read
Maruti Jimny Video Review
Maruti Jimny Alternatives