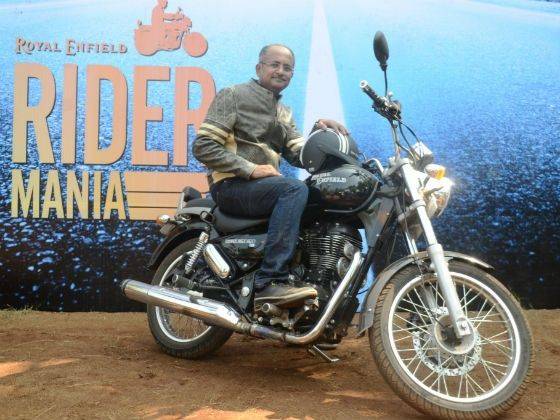 Royal Enfield's annual Rider Mania draws Bulleteers from across the country. This year's three-day festival that ended on November 25 was staged at the Vagator Hilltop in Goa.
The highlights of the first day was the slow race that involved a lap around the race track in the slowest possible time and the Figure of 8 team race, where teams set their fastest lap times on figure 8 shaped track.
Day two featured dirt track races for 350cc and 500cc bikes, and the assembly wars where 4-member teams disassembled and reassembled their Enfields.
The final day featured the cleanest bike competition, and a biker-centric version of lemon and spoon race, where riders raced to the finish line while balancing a lemon inside a spoon. Then the streets of Goa were the venue for the ceremonial Celebration Ride. The Custom bike competition was followed by the arm wrestling competition, and a rousing party marked the end of the 2012 festivities.
Dr Venki Padmanabhan, CEO, Royal Enfield, said, "All great journeys deserve great destinations. Royal Enfield has pioneered great journeys for decades on Indian roads. And for a decade now we conduct an annual festival called Rider Mania to create a compelling reason for riders across India to collect their friends and go for a long ride. For the past four years that destination has been on Vagator Beach in Goa. Over these 10 years mostly through word of mouth the attendance at this festival has grown to almost 1500 participants this year from across India, spending three days of music, mirth and odd riding skills!"
The Rider Mania 2012's musical entertainment featured the Raghu Dixit Project, Mumbai band Zedde, and electronic duo Shaa'ir and Func who did their bit to keep the bikers' spirits rocking.
Also read: Royal Enfield REUNION 2012 achieves record attendance