Harith Noah Makes History With Top 20 Finish At Dakar Rally
Jan 15, 2021
Views : 19793
---
This year saw India not only get its third Dakar Rally finisher since 2015, but also its best performer by far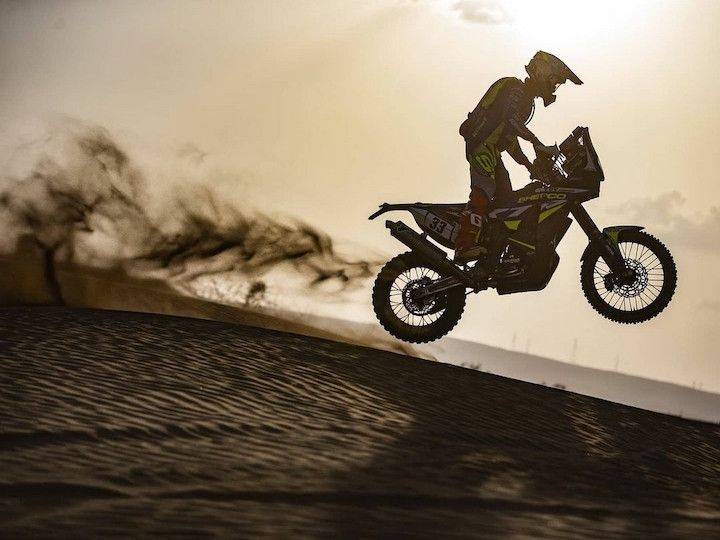 It is pretty surreal if you think about India's presence at the Dakar Rally, the most gruelling rally-raid event in the world. From zero representation by participants or manufacturers from the event's inception in 1978 to 2014, to two manufacturers (although one withdrew this year) and four participants. At this year's event, we've come a long way.
At the end of the 2021 Dakar Rally's 12 stages in Saudi Arabia today, 27-year-old Noah became the first Indian to finish in the overall top 20 of the event, besting the previous best performance by an Indian (34th overall by CS Santosh in 2018).
Noah was riding for the Sherco Factory team, a French manufacturer with which TVS partnered to take on the Dakar Rally as well as other rallies from 2015 to 2020. TVS's shock announcement of the end of that partnership thankfully did not affect Noah as they continued to sponsor him.
From the start of the Dakar Rally on January 3, Noah rode consistently while other riders continued to drop out. Unfortunately for Indian motorsport fans, this included Hero MotoSports Team Rally's CS Santosh, India's first Dakar Rally competitor. A crash on the fourth special stage of the event has left the 37-year-old with head trauma and a dislocated right shoulder. After being air-lifted out of the stage, Santosh was put in a medically induced coma to best manage his injuries. He is currently stable and scans have shown that there is no major issue that would impact a full recovery.

There was also bad news for India's top privateer rally rider, Ashish Raorane, who made his Dakar Rally debut in the Original by Motul (formerly known as Malle Moto) category where riders cannot count on outside assistance when repairing their motorcycles between stages. The 39-year-old Raorane could not complete the fifth stage after a crash, but his injuries were not severe enough to put him out of the event completely. Raorane continued to the finish of the event under the Dakar Experience category that makes a participant eligible to set stage times without being in the overall classification.

Noah's performance is a testament to the riding talent in India if it can be caught early enough, even though Noah himself didn't exactly get the kind of early start in motocross or enduro that the world's top riders get. However, natural speed, an ability to learn fast and a near-manic dedication to fitness allowed Noah to deliver on the expectations that many in the Indian motorsport fraternity had in him.
From watching VHS tapes of the Dakar Rally as a young boy to competing and creating history at the event himself, it has been quite the journey for Harith Noah. Hopefully there is more to come.

See what our community has to say!
NEW
India's largest automotive community