Fernando Alonso's Fab Five Moments With Renault F1
---
The Spaniard's top five moments with the team he is rumoured to end up at in 2021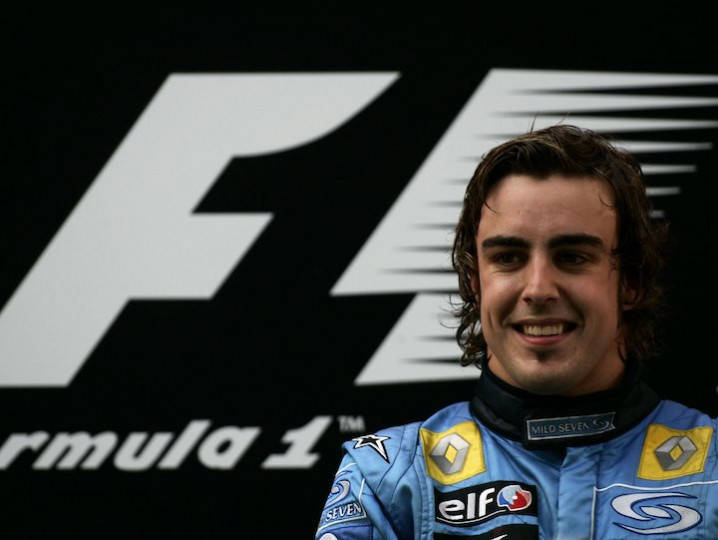 Fernando Alonso and Renault F1. No matter the memories that people may have of his time with Ferrari (the less said of his two stints with McLaren, the better), Alonso became a star thanks to his time with the French manufacturer.
The two driver's championships on his CV and 17 of his 32 wins came over the course of his six seasons with Renault. Technically he was there for seven seasons but spent all of 2002 as a test driver and never took part in a race. Nitpicking aside, it can be safely said that the charging Spaniard's best years in F1 were with Renault.
He is rumored to be joining at the end of the 2020 F1 season, which has been impacted by the coronavirus pandemic. Whether that comes to pass or not, here is a look back to what we feel were his five best moments with Renault.
2005 Brazilian Grand Prix
This is an obvious one. A third place finish behind the McLaren-Mercedes pairing of Juan Pablo Montoya and Kimi Raikkonen, allowed Alonso to clinch the driver's championship with two rounds of the 19-race season still left to be run.

Not only was Michael Schumacher's run of five straight championships ended, Alonso became the youngest world champion in F1 history at the time. At the age of 24, Alonso was - to use a very worn out cliche - king of the world.
There was a big asterisk to his title win, however. Kimi Raikkonen and the McLaren MP4-20 were more often than not, the faster driver-car combination through the season. Alonso and Kimi both won seven races and Raikkonen won two races and scored two second place finishes over the last four races of the season. Alonso won one race, scored two third place finishes and one second place over the same period. What did Raikkonen in was repeatedly incurring a ten place grid penalty on the starting grid after qualifying. The reason was his McLaren's Mercedes engine going up in smoke.
There was also the fact that this was the era of competing tyre manufacturers in F1. And in 2005, the FIA imposed a regulation that required a driver to finish a race on just one set of tyres. Seven of the ten teams on the grid were being supplied by Michelin and handled this regulation change just fine.
Ferrari was one of three teams using Bridgestone tyres and they were way off the pace in pretty much all the races. Schumacher won just one race, the farcical United States Grand Prix where none of the Michelin-shod drivers started and only six of the 20 drivers started the race. Alonso cleared a lot of doubts surrounding his first title the following year.
2006 Brazilian Grand Prix
If some factors lessened the impact of Alonso's 2005 world championship, there was no doubt that he won the 2006 driver's crown in a straight fight with Michael Schumacher.

Alonso and Schumacher won seven races apiece, claiming victory in all but four of that year's 18-round F1 season. After round 16 in China, the two were level on 116 points apiece but Schumacher was leading the championship table due to having seven wins to Alonso's six until that point.
Leading up to the final two rounds, Alonso had won six of the opening nine races of the season - finishing second in the other three - including a run of four consecutive wins. One of his finest performances was actually a second place finish but more on that later.
The final two rounds saw Schumacher run into all sorts of trouble. Alonso hunted him down for the lead in the closing stages of the Japanese Grand Prix at Suzuka after the final round of pit-stops. Schumacher was forced to retire from the race due to an engine failure. It was the first time since the 2000 French GP that Schumacher's Ferrari had even suffered an engine failure.
Alonso went on to win and needed just one point in the season-ender in Brazil, which he more than delivered on by taking second place. Schumacher was forced to start the race from tenth place as fuel-pressure problems meant he couldn't set a time for the third and final segment of knockout qualifying. Then while moving up the grid, Alonso's Renault teammate Giancarlo Fisichella made contact with Schumacher's left-rear tyre. The tyre was torn to shreds and the German dropped back to 19th out of the 22 drivers.
Despite Schumacher charging back to fourth place by the end of the 71-lap race, Alonso chugged along and took second place to beat Schumacher to the title by eleven points.
2005 San Marino Grand Prix
Ferrari had to suffer Bridgestone's inability to make a tyre that could strike the right balance between wear over the course of a race and grip. That was pretty much the story of the team and Michael Schumacher at the time.

The misery seemed to continue at the fourth round of the season in Imola with Schumacher just 13th on the starting grid after qualifying. F1 was experimenting with qualifying formats and at the time was using two single lap qualifying sessions after which the aggregate time set the starting grid. Despite the poor start, Schumacher made his way up the field and chased down Alonso who was leading with 12 laps to go.
Those 12 laps were an intense experience as Alonso was trying to hold back Schumacher, who was driving for Ferrari at a track in Italy named after Ferrari's founder and his son. Amid the roar of the engines and the Italians in attendance, Schumacher tried everything possible to get past. Alonso had not even turned 24 years old at that point and had held back a vastly experienced seven-time F1 champion who had won the last five titles.
How's that for making a statement!
2006 Turkish Grand Prix
The rule for a driver having to run a race distance on a single tyre was removed for 2006 as was aggregate qualifying. Also, we had heard the last from the screaming 3.0-litre V-10 engines as F1 switched to a 2.4-litre, V-8 engine formula.

The three-stage 'knockout' qualifying session that we have now was implemented and Alonso and Schumacher went at each other's throats - metaphorically speaking - for the world title throughout the season.
By the start of the 14th round of the 18 round season in Turkey, Alonso was leading the points table by 10 points from Schumacher. The German's much younger teammate, Felipe Massa, appeared to be unbeatable that weekend as he took pole position and won the 58-lap race. It was Massa's first pole and win of his career. Everyone's attention was on the fight for second place, though.
Schumacher was second on the grid, just 0.037 seconds ahead of Alonso. He held that position in the race until Vitantonio Liuzzi spun out of the race and his Toro Rosso was stuck on the racing line on lap 13. The leaders all dived into the pit-lane to get a jump on refuelling and changing tyres, including Massa, Schumacher and Alonso.
Massa got serviced first while Schumacher had to wait right behind him in the pit-lane until it was his turn. This delay allowed Alonso to emerge ahead of the German. Stuck behind the Spaniard and set to lose ground in the championship, Schumacher tried everything possible to pass Alonso.
Much like the San Marino Grand Prix of the previous year, Alonso held his nerve and refused to yield to Schumacher. Massa finished the final lap first, but everyone's eyes were trained on what was happening behind the Brazilian. Alonso crossed the line 5.575 seconds after Massa and Schumacher was only 0.081 seconds behind Alonso.
Alonso's championship lead went up from 10 to 12, and Schumacher had gotten yet another taste of the Spaniard's consistently fast pace and dogged determination.
2008 Japanese Grand Prix
Some of Alonso's hardcore fans may want this Renault highlight mentioned higher up on this list. It isn't a title winning moment or one where he went head-to-head with a legendary multiple world champion. But it certainly is one that highlights Alonso's ability to put in consistently fast laps over the course of a race distance and never give up.

By 2008, Alonso was back at Renault after essentially getting fired from McLaren. The team was nowhere near as competitive as it used to be in 2005 and 2006. It inherited third place in the constructors championship in 2007 when McLaren were disqualified in the wake of 'Spygate.'
Renault was fourth in the 2008 constructor's championship despite having scored 80 points as compared to 51 in 2007. That was down to none of the teams ahead of them getting disqualified!
But 61 of those 80 points came from Alonso alone. The Spaniard claimed that his driving skills alone were worth half a second a lap worth of performance. It was hard to argue with that at the Fuji Speedway in 2008.
Alonso's consistent pace allowed him to capitalize on the error made by McLaren's Lewis Hamilton on the opening lap as he aggressively pushed Ferrari's Kimi Raikkonen. Then Ferrari's Felipe Massa tangled with Hamilton and forced him into a spin, dropping him to the rear of the field.
Alonso, who had qualified fourth, was in a fight for the win with BMW Sauber's Robert Kubica. The Spaniard prevailed over Kubica - a good friend of his - due to a combination of consistent pace and creative strategy.
It was Alonso's second win in succession that year, but the controversy around his 2008 Singapore Grand Prix win that later emerged has tarnished it a bit. It resulted in his current manager - Flavio Briatore - who was the Renault team principal to be permanently banned from F1 too!
But there was no doubting Alonso's skill behind the wheel and racing IQ at Fuji in 2008. The fact that he managed victory in a car that was not the fastest on the grid, made it even sweeter
Add Your Comments