The Good, The Bad And Potentially Ugly Of Alonso's Return
---
Evaluating the return of a former double world champion to Formula 1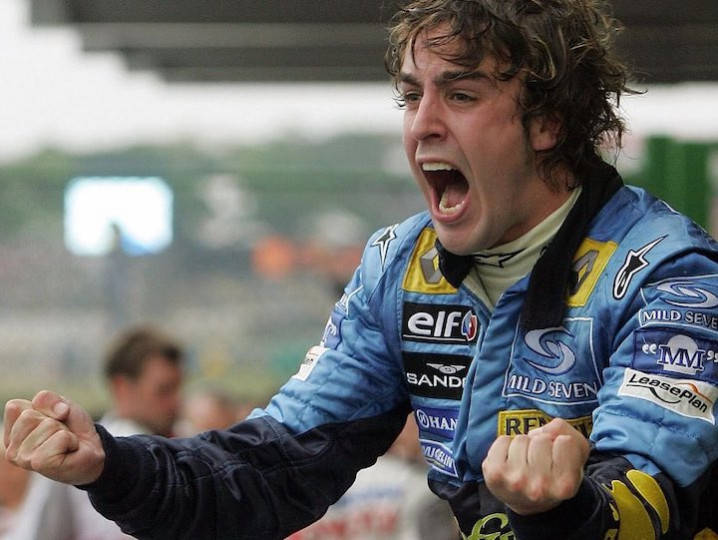 As is the case with badly kept secrets in F1, Fernando Alonso's return to grand prix racing in 2021 with Renault F1 has been officially confirmed. The 2005 and 2006 world champion rejoins the team with which he won those two titles for his third stint with Renault F1. There was the rise to the top from 2002 to 2006, a return in 2008 and 2009 and next season starts chapter three.
There's a lot to be excited and apprehensive about, so let's get right down to it.
The good
Fernando Alonso is fast. REALLY fast. And he has not lost any of that speed as was evidenced by his Le Mans and a title-winning stint in the World Endurance Championship with Toyota. Even though Toyota didn't have much by way of opposition, Alonso was still no slouch in the Japanese manufacturer's LMP1 rocket. He also won the 2019 24 Hours of Daytona and placed 13th overall in this year's Dakar Rally in his very first attempt. On top of this, he was one of the contenders to win the 2018 Indianapolis 500. His 2019 Indy 500 campaign may have been one to forget but that was more down to McLaren's troubles than Alonso not being up to the challenge.

The Spaniard once bragged about his driving and development abilities being so good that he could add over half a second a lap worth of performance to any car he drives. He may not be too far off the mark on that claim. He has certainly matched well with his teammates, all of whom he has handily beaten except for Lewis Hamilton with whom he finished equal on points at McLaren in 2007. Wins like the 2008 Japanese Grand Prix, 2012 European Grand Prix and the 2013 Spanish Grand Prix are proof of his relentless Schumacher-esque pace. Oh, lest we forget, he has had some extremely close and absorbing battles with the German legend and beat him to the 2006 F1 title in a straight fight.

A fundamental change in the way F1 goes racing will start from 2021, when he is set to replace Daniel Ricciardo at Renault F1 when the Aussie makes his way to McLaren. A 145 million dollar budget cap comes into place, which will reduce to 135 million dollars in 2022. The 2022 season is when F1's radical new technical regulations come into place. It will lead to cars that are more overtaking friendly and a lot of common parts will be used among the teams too to allow the drivers to shine over the machines. Wind tunnel testing restrictions for teams that place high in the constructors' championship and concessions for those that place lower will also be a big factor in creating some kind of equity.
The bad
Alonso's pattern of behaviour in F1 in the past has hardly been that of a team player. All too often it has always been about his needs and his impatience over the bigger picture. That kind of approach works fine if you have a Machiavellian team principal like Flavio Briatore. The disgraced Italian poached the best technical talent he could find and made Michael Schumacher the centre of the universe at Benetton F1. That approach stuck when Benetton turned into Renault F1 and Alonso came aboard. The Spaniard had no problem with that approach but could not find a similarly receptive management structure at any of the other teams he raced for with the exception of McLaren from 2015 to 2018. Renault F1 is a way different team than back when Briatore called the shots and Alonso will have to learn to play well with others. There are doubts that he can if things don't go his way and if he can't make his way back to the podium.

Esteban Ocon is likely to be Alonso's teammate in 2021 and the young Frenchman is no slouch behind the wheel. Renault are likely to mould their future around the 23-year-old rather than Alonso who will turn 39 by the end of July this year. Alonso's technical feedback will be invaluable in testing and probably also some free practice sessions this year. However, the Spaniard cannot be entirely sure that Ocon will cede to his abilities and experience. The new generation will be coming into its own and despite his obvious talents, no one knows for how long the likes of Alonso and even Hamilton will be able to resist them.

Renault have underachieved since returning as a factory team in 2016. Their power unit may have been in the car that finished third in the season opening Austrian Grand Prix, but it wasn't in a Renault chassis. At nearly 40 years old, this will be Alonso's last gasp at getting back to the winner's circle or at least being a consistent presence on the podium. Despite his best efforts, he could very well be let down by the car Renault give him to drive.
The potentially ugly
Fernando Alonso does not keep his opinions to himself. In fact, as Honda discovered when he was with McLaren, he will announce them on the team radio for the world to hear. Constructive criticism can be a good thing but publicly declaring the efforts of a power unit supplier to be completely useless only creates disharmony. There is already a hint of fear among F1 fans that Alonso could drive the management at Renault F1 up the wall.

How long could they tolerate him if they are not up to meeting his demands? It is a question worth asking, but just maybe Alonso can light a fire under the team and get them as motivated as he is. No other team on the grid is likely to give any quarter to the combination of Alonso and Renault, but that is exactly what the Spaniard is looking for as he prepares for his return. The idea of seeing him back in F1 and competing against the likes of Hamilton, Max Verstappen and Charles Leclerc is enough to get true fans of grand prix racing very excited indeed.
Add Your Comments