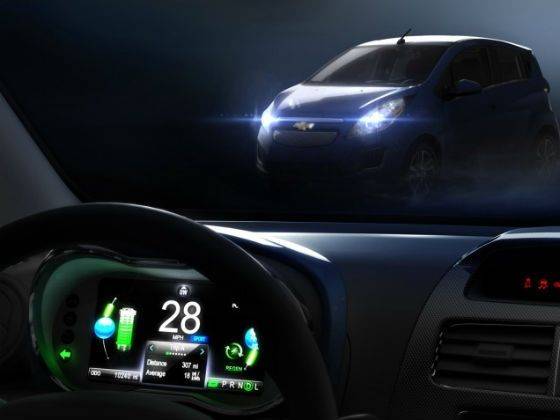 In this day and age of environment consciousness and going green, every big car maker across the globe is looking towards electric cars as the future of the automobile industry. Chevy have been dropping hints about its forthcoming contribution to the 'green' electric vehicle segment, the Spark EV, since some time now – remember the Spark EV which was showcased at the Delhi Auto Expo in 2010? The company has now announced the US version of the car (which actually looks like the Beat) will finally be made public at the LA Auto Show.
The EV will use a lithium-ion battery pack designed by A123 systems that incidentally has filed for bankruptcy and will soon be auctioned. The battery powers a front-wheel-drive engine that puts out a maximum of 114 ps (the equivalent of 85Kw of power) and averages 75 horsepower (55Kw) which makes it a shade more powerful than the standard 84 horsepower 4-cylinder petrol engine prevalent in the Spark today. This new Spark will also be the first car to feature rapid charging times through the new SAE combo connector.
An advanced adaptation of Chevrolet's flagship voice control system, MyLink, will also make its first appearance in LA. MyLink offers streamlined connectivity to smartphones through voice activation and steering controls allowing for hands-free calling among other things. The LA auto show will also feature the latest model of the Chevrolet Impala, the Malibu Turbo, The Sonic RS, and the highly anticipated Camaro Hot Wheels edition.
Chris Perry Global Vice President of Marketing at Chevrolet said, "Chevrolet continues to build on the momentum of eight consecutive quarters of record global sales with the introduction of more new products, features and technologies that are designed to offer consumers exceptional functionality, comfort and convenience. The Spark EV and next-generation of MyLink demonstrate Chevrolet's commitment to delivering the advanced technologies that today's consumers will be eager to adopt and truly value."
The Spark EV, which will be showcased at the LA show, will be sold in limited numbers in select US and global markets. The India-centric version of the Spark EV, however, will sport a different look though it may feature the same battery pack that will be used in the Spark EV for global markets.