Up Close And Personal With The Ninja ZX-25R
---
These pictures show why the little Ninja is like a shrunken down superbike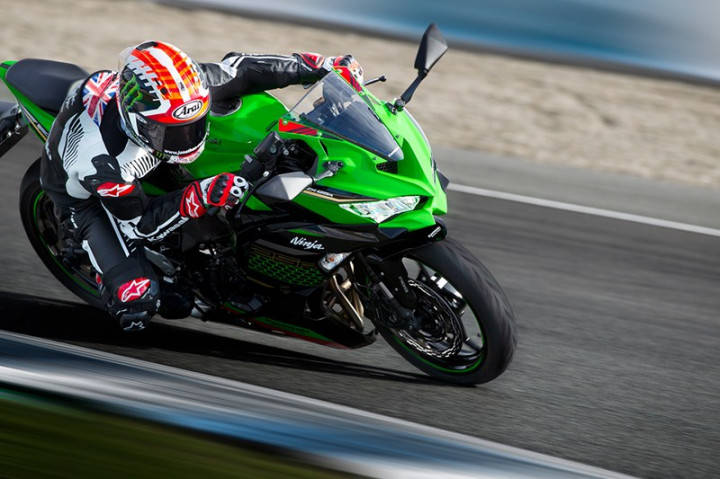 After months of anticipation, Kawasaki finally officially launched the Ninja ZX-25R in Indonesia last week starting at Rs 5 lakh! Now that the bike is launched, though, we've got some pretty cool images of the ZX-25R on our hands, so let's take a closer look at the little Ninja.

It's got a mean-looking face that's very similar to most of Kawasaki's fully-faired range at the moment. The 'bubble' screen, stubby mirrors and steeply angled clip-on bars make it look like a pukka supersport, but don't be fooled into thinking it has winglets: the protrusions on the side of the fairing are just crash protection.

Nestled between the two headlights is the sizeable ram air intake which shoves extra air into the engine to help up the power output from 50PS to 51PS. To know more about how ram air systems work, click here.

Developed in an era of stringent emission norms, the 249.8cc inline-four motor exhales through an underbelly exhaust system with a stubby side-mounted exit. Its soundtrack is quite similar to that of 600cc inline-four machines.

Kawasaki also offers the ZX-25R in this stealthy black colour scheme, along with 3 others. To check out all the paint options on the little Ninja, click here.

Seen here in the hands of 5-time World Superbike champion Jonathan Rea, the 25R seems to be quite a sharp handler. Hardly surprising, considering it's got a separate function fork and linked fully-adjustable shock from Showa, the sort of stuff usually seen on the much larger ZX-6R.

Its electronics are also akin to those seen on much more premium bikes. Kawi has equipped the ZX-25R with functionality like traction control and power modes.

Once that pretty special engine has done its job and you need to slow down again, braking is handled by a 310mm front disc bitten by a radial caliper. At the rear, there's a 220mm disc.
Of course we're disappointed that the ZX-25R won't make its way over to India anytime soon, but we're sure that coming back and going through this gallery every now and then will help ease the pain a little. And we hope you do the same too!
Add Your Comments