Jawa Overview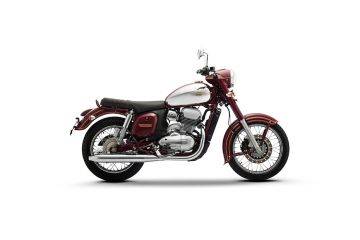 Jawa User Reviews
Performance

Comfort

Features & Styling

+ 2 more
Preferred For : Daily Commute & Tours
50% of users have given a rating of 4.5 and above
4.6

A motorcycle far better than a Royal Enfield Classic/ Bullet or Thunderbird. It has a better pickup, more power, less vibration, better looks, eye catchy and better technology. You should definitely go for it.

3.8

Buying experienceIt was good but not like ktm where the customer is treated very wellTaking a bike has to be everyones dream maybe Java is unaware of that feelingRiding experienceMalegaon 110 km from Nashik is a complete highway but still had to face a lot of problems of ground clearanceIf the weight of both the rider and the pillion is above 120 then the rumble strip also touches the engine guard with easeAnd this seat will give you the most Pain He is very painfulServicing and maintenanceThere are some problems due to the service center in NashikThe brakes in front of the vehicle which work and it is excellent but if you talk about the back brakes then you will get a lack of confidenceMaintenance is a little expensiveAccessories are also very expensive brand money is taken branded quality is not givenThere is no answer to this bike when it comes to looksWhen you go on the road everyone sees this beauty and keeps lookingPeople are very happy to see Java in the era of the 1970s and 1980s Seeing their happiness you also get a lot of happinessThat you have bought some very valuable bikeperformance etcThe performance was very good 10 hours and 600 km chant were very goodThe high speed could not go above 120There is really no answer to the vibration You do not feel any vibration till the speed of 80 and when you go above 90 you start lightly and around 100 you feel very wellIt is fun to drive the bike in front of the 3rd gear in the 1st and 2nd the vehicle gets hot oven for 15 minutes.Good enough for the highway but not for the cityPros and consProsVery good looking vehicleNice riding experiance as wellNo vibrationSilent killerABS ahead is very goodCons:Very low ground clearanceLow speedLow mileage

4.2

Got my Jawa Classic on 8th March. It's a dual ABS. Loved the bike..cool classic looks with modern features, but I'm disappointed with the ECU sensor which keeps on glowing in spite of no engine problem. The said sensor glows after the bike had crossed the 200kms on the odometer.

3.8

Drive jaws 42 600 km.good comfort bike.From day first Engine Malfunction light on..very bad service experience at upper crust bareilly. Technician told me that all is ok but problem same......

5.0

A trip to Athirapally via Valparai on my Jawa classic. The ride was amazing. The performance is good so far. Check the link below of Jawa bike trip to Athirapally from Bangalore. htt******5Jk
All Jawa User Reviews
3.8

Buying experienceIt was good but not like ktm where the customer is treated very wellTaking a bike has to be everyones dream maybe Java is unaware of that feelingRiding experienceMalegaon 110 km from Nashik is a complete highway but still had to face a lot of problems of ground clearanceIf the weight of both the rider and the pillion is above 120 then the rumble strip also touches the engine guard with easeAnd this seat will give you the most Pain He is very painfulServicing and maintenanceThere are some problems due to the service center in NashikThe brakes in front of the vehicle which work and it is excellent but if you talk about the back brakes then you will get a lack of confidenceMaintenance is a little expensiveAccessories are also very expensive brand money is taken branded quality is not givenThere is no answer to this bike when it comes to looksWhen you go on the road everyone sees this beauty and keeps lookingPeople are very happy to see Java in the era of the 1970s and 1980s Seeing their happiness you also get a lot of happinessThat you have bought some very valuable bikeperformance etcThe performance was very good 10 hours and 600 km chant were very goodThe high speed could not go above 120There is really no answer to the vibration You do not feel any vibration till the speed of 80 and when you go above 90 you start lightly and around 100 you feel very wellIt is fun to drive the bike in front of the 3rd gear in the 1st and 2nd the vehicle gets hot oven for 15 minutes.Good enough for the highway but not for the cityPros and consProsVery good looking vehicleNice riding experiance as wellNo vibrationSilent killerABS ahead is very goodCons:Very low ground clearanceLow speedLow mileage

3.0

24 years ago i have driven old jawa for thousands of KM . It will thrill me every time i touch the handle bar & pump it to alive the engine. The exhaust thump & interval between the next thump cant say in words. Flick & Kick is a wonderful experience . I used to get mileage around 30 kmpl to 35 kmpl. Now to coming new jawa . I went test ride new jawa with imaginations & drove more than 210 km i got mileage of 18 kmpl. Engine is powerful till 110 km/hr then it straining to climb speed with vibrations & becomes too noisy .The exhaust sound is like hero splendor bike. There are lots welding visually seen around new jawa . They recreated visibly old jawa . Visually good bike. I didn"t get moved or ringed & impressed while riding.I never need a bike for visual pleasure.

4.2

Got my delivery in December, and writing this review after a little over 2000kms. My daily commute is less than 8kms roundtrip, so almost the entireity of the 2000kms have been on weekend rides. 1. This bike loves the highways, and seemed comfortable cruising between 90-100kmph for extended periods.2. Travelling solo, with luggage is fine, but grund clearance becomes a major issue with pillion. Have to be extra careful while banking hard or crossing the odd speed bump.3. Average mileage over 2k kms is 38.4kmpl. Pure steady highway rides have got me 39+ kmpl, and pure in-city traffic heavy commutes have got me 34.7kmpl.4. 2nd 3rd gears feel too short and frequent gear changes in city traffic can be a bother.

2.6

Not at all Happy.. Waste of Money.. Should not have wasted 2lacs for this.. You can not trust the Odometer and lights on speedometer. Engine Malfunction Light and Batter Malfunction Light turned on after 159km only and even if I left the bike in service center for 2 days they did servicing and said sensor was not working changed the battery the light turned on again after riding 50 more kms. Not at all happy selling within a month... Can not spend my time at service center anymore... Entire day is wasted and issue is not resolved. Silensor sound is like normal 40-50000 bike and so normal. Got fooled with much hyped promotion and wasted money waited for this Bike for 1 year and very very disappointed

4.2

I had the original Jawa 250cc two stroke engine and hence my experience is based on that original model. It had a thunderous sound at start up and could be termed as an inherently loud machine. The subsequent Yezdi"s were much better in the sound department. Here I mean more silent.I averaged about 25 kms to a liter but earlier the rates were very low. So it was feasible.Road holding was good and I could reach an indicated speed of 80 KMS on any open stretch quite effortlessly.My particular bike had good brakes in the front but the rear was not so good.
All Jawa User Reviews