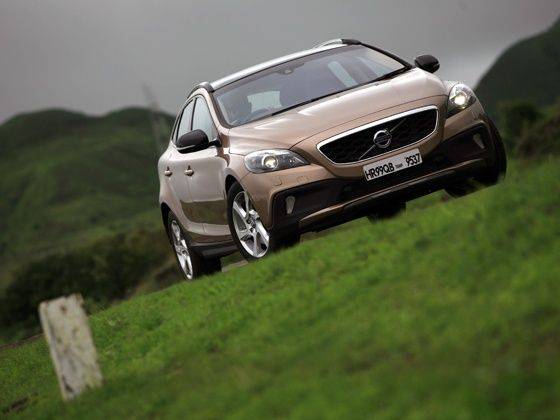 There's a lot to be said about Volvos these days. The Swedish company's cars might be revered for their unprecedented levels of safety and engineering, but these days there's much more to them which meets the eye, literally. Design wise, Volvo has taken quite a few dramatic leaps and heralding this change in way they do things have been the S60 sedan, in India at least. Pre-S60, what we got were pretty much Euro-boxes in terms of design, such as the S80 and the XC90.
These were brilliantly put together mind you, and were great to drive, but parked next to any of their Teutonic rivals, wouldn't attract more than a flitter of attention. With the S60 and after, you have a paradigm shift in aesthetics from functional Mommy-wagons to more youthful and exuberant designs, almost futuristic to a certain extent, which do an incredible job looking distinctly different from anything else from Europe. After the S60, we got the brilliant XC60 soft-roader and now, the latest arrival from Sweden is another crossover, the V40 Cross Country, but the 'Cross Country' suffix seems like it might be in name only.
Visuals
Say what you might, but at a quick glance, the V40 Cross Country does appear to have a few off-road genes ingrained into the design, most notable of which is the black plastic cladding that runs around the perimeter of the car.
Then there's the aluminium cladding on the chin at the front and the massive aluminium bash plate on the rear bumper with the words "Cross Country" embossed boldly across. But all one has to do is look at the ground clearance and realise that this V40 really is what you might call a 'low-flier'. Just about 145mm of ground clearance and massive front overhangs might be acceptable for a soft-roader in Europe, but in India, this kinda stuff just don't fly.
Regardless of its actual off-road prowess, the V40 certainly is a stunning looking machine. The big two-part honeycomb grille, the vertical fog lamps, gorgeous 17-inch alloy wheels and an incredible combination of curves and straight lines across the design all ooze style from every angle. And then there are those gorgeously curvaceous tail lights which flow into the inward curved rump. This is one hatch that'll draw as many eyeballs, if not more, than the current benchmark in premium hatchback design, the Mercedes-Benz A-Class.
Inside story
If you though the V40 was stunning on the outside, just wait till you get in. Like we've said before, the design philosophy is very different from other European premium cars we've got to experience here in India and the interiors exude this visual language strongly. The interiors certainly aren't overbearing from any angle.
There isn't an excessive use of buttons or dials or knobs or screens. There's just the right amount of everything that you actually need put together in a way that feels extremely well thought out. Premium plastics and leather surround the occupants with bits of brushed aluminium thrown in for good measure. Then there are those truly unique touches such as the frameless rear-view mirror, the sculpted X-Shape design seats and that illuminated gear selector which looks like its straight from the annals of J.J. Abrams' Star Trek.
In fact, most of the interior design, such as the bronze floating centre console and the full-LCD instrument cluster might be more at home on the bridge of the starship Enterprise. And speaking of the instrument cluster, the LCD panel is customisable with three modes to choose from. Select 'Performance' and the circular dial displays engine RPM with red accents and a digital speed in the centre. The flanking gauges show power and engine temperature. There are two other modes available as well; ECO with blue accents and Elegance, with copper accents which match the car's interior colour palette.
Then there's that massive panoramic sunroof – its not openable, but you really wouldn't care given the sheer size of it. Of course, it's not like in the middle of all this pizzazz, practicality has taken a back seat. There are plenty of cubbies everywhere and the seats are exceptionally comfortable. That being said though, space at the back is nothing to write home about and spending more time than absolutely necessary on the second row wouldn't really be a great experience for all but the tiniest of adults.
Under the skin
While there are several engine options available internationally, India gets only the D3 diesel so far. The 2.0-litre inline-5 cylinder oil burner comes coupled to a 6-speed Geartronic automatic transmission sending 150PS of power and 350 Nm of torque to the front wheels. Performance from this engine isn't something that'll really blow your mind. The dash to 100km/h takes 9.6 seconds and while that might not be too quick, the kickdown acceleration is quite impressive actually.
Foot down and you'll find yourself getting from 80 to 120km/h in a hair over 7 seconds. The surge of torque from the diesel mill always feels like it's available on instant demand, which makes overtaking other vehicles on the highway not just a breeze, but great fun too. And when we really got our foot down, the V40 hit, as near as makes no difference, 200km/h – more than enough for any road you'll encounter on the subcontinent.
Underpinnings-wise, peel away all the curvaceous metal work and you'll find Ford's C1 platform, albeit a much modified one, which Volvo first used with the S40. Independent suspension all around means that the V40 has some mad skills when you show it some corners.
The steering too feels extremely precise when chucking the car about and some understeer does creep up on account of this being a front wheel drive car, it is almost negligible and you would really have to be ham-fisted and lead-footed to make the V40 understeer beyond the limits of control.
But more than its outright cornering prowess, what's most impressive about it is the fine line it treads between handling and ride quality. In fact, it wouldn't be too far a stretch of the imagination in saying that this V40 Cross Country has the best ride quality in its class. Where the Merc A-Class and BMW X1 feel a little too stiff at times, the V40 takes bumps and broken roads in supple stride, without ever so much as batting an eyelid.
Features galore
If we had to choose one area where the V40 stands heads and shoulders above the rest, then it has to be the sheer feature list, be they for convenience or for safety. First off, there's the automated parking system called Park Assist Pilot. This system can search for open parking spots when you're driving along them at slow speed and upon finding one, can automatically steer itself into the spot, requiring the driver to only provide throttle and brake inputs.
And, hand on heart, the system works perfectly, though it can feel a little uncanny to watch the steering turning frantically left or right all by itself. Then there are some sheer opulent features such as mood lighting for the rear seats which offers seven different colours to really set the ambience at the back. The safety features list is quite impressive by itself. Apart from the standard DSTC (Dynamic Stability and Traction Control) to keep the car in check in tricky grip conditions, there are some other brilliant preventive safety measures as well, such as a laser assisted automatic braking system called City Safety.
This system prevents collisions up to 50km/h by sensing emergency situations beforehand and pre-charging the brakes and even applying them if the driver doesn't heed the warnings given by the car. Active bending lights are also a serious boon on badly lit roads which are a very common sight in our cities and towns. Apart from these, you also get whiplash protection system as well as knee airbags for the driver.
Practical matters
Onwards to things that matter to most of us Indians – namely, fuel mileage. Driving on fairly congested streets of Pune made worse due to the monsoon, the in-city fuel efficiency wasn't too impressive at 10.6kmpl. That being said, neither was the highway efficiency all that great, tipping the scales at just under twelve and a half kilometres to a litre of diesel.
With an overall mileage figure of a fraction of a hair over 11kmpl, frugality wasn't this car's strongest suite, in our tests at least. Though thanks to the start/stop and braking energy recuperation systems which come as standard, moderation with the throttle pedal should yield much better results. More than the low mileage we recorded, the things that would give the naysayers of the V40 some strong ammunition are the lack of leg room in the back and the less than impressive boot capacity, which is surprising considering the size and shape of the car.
Yay or Nay?
On the most part, the Volvo V40 Cross Country is one cool customer and would definitely serve as a brilliant option to the more regular entry-level luxury cars such as the BMW X1 or the Mercedes-Benz A-Class. It certainly is one of the best, if not the best looking car in this segment. But whether there will be any takers for this suave Swede is a question only time will answer.
With a price of Rs 28.5 lakh (ex-showroom Delhi) and only a dozen showrooms across the country, the V40 is out of reach for most buyers, physically, if not monetarily. But for city slickers who do have access to one of these, going Scandinavian rather than Teutonic has an aura of cool that's difficult to match. Hipsters' choice then?