Renault Kiger EASY-R vs X-TRONIC - The automatic for you
---
So your sights are set on the flash looking Kiger but you spend hours in traffic every day and you must have an automatic. Which one do you choose: AMT or CVT?
The Renault Kiger may not offer diesel power, but customers are still spoilt for choice when it comes to the drivetrain. Two 1-litre petrol engines; a powerful turbo and a more (marginally) efficient naturally aspirated one. There are even two automatic transmissions to choose from: an EASY-R AMT or the X-TRONIC CVT transmission.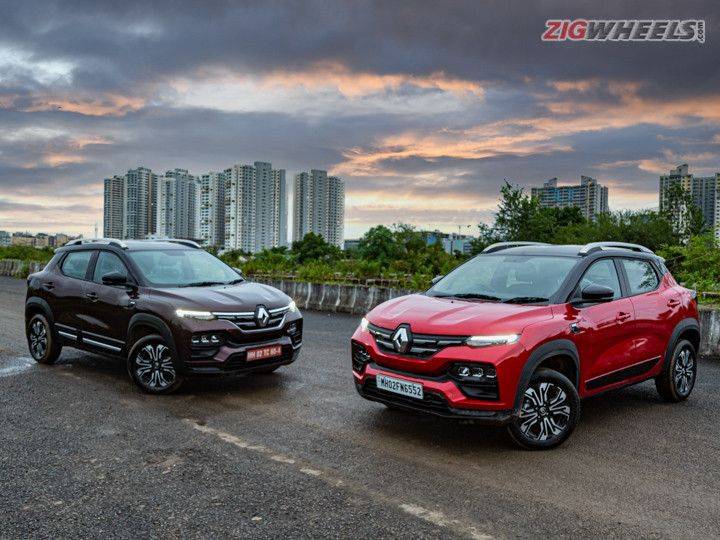 There's a significant price difference between them and the AMT is the most affordable automatic in the segment while the CVT is a lakh and a half dearer. It's a decision that can be especially tricky, considering that both automatics are not likely to be available at all dealerships for back to back test drives. We managed to get both Renault cars together for a proper road test of their convenience and efficiency to help you make that decision a lot easier.
Specifications

Models as tested

Difference

Variants

RXZ Turbo CVT Dual Tone

RXZ AMT Dual Tone

Price (ex-showroom)

Rs 10.09 Lakh

Rs 8.61 Lakh

Rs 1.48 Lakh

Displacement

999cc

999cc

-

Power

100PS

72PS

28PS

Torque

152Nm

96Nm

56Nm

Transmission

CVT

5-speed AMT

-
Let's talk technology
As auto transmissions go, the CVT and the AMT couldn't be more different. The CVT offers completely seamless, variable ratios so there are no steps between the gears. And while CVTs were infamous for their rubber band-like feeling when accelerating, CVT tech has moved forward a great deal over the years so we were excited to see how the CVT performed in the Kiger.

The AMT on the other hand is clever technology that actually uses the same gearbox as the regular manual car but with a computer making the shifts on your behalf. AMT's are simple but are also famous for achingly slow shifts or if they are tuned to shift quickly they tend to do so with a lot of head-nod under hard acceleration with rarely any middle ground. Both still save your left leg muscles in heavy traffic and are a big relief especially for new drivers, with one less thing to worry about in our crowded streets.

City friendly?
Both cars behave very similarly in heavy traffic, picking up smoothly from crawling speeds. The CVT was expectedly super smooth in this scenario but the AMT was a pleasant surprise. There was very little head-nod when shifting from first to second at slow speeds and quite a bit of low-down poke for a naturally-aspirated 999cc motor when crawling through traffic. We also noticed that when driving in eco mode, the gentlest of the three drive modes (Eco, Normal and Sport), the head nod from the AMT was the least obtrusive.
It's better to shift to normal mode for both transmissions as the pace of traffic increases. But it's here where some differences start to show up. At higher engine speeds the three cylinder thrum of the naturally aspirated motor was more audible in the AMT equipped car. This is particularly evident when trying to pull off a quick overtake. Also the slow shifts mean that the acceleration needed for quick overtakes is further hampered.

The CVT on the other hand stays smooth and with the added power and torque, is better at overtakes too. What we did expect was that the AMT would make up ground when it came to fuel efficiency but as you can see from the table below that was not quite the case. In our 50km city efficiency test with both cars running the same route at the same time side by side through some moderate evening traffic, they both posted very close fuel efficiency figures. A difference of just 0.66kmpl, even with today's fuel prices, is not really significant.
| | | | |
| --- | --- | --- | --- |
| Efficiency | 1.0L TP CVT | 1.0L P AMT | Difference |
| City Efficiency | 12.88kmpl | 13.54kmpl | 0.66kmpl |
Comfortable cruiser
While cruising down the highway the two again are fairly similar in behaviour but it's getting up to those highway speeds that there is an expected difference. The turbo petrol engine packs more punch, so accelerating up to highway speeds is a lot quicker. And with the smooth CVT it feels calm and collected too. Yes, the engine does rev up initially, but it settles down once you start to cruise. The AMT, on the other hand, is a lot slower as you can see from our tested numbers below.

| | | | |
| --- | --- | --- | --- |
| Performance | 1.0L TP CVT | 1.0L P AMT | Difference |
| 0-100kmph | 11.20s | 19.25s | 8.05s |
| 20-80kmph | 6.81s | 11.40s | 4.59s |
The slow shifts are a significant part of the slower times too. Sometimes taking as much as a second between the power being cut and coming back in, after the controller shifts into another gear for you. This means you really need to plan overtakes and driving on inclines also require more effort where the slower shifts can be troublesome. When driving in the hills it's also best to shift into manual override mode to ensure that the auto shifter doesn't shift up a gear when accelerating out of a sharp bend or overtaking a slower moving vehicle. While cruising at a constant speed, though, the AMT is more efficient than the marginally thirstier turbo petrol.
| | | | |
| --- | --- | --- | --- |
| Efficiency | 1.0L TP CVT | 1.0L P AMT | Difference |
| Highway Efficiency | 17.02kmpl | 19.00kmpl | 1.98kmpl |
More fun?
With dollops more torque and a smooth transmission, the X-TRONIC is hands down the choice if driving pleasure is your thing. There are rarely times when an enthusiast will have reason to complain with this engine and gearbox combination. Even full throttle blasts have very little of the annoying rubber band-like feeling that CVTs were famous for. The AMT, on the other hand, can really be a wet blanket if you ever want to get a move on quickly. The slow shifts are accompanied with quite a bit of head nod and even taking over control by shifting to manual mode only means you have control over when the slow shifts take place. The naturally aspirated engine also doesn't like being revved hard, complaining with a rather thrummy engine note and some vibrations compared to the less stressed turbo petrol. So if you do have a bout of enthusiasm, you soon find it better to calm things down to a sedate pace once again.

Price breakdown
As we've mentioned before, the AMT is one of the most affordable automatics in this segment, offered in as many as seven variants, priced from Rs 7.04 lakh to Rs 8.61 lakh (ex-showroom, Delhi). The CVT, on the other hand, is available in four trim levels and is priced from Rs 9 lakh to Rs 10.09 lakh.
| | | | |
| --- | --- | --- | --- |
| Variants as tested | RXZ Turbo CVT Dual Tone | RXZ AMT Dual Tone | |
| Price (ex-showroom) | Rs 10.09 Lakh | Rs 8.61 Lakh | Rs 1.48 Lakh |
X-TRONIC or EASY-R?
The AMT does bring customers into the world of hassle-free driving at a significantly lower cost. Not just over the CVT transmission option in the Kiger lineup but over the segment on a whole. If you're stuck in traffic whether on the way to work or on the way back home, the EASY-R will do its job; just don't expect any thrills.

But with most people the Sub 4-metre SUV segment is a step-up segment. These are the vehicles you upgrade to from the entry-level hatchback, cars that you aspire to own. And it's here that the AMT fails to deliver. Take it out of its comfort zone and it starts to falter, with slow shift times and sluggish performance. Simply put, it's functional, not sophisticated or polished.

Then when you drive the CVT back-to-back, these differences just get magnified. The turbo Kiger accelerates with much more zest and the X-Tronic always remains smooth to drive whether out on the highway or in bumper-to-bumper traffic. And there's not too significant a drop in efficiency too. So if you have to choose between these two automatics then we would definitely recommend you stretch your budget for the Turbo CVT for the more premium experience.
Renault Kiger Video Review
More on Renault Kiger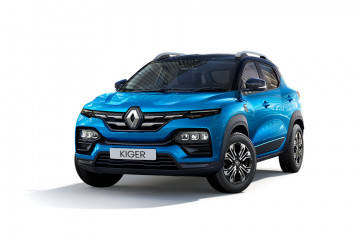 Rs. 5.64 Lakh Onwards
Ex-showroom, Delhi
See what our community has to say!
NEW
India's largest automotive community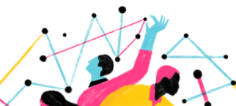 4 Offers Available