Mahindra Thar Wanderlust: First Drive Review
---
If you like your adventures bold, loud and just a little over the top then you'll want one of these, the Mahindra Thar Wanderlust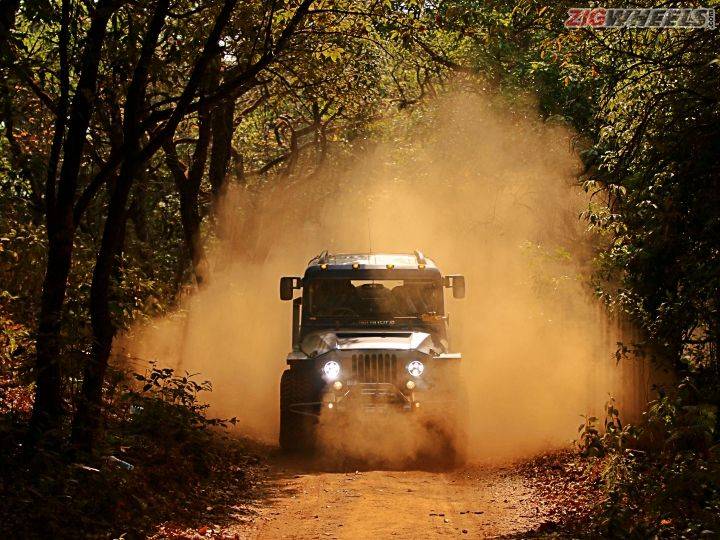 As some of you may have guessed, under all this flash and bravado lies the stock underpinnings of a Mahindra Thar 4x4. Yes, completely stock, with the exact same suspension and drivetrain.
So it's a production SUV then?

Well, not exactly. You take your standard 4x4 Thar back to Mahindra, and for a fee, Mahindra's Customisation Department will turn your run of the mill off-roader into this monster.
What exactly am I getting?
The Wanderlust consists of a completely new steel body and a complete cosmetic update, with only the chassis, engine and drivetrain staying stock. The new body also includes an inbuilt space frame/rollover cage. The gullwing doors and electronic sunroof are additional wow factors that just adds to its over the top looks. The clear standout feature are those 35-inch off-road tyres sitting on wider 16-inch rims.

There is also a snorkel and two 20-litre jerry cans for extra fuel. The Bushranger winch and the farmer's high-lift jack are extras though, and don't come with the standard Wanderlust package. The craziest thing about this is that the Wanderlust rides on completely standard Thar suspension. Mahindra is offering a suspension lift kit as an option and we suggest you opt for that if you don't want those tyres rubbing on body panels.

Lots have changed on the inside as well
The interiors have also been given a healthy dose of aftermarket sprucing up with beige art leather interiors and suede carpeting. There is a Pioneer Android-based touchscreen infotainment system with navigation and an aftermarket heads-up display as well.

Driver and passenger seats are actually a pair of rally bucket seats with five-point Sparco harnesses instead of seatbelts, but these are hard to live with on a daily basis and need complicated adjustment if the seats are moved around even a little.

How does it drive?
It's actually surprisingly similar to the regular Thar to drive. The steering hasn't weighed up too much with the addition of the wider rubber, and with the high driving position you soon get comfortable with its extra width.

But the mirrors are oddly positioned, making you look up instead of sideways, and this takes some getting used to. Since the gearing is also stock, the taller tyres have also resulted in taller final drive ratios. This paired with the extra weight of all those accessories means you need to use first and second gear a lot when driving around town.

The stock suspension does handle the extra weight in a straight line but the Wanderlust likes to roll around corners. And if you push it hard, those fat tyres start to rub on various body panels and even the front bumper at full steering lock. In short, it handles how it looks - like a big badass sumo wrestler.

Can I take it off road?
The stock Thar with its low ratio four-wheel drive transmission is fairly capable off-road. The big wheels do add some ground clearance and grip over the stock ones but they also sacrifice equal amounts of drive with the taller ratios.

The added weight of the new body and the added accessories also don't really help. We did some exploring in a dried lake bed and it was quite capable over some steep inclines and deep soft sand, but while it can get itself out of sticky situations in a pinch you don't want to go looking for trouble in this 4x4.

How do I get one?
Since the Wanderlust is based on a standard Mahindra Thar CRDi 4x4 you first have to have one. You can either purchase one new (Rs 9.04 lakh ex-showroom Mumbai) or if you already own one it would need to be in sound mechanical condition. The registered vehicle will then need to be sent to the Mahindra Customisation Studios in Mumbai, where your Wanderlust will be built. Mahindra will even help with the logistics of having the vehicle transported for you. Since this customisation is through Mahindra themselves, the whole process does not affect the factory warranty on your vehicle.

The Thar Wanderlust basic package costs Rs 13 lakh and includes the gullwing doors, sunroof and all the lights and gadgetry on the SUV you see in these pictures except for the winch and the high-lift jack. These are available as optional extras and will cost close to a lakh more.
Should I Buy One & Why?

We can say with certainty that no statement made in the Thar Wanderlust will begin with "Logically speaking..." The primary draw here is the design, and if you want your driveway to have the Thor of Thars (or at least look the part), you can get one. But the colossal price premium isn't for any bump up in quality or capability. It's an exercise in excess and one that bullishly flips off sensibility before stealing its lunch money.
Recommended Variant :
Thar CRDe
Mahindra Thar Video Review
Add Your Comments

More on Mahindra Thar

Rs. 9.59 Lakh Onwards
Ex-showroom, Delhi
View July Offers
View On Road Price
Mahindra Thar Alternatives