2019 BMW S 1000 RR Review
Jul 2, 2019
Views : 11132
---
Can the tech-laden 2019 S 1000 RR take a superbike newbie like me from zero to hero?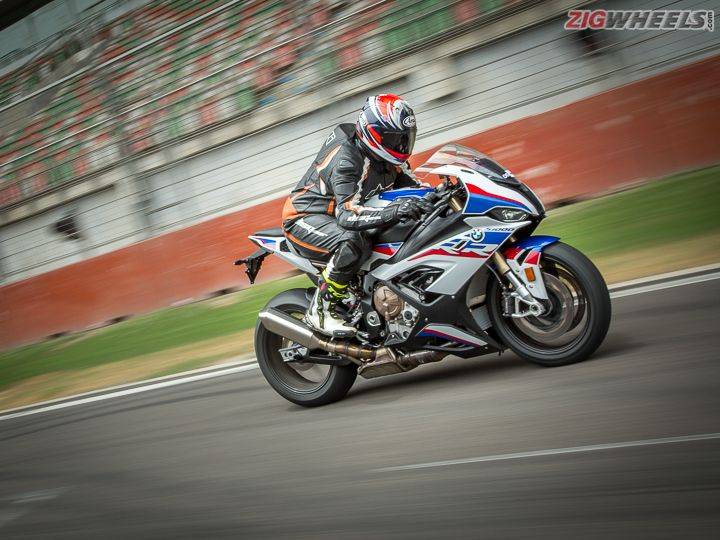 I'll start this review with an admission… I've barely got any experience with litre-class superbikes. In fact, I had never ridden one of these "race replica" machines on a race track until a few days ago. Some might say that this makes me absolutely unqualified to test out such a motorcycle. Yet I believe that makes me uniquely qualified to do so… especially this 2019 BMW S 1000 RR. You see, when the S 1000 RR first came out back in 2009, not only was it one of the most powerful superbikes around, it also set new benchmarks with its electronic rider aids. And that made it not just blisteringly quick but easy to ride as well. But they say this new 'Double R' is even easier to ride, allowing inexperienced riders to go faster than they ever thought they could. Sounds like the perfect bike for me then.

Still, coming out of the pit lane at the BIC astride this new bike, my apprehension was palpable. After easing it around the first three corners, we entered the back straight. The tyres had already been warmed up by expert riders earlier, the electronic nannies were dialled back but firmly in place; so there was no problem in pinning the gas. And pin the gas I did. Then my world exploded! The inline-4 motor screamed its way to the redline as each full-throttle upshift came in without any effort. The front wheel just gently floated in the air a couple of inches of the tarmac and the speed readout on the digital dash threw ever-increasing numbers at me at an alarming pace while I held on for dear life. I remember seeing a little over 270kmph before I decided to knock it off. I was just in fifth, with one more gear and more of the straight to go.

All this performance comes thanks to more power than before - a whole 8PS more, which brings the total output of this 999cc inline-4 motor to 207PS. Sure, there are other superbikes today, such as the Kawasaki Ninja ZX-10R or the mental Ducati Panigale V4, which make more power. But the S 1000 RR is light - a mere 197kg in standard trim, and just 193.5kg for the M Package. So outright performance is a given. What is more noteworthy is that now with the inclusion of ShiftCam, BMW speak for variable valve timing, it makes over 100Nm of its 113Nm of max torque from 5,500rpm onwards. For an engine that makes peak power at 13,500rpm and redlines a thousand revs higher, that means significantly increased tractability for road use. But that is a story for another day.

Now you might argue that most litre-class superbikes are capable of this sort of mental performance, and you'd be right. However, the really impressive bit about this new S 1000 RR is just how planted and comfortable it feels at these ridiculous speeds. That's courtesy a longer 1441mm wheelbase (9mm more than before), along with other improvements to the chassis and swingarm, and an even better front-rear weight distribution (53.8-46.2).

This increased plantedness can also be felt in the brakes. While some might groan at the switch to Hayes calipers for the front (rather than Brembos), the S 1000 RR demonstrated impeccable stability when braking from 270+ kmph to about 100kmph at the end of the straight for turn 4 at the BIC. While the braking was strong enough to feel that I might go over the bars, these radial monoblocks don't have the same explosive sharpness of the Brembo Stylemas (from the Panigale V4). I suspect this was an intentional move to give more progressive braking control when riding it on the road.

Don't think for one second, though, that this S 1000 RR sacrifices handling in the name of stability. With the steering head angle now 0.4 degrees sharper at 66.9 degrees, and the trail pulled in to just 93.9mm, it's eager to steer than ever before. The massive 14.5kg weight loss on the Pro M Sport version we were riding (11kg on the Standard) also contributes to this increased agility. This weight loss regimen has included the engine, exhaust system, bodywork and also the 'Flex Frame' - a brand new twin-spar chassis that's smaller than before, with the engine becoming an even more integral stressed member.

There's a completely new suspension at work here too. The front gets a fully adjustable 45mm Marzocchi fork and also has the option of a Dynamic Damping Control (DDC) system, which automatically adjusts damping every 10 milliseconds, based on the selected riding/suspension mode. At the rear, there's a new, fully adjustable linked monoshock attached to a redesigned underbraced swingarm, which helps push the rear tyre harder into the ground under load, ensuring maximum traction when hard on the gas. All of this is said to contribute to improved handling and in BMW's own words, "a substantial improvement in lap time of about one second as compared to the predecessor model."

But the most shocking bit, at least on the Pro M Sport, is just how much lighter the steering has become thanks to the carbon fibre wheels (the first for any production bike). Even with easy inputs on the low-slung clip-ons, this Double R turns with the nimbleness of a 600cc supersport - so much so that it took me by surprise around the first few corners. I had turned in way tighter than I should have and had to pick the bike up to get it back on the correct line. But once I had rejigged my inputs, tossing the bike from corner to corner was an extremely rewarding experience.

That said, a lot of the confidence the new S 1000 RR was instilling in me came from the revised electronics, though speaking about them in isolation really doesn't do them much justice. With a 6-axis IMU (Inertial Measurement Unit) at the helm, there's Dynamic Traction Control (DTC) that's fully aware of the motorcycle's orientation, along with Wheelie Control, which, as I had mentioned earlier, kept the front wheel from climbing too high when wringing the throttle open down BIC's back straight. All this is fully adjustable though, so if you wanted to get the bike to slide on the throttle or pull mad wheelies without flipping over, you could set it up to do so. The IMU also allows for cornering ABS, and while I'd like to say that I fully put this system to the test, trailing on the brakes deep into corners, I simply wasn't riding at a level where it would need to come into play.

Riding modes are a given, and this S 1000 RR gets Rain, Road, Dynamic and Race as standard. There are three optional Race Pro modes as well, which are designed to let owners customise their bike's setup for different tracks or different riders. With the pace I was doing, Race mode kept everything under check so well that I didn't even bother to sample other settings on my 7-8 laps around the BIC.

The one electronic assist I absolutely loved though was the bidirectional quickshifter (which comes as standard). It provided near seamless up and down shifts and felt even smoother than the one on modern Ducatis, especially when shifting up with the throttle partially open. While the electronics are extremely competent, this new S 1000 RR doesn't seem to be the benchmark for cutting edge electronic systems as it once was, with bikes like the Panigale V4 feeling like they're doing just as much, if not more.

But it's clear that BMW Motorrad has gone back to the drawing board with this new bike, quite literally! It's not just mechanically all new, it looks distinctly different than before as well. The quirky yet strangely loveable asymmetric headlights are gone, replaced by LED units. BMW says that they have managed better weight savings with these new headlights, but we say this somewhat reminds us of the Bajaj Pulsar RS200.

Around the back, there's no tail light. Instead, it makes do with combination tail/brake/indicator lights, which does tidy up the tail quite a bit. If you wanted it tidier, say for racing, just two bolts and one connector stand in your way. Overall, though, while the back end has a bit of sharpness, the front looks a little more rounded off than before.

In the cockpit, there's a new 6.5 inch full colour TFT screen that can be customised with a variety of readouts for whatever activity you're doing - whether out on public roads or even riding on the race track. With the display set to "Race" mode, it even shows stuff like percentage of DTC intervention, the amount of deceleration when on the brakes, and even lean angle. MotoGP much?

The S 1000 RR might have lost its sharper styling but it is narrower than before, with a smaller fuel tank as well. This has made the bike easier to straddle and easier to lock yourself onto while cornering. But while you now feel like you sit "in" the bike rather than perch on top of it, the inherent width of the inline-4 motor makes the 824mm seat height feel taller than it is. At 5'9" and with fat thighs, I was nowhere close to being able to flat foot the bike. That said, once your feet are up, the bike is surprisingly comfortable for a superbike, with plenty of room in the saddle for someone as large as me to easily move around. We really believe this should translate to a more versatile motorcycle out on the road.

While BMW Motorrad has done impressive work with the 2019 S 1000 RR, BMW India certainly seems to have pulled a rabbit out of its hat with the pricing. Starting at Rs 18.50 lakh for the Standard model, it's just Rs 50,000 more than the outgoing bike. And this top spec Pro M Sport version that we rode comes in at Rs 22.95 lakh (all prices ex-showroom India). While that price seems rather high, you have to consider that firstly it is imported to India as a CBU from Germany and secondly, this bike's only real competition here, the Ducati V4S, is more than Rs 3.5 lakh more expensive. And when you consider that this new S 1000 RR seems to be a motorcycle which not only will set racetracks on fire but also coddle inexperienced riders (such as myself) and be fairly easy to ride in everyday conditions, it almost feels like, dare I say, a bargain. Now I wonder if I'll be able to drum up that kind of cash if I sold one of my kidneys.
BMW S 1000 RR Video Review
More on BMW S 1000 RR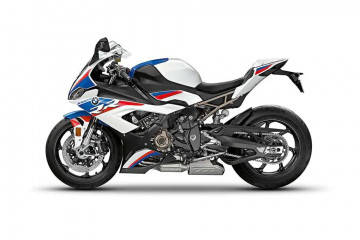 Rs. 19.50 Lakh Onwards
Ex-showroom, Delhi
See what our community has to say!
NEW
India's largest automotive community