Volkswagen ID.R Brutally Snatches EV Nurburgring Crown
---
...demolishing the Nio EP9's 2017 EV lap record by 40 seconds!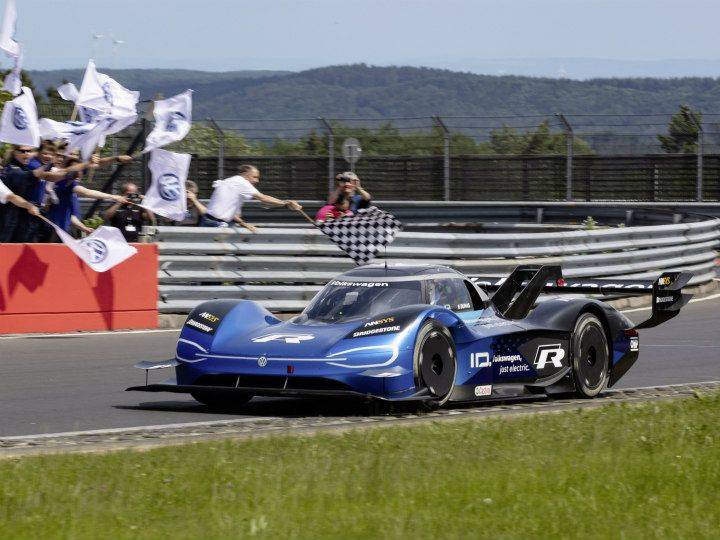 Volkswagen's purpose-built ID.R set a time of 6.05.336 minutes.

Follows up on record runs at Pikes Peak and e-record in Goodwood.

Track-specific tweaks include low drag aero philosophy and battery management tweaks.

Has come in 2nd overall on the all-time Nurburgring lap record rankings.
The Nurburgring is well known as one of the longest and most demanding race tracks in the world. Hence, it is the ultimate test for production vehicles world over. Such is the importance of a competitive lap time at the 'Ring' that whenever an automaker breaks a record, it is noticed by everyone. Volkswagen's purpose-built electric monster, the ID.R, did just that on June 3rd, by obliterating the electric vehicle lap record with a lap time of 6:05.336. This record is a whopping 40 seconds faster than the previous record set by the Nio EP9 in 2017.

This record-breaking run, driven by Romain Dumas, adds on to the streak of great timings set by the ID.R which started 12 months ago. Starting from the Pikes Peak record set in June 2018 to the Goodwood e-record set in July last year and now the EV Ring record. What's special about this record is that the ID.R puts out 680PS of power via twin electric motors, which is only about half of the Nio EP9's power output of 1359PS. In Nio's defense, the ID.R is a purpose built car whereas the Nio EP9 is a road legal car.
Check out the onboard video of the record breaking lap here:
You can also check out the blistering lap from an onboard POV here:
To achieve this lap record at the 'Ring', Volkswagen gave the ID.R major enhancements to tackle the challenges of the Nordschleife. Much of these include a low-drag aero philosophy, mainly with a smaller rear wing. Further revisions include revisions to the floor, splitters and battery management tweaks.

Apart from breaking the record for EVs, this lap propels the Volkswagen ID.R to second on the all-time rankings, behind the Porsche 919 Evo which set it in 2018. The ID.R also beat Stefan Bellof's long-standing 1983 lap record of 6:11.13 in the Porsche 956. Even though this lap time is a far cry from the current 5:19.55 record set by the Porsche 919 Evo, it still represents a huge step forward for electric vehicles. This lap record run proves that although electrics are frowned upon by enthusiasts due to a lack of a roaring engine, it can still be just as fun and competitive as an ICE car.
Also Read:
Add Your Comments