BS4 Nostalgia Tuesday: Top 5 Petrol Engines That We Lost In The Switch To BS6
Mar 31, 2020
Views : 4963
---
Each of these engines was a petrolhead's delight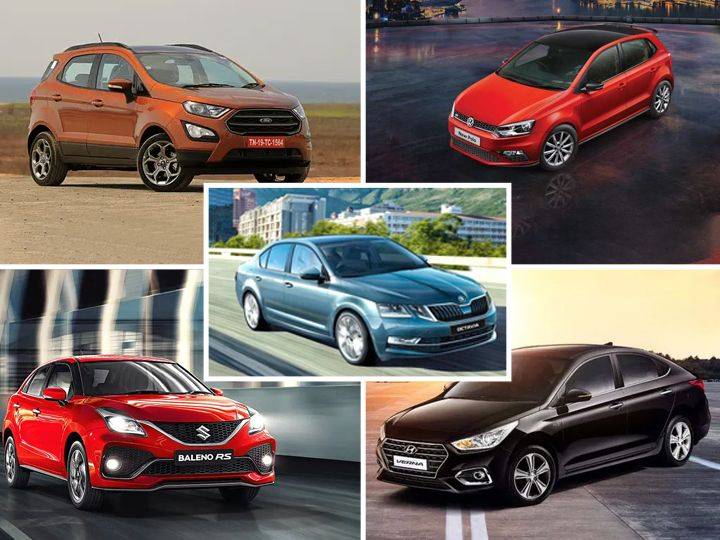 We have repeatedly lamented the discontinuation of diesel engines, but some of our favourite petrols were lost to the BS6 transition as well. Oil burners had become popular in India due to their higher fuel efficiency and the lower price of diesel fuel. Meanwhile, petrol engines were choked by a discriminate sub-4-metre regulation and a lack of both car-buying petrolheads and petrolhead-alluring options. As we advance into the BS6 era, here's a look at the top BS4 petrol engines which stirred our hearts with their song:
Ford 1.0-litre EcoBoost:

Ford's award-winning 1.0-litre EcoBoost proved that small engines can have more oomph than big naturally aspirated engines. The turbocharged engine develops 125PS of power and 170Nm of torque, making it more powerful than many 1.5-litre naturally aspirated units available today. It made its India debut in 2013 with the EcoSport and made a whole world of difference back then. Being a turbocharged engine, the EcoBoost suffers from turbo-lag. But once the turbo spools up, the engine pushes you back into the seat and pulls cleanly till its 7000rpm redline. Despite being a three-pot unit, it has a sporty sound when pushed hard. That said, thanks to its thirsty nature and a premium price tag, the EcoBoost engine received a mediocre response. Further dampening was that the facelifted model's 123PS 1.5-litre Dragon petrol engine also has an enthusiastic character and delivers it at a lower price point. Ford will be removing the turbo variant post April 2020. A Euro 6 compliant version is available abroad, but importing it means an even pricier sticker. So it's goodbye forever.
Volkswagen 1.2-litre TSI:

The Volkswagen Polo was and is known to have a lousy and unrefined MPI petrol motor. But the carmaker decided to change that image by plonking in the 110PS 1.2-litre TSI motor and christened it as the GT TSI. No doubt, it transformed the lazy Polo into a beast and that turned out to become an instant success. Coupled with the fact that it was mated with the quick-shifting 7-speed DSG, the GT TSI not only catered to the enthusiast, but was a hit with the masses as well. To top things off, Volkswagen was quick enough to introduce this combination in the more practical Vento as well. Enthusiasts were also happy with both these remap and mod-friendly cars as you can see below!

Image Credits - @reminstagram
Despite being successful and popular, the 1.2-litre TSI unit is set to face the axe in April 2020 thanks to the high costs involved in upgrading it. However, Volkswagen will bring in a replacement and it's a 1.0-litre TSI unit that develops 115PS of power. However, only time will tell if it will have the character of the 1.2-litre. Volkswagen, we are also disappointed that you didn't give us a manual gearbox with this powertrain as many enthusiasts were pleading for it.
Skoda 1.8-litre TSI:

We're sorry to inform you that the brilliant 1.8-litre TSI engine is set to face the axe too. Developing a whopping 180PS of power and 250Nm of torque, this engine is found under the bonnet of the Octavia and Superb. The latter's 1.8-litre variant can be had with a 6-speed MT if you wish to take charge. This motor is known for setting your wheels on fire. Mash your foot hard and you might witness the ESP light blinking hard pleading for mercy. And if your tyres have less tread, there are chances you might experience wheel spin in third gear! It is also known to pull strong till 7000rpm and its at home while doing it. What's more? You can hear the turbo sing and the valves work, which means a musical experience when driving up the ghat road.

Unfortunately, just like the 1.2-litre TSI, the costs involved in upgrading this motor is rather high. You'll also be disappointed to know that the replacement engine is expected to be the smaller 1.5-litre TSI Evo engine with a 48v mild-hybrid tech. So if you were keeping an eye on the 1.8-litre Superb or Octavia, we suggest you go ahead and buy one now.
Maruti 1.0-litre Boosterjet:

Yet another 1.0-litre turbo-petrol engine to face the axe is Maruti's 1.0-litre Boosterjet. Maruti was not known to have an enthusiastic 'hot hatch in India'. But they decided to change that image by bringing in the Baleno RS. The Baleno RS' engine develops 102PS and 150Nm, 19PS and 60Nm more than the Dualjet motor. Coupled with its lightweight body, the RS means serious business. Yes, the engine was not free-revving as the EcoBoost. But its light weight ensured that the performance shone and the Baleno could do some serious three digit speeds. But just like every other turbo-petrol unit, fuel efficiency wasn't this engine's forte and the RS also commanded a high premium. Just like the EcoSport, the standard Baleno's K12B engine is also known for its enthusiasm.

This means poor demand for the hot Maruti hatchback and it's not going to meet BS6 updates. Dealers are also flushing away their existing stocks with a Rs 1 lakh discount. So if you want a hot hatch that's easy on the pocket, we strongly suggest that you get a Baleno RS.
Hyundai 1.6-litre VTVT:

For now, probably the only naturally aspirated engine to face the axe is the Creta's and Verna's 123PS 1.6-litre VTVT unit. While it might not have that manic top-end of Honda's 1.5-litre i-VTEC unit, this engine is more of an all-arounder. For starters, it has a stronger bottom end than the VTEC and the midrange is also more punchier. This meant that you don't need to wring the engine hard to get the most out of it.

Hyundai will be trading in this engine with the Seltos' BS6-compliant 1.5-litre unit. The new engine develops 115PS, 8PS lesser than the current unit. However, we're happy to report that the 1.5-litre unit maintains the same traits as the bigger unit. So you really won't be missing the 1.6-litre unit. The 1.5-litre unit will be found in a host of Hyundai and Kia cars including the next-gen Verna and Creta.

This report might seem disappointing as we'll need to let go of some good engines. So if you're on the lookout for any of these cars, we recommend you to blindly go for it as some of them are future classics. Yes, some cars are slated to exist with a downsized engine like the case of a Merc C63, which is set to get a four-pot hybrid. While they might be powerful, it won't move our soul like a V8! This is a clear example of how all good things must come to an end. Sigh!
Add Your Comments