Tata Tigor EV With 200km Range Coming Soon; 300 Fast Chargers To Be Set Up Too!
---
Tata is currently focusing on setting up charging infrastructure before launching a range of EVs for private buyers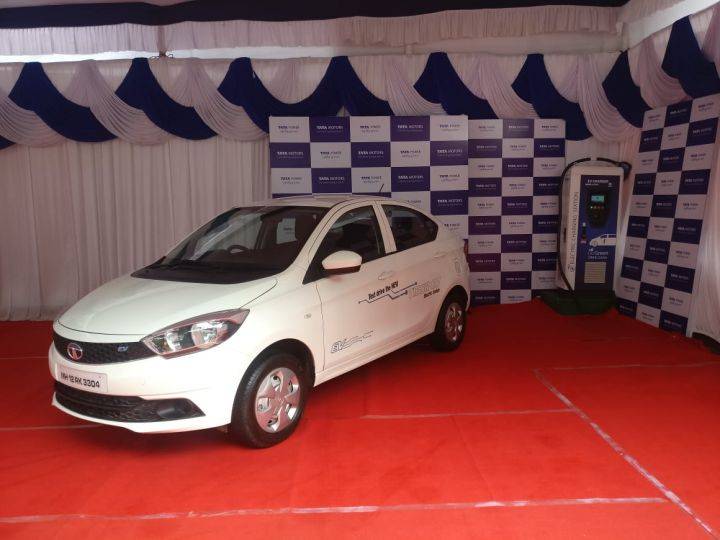 Tata will launch a 200km range version of the Tigor EV by March 2020.
This will be followed by three more EVs in the near future.
300 fast chargers to be set up by mid-2020 across five major cities.
Tata EVs can be charged for free for three months from these stations
Tata Motors already has 85 chargers present in 13 cities and nine states.

Tata Motors has announced that it will soon introduce an improved version of the Tigor EV with a range of up to 200km on a single charge. Likely to be showcased at the 2020 Auto Expo, expect the Tigor EV to go on sale by March next year. Currently, the Tigor EVs present with fleet owners and government agencies have a claimed range of 140km as per the Modified Indian Driving Cycle (MIDC). It is priced at Rs 11.58 lakh and Rs 11.92 lakh for the XM and XT variants, respectively. However, since the EV that is set to go on sale for private buyers soon will have a longer range and likely to get more features, expect its prices to be bumped up further.

Luckily, Tata will be providing free charging for its EVs for a duration of three months. Currently, the company has 85 chargers across 13 cities in nine states. Tata Motors is keen on establishing a charging infrastructure before launching an array of electric vehicles in the country. And for this, they have joined hands with Tata Power. The duo will be installing 300 fast charging points by the end of 2020. These will be initially setup across five metro cities - Mumbai, Delhi, Pune, Bangalore and Hyderabad. Of the 300 fast chargers, the first 50 will be compliant with Bharat Standard, which means they will be a 15kW system. Later, the company will be installing chargers with 30-50kW fast charging capabilities. Also, if you buy the Tigor EV in a non-metro city, Tata will install a charging box at your home for added convenience.

Furthermore, the company will also tie up with HPCL, IOCL and IGL for setting up charging points at petrol pumps across the country. Tata also claims to have done public research for key locations to setup charging points. Also, it will soon be launching a mobile application which will help EV owners to find the nearest charging station.
The Tigor EV on sale right now is powered by a 40PS (30kW) electric motor that makes 105Nm of torque. It has a limited top speed of 80kmph and takes six hours to charge from a standard household socket. However, a DC fast charger can juice it up to 80 per cent in 90 minutes. It is offered with a 3-year/1,25,000km warranty.

With the GST rates now lower, the scenario is now more feasible for manufacturers to bring EVs and set up charging stations as well. Tata has set the ball rolling and will soon launch three other EVs in the near future. The Tigor EV will be followed by the all-electric versions of the Altros and Nexon. Details of the fourth EV are scarce at the moment. Meanwhile, we now wait for carmakers like Mahindra and Maruti Suzuki to announce their EV charging solutions as well.
Add Your Comments